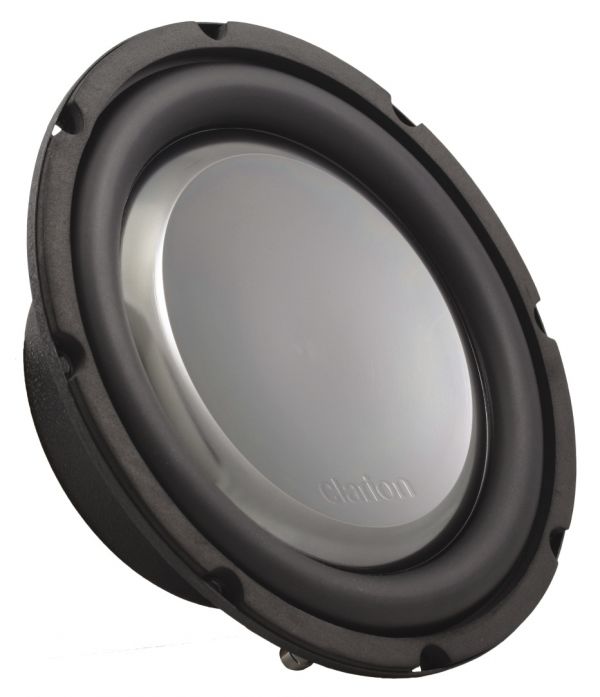 Small trucks and big bass – years ago that was a real challenge, but with the proliferation of shallow mount subwoofers, getting great bass in your truck is easy. Clarion was among the first companies to offer shallow mount subs, and the newly-released WF2520 and WF2520D represent the third generation of shallow, but powerful offerings.
Aside from the WF2520's single four ohms voice coil winding and the WF2520D's dual four ohms windings, the subwoofers are virtually identical. Both voice coil assemblies are wrapped around a black anodized aluminum former. This black former helps remove heat from the copper winding, improving power handling and reducing power compression. Additional cooling is provided by a vented pole piece. This rear vent also allows air pressure to be released from under the dust cap, preventing non-linear, in-cone travel at high excursion levels. A linear cotton spider provides the lower compliance for the subwoofer and features woven tinsel leads to ensure noise-free operation.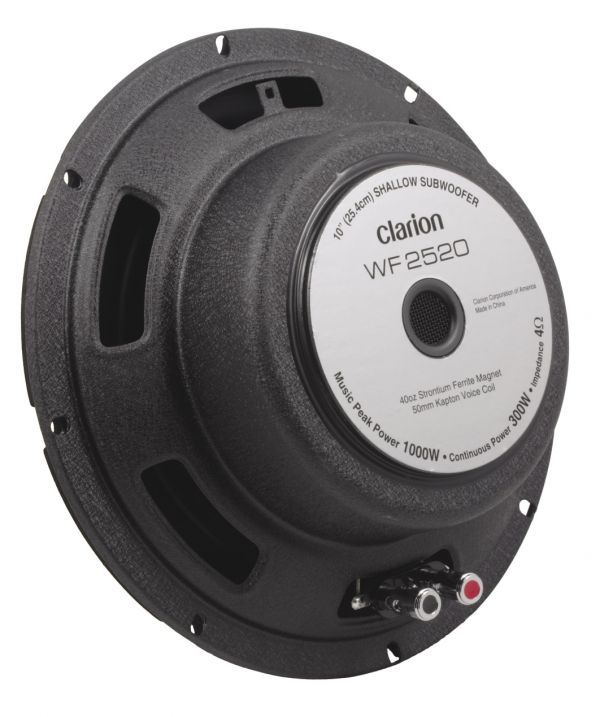 The main woofer cone is made of reinforced pressed paper and a polypropylene dust cap with a brushed aluminum finish. The cone surround is synthetic rubber for longevity, controlled compliance and damping. The woofer is housed in a stamped steel basket that bears a textured power coat finish. Electrical connections are made by spring loaded binding posts.
Most importantly, the woofer is nice and shallow, measuring a mere 2.78 inches in depth. Power handling is rated at 300 watts continuous and 1,000 watts max.
Enclosure requirements are especially significant when it comes to shallow mount subwoofers. Clarion took this into consideration during the design and massaged the electro-mechanical parameters, allowing it to work in either small sealed or vented enclosures, while providing good low frequency extension. In fact, a single sub in a 0.5 cubic-foot sealed enclosure has a -3 dB point of 59 Hz – plenty low for a sealed enclosure, while being nice and compact.
If you are looking for a great subwoofer solution but don't have much room to spare, check out the new WF2520 and WF2520D from Clarion.