Written by Garry Springgay // Photos by Mark Pereira and Manufacturer
Walk the halls of Polk Audio's Baltimore headquarters, and you'll meet sales people, engineers and technicians who also happen to be musicians, audiophiles, home theater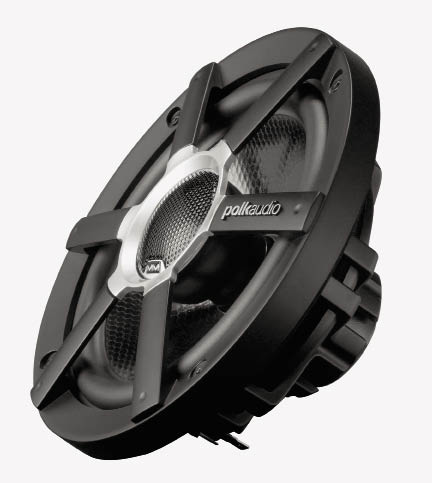 mavens, tube-equipment fanatics and rare vinyl LP collectors. There are folks here who plug in their instruments and throw down some self-penned tunes during meeting breaks, and women here who could teach courses on the physics of transducers. Everyone here brings something exciting to his or her job, whether it's retail floor sales experience, a physics degree, knowledge of carpentry, a little black book of press contacts or some special marketing know-how. For all of us at Polk Audio, designing audio equipment is not just a job, it's a passion. We wouldn't have it any other way. Polk Audio offers three distinct series of loudspeakers for automotive and marine use, and this time we're going to have a look at a pair of coaxials from the middle series, the MM651's, which sell for the modest price of around $189.00 in the U.S.A. and about $219.00 in Canada.
Design
The Polk MM651's are sold as a 6.5-inch speaker designed to be a direct replacement for an OEM speaker, and provide high performance with outstanding reliability. To accomplish this, there are quite a few unusual and unique features on the MM series of drivers.
First, all of the Polk MM series speakers are fully marine rated. The speakers are all fully tested to withstand the harsh and extreme marine environment, and have undergone accelerated life tests for ultraviolet light, the corrosive effects of salt fog, and temperature extremes from -40° F to 185°F. When a speaker passes these tests, you know a life in your cars door panel is a walk in the park.
Another unique aspect of the MM series from Polk is the use of Polk's Dynamic Balance technology. This technology is the result of a laser interferometry research project that was done in partnership with Johns Hopkins University. By using full field laser imaging, the engineers were able to closely view the entire vibrating surface of a driver or tweeter cone. The ability to watch various materials resonate allowed the design to be tweaked in a manner that reduced frequency response distortion. This tuning is accomplished by using just the right combinations of materials, geometry and construction techniques. Polk called this process Dynamic Balance.
Carrying on the high tech approach, the MM651's utilize a carbon composite material for the basket, which provides high strength and stiffness, and is also more durable than a conventional stamped steel basket. Inside the high tech frame you'll find an equally modern neodymium motor. Neodymium was chosen for its extreme magnetic strength, and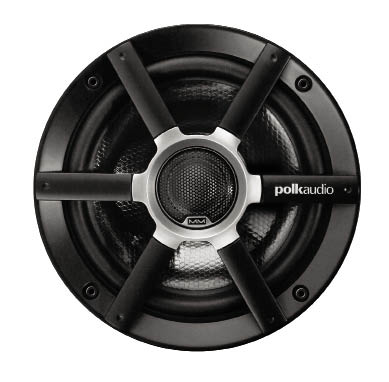 because the motor can be made much smaller with the more powerful material, the motor structure is lighter weight, and the overall driver depth is reduced.
The motor drives a 31mm (1.2-inch) oversized copper 3 ohm voice coil, which is in turn connected to a strong, yet very low mass honeycomb glass composite cone. The surround is Nitrile rubber, and the spider is made from Polyamide. If the 3 ohm coil got your attention, no need for concern… the Polk MM651's are completely compatible with any 4 ohm capable amplifier. The advantage to the 3 ohm coil is increased sensitivity, which allows the speakers to be powered adequately with just a head unit or OEM amplifier. However, it does not mean you can't use more power, and to that end the MM651's are rated at 100 watts continuous.
The coaxial mounted 1-inch tweeter also uses a neo motor, and a bi-laminate silk dome for extended and smooth high frequency response. Unlike most coaxials, the Polk MM651's come with an external 2-way crossover instead of some filter glued on the basket somewhere.
The MM series of speakers are modern looking bits of kit and have very good levels of fit and finish. Applications that have tight fit issues or problems with high weight speakers will be perfect for the MM651's. They come with universal mounting rings that provide secure mounting into most OEM applications without drilling, and "spoke" styled grilles.
Read on for the Results


Listening

The Polk MM651's are very easy to install, you simply mount the speaker, connect the crossover to the appropriate spade lugs for the mid and tweeter, and connect the amp. No adjustments are possible.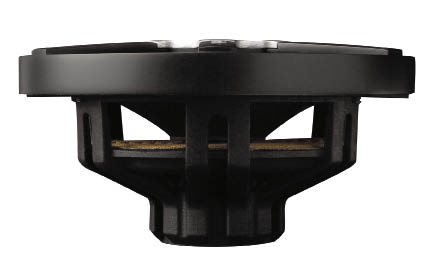 After installing the system in my listening room's panels, I connected them to my reference amp and did some listening. Beginning with the Marc Cohn tracks "Walking in Memphis" and "Perfect Love", I was quite surprised at the high level of sound quality considering the price. The system had very good warmth and clarity. I thought the upper midrange was ever so slightly accentuated, but nothing approaching strident or unpleasant. And when I sat off axis, this was much less noticeable, so perhaps the engineers at Polk realize that most of these speakers are going to be placed low in a car door, and simply designed for it? 
Moving on musically, I listened to Robby Robertson's "Somewhere Down the Crazy River". The opening of the song has a sense of space and movement that few car audio speakers can capture, but once again, the Polk's surprised me with a really decent reproduction of the recordings ambience. I listened to a bunch more stuff, as I generally do when I'm enjoying myself. From AC/DC to Valdy, the Polk's handled it all in stride, and did very well. Couple these speakers with a decent woofer, and you'll have the entire spectrum well covered. If I was to really pick nits, I thought there was a hint of sibilance from time to time, especially when pushed hard, and the minor issue in the upper midrange would occasionally make a snare drum or sax riff have a tiny bit more bite than it should but these are small complaints indeed. I had to repeatedly remind myself that these Polk speakers were under 200 bucks, and at that price, they're exceptional!
Technical Measurements 

With the listening session over, I moved the system into my loudspeaker measurement room, and measured the on-axis frequency response. The system is quite flat, with a small bit of a dip around 8500Hz. The dip is narrow enough to be of little consequence, but it may explain a bit of what I heard earlier.
As you can see from the system impedance graph, the MM651 does have a bit lower than normal impedance but certainly won't pose a problem even for a head unit amplifier.
Conclusion
As a function of how I make a living, I listen to somewhere around 150 different pairs of coaxial, component, or home loudspeakers a year. At any given time I may be evaluating speakers ranging from $29.95 bargain special computer speakers, to multi-thousand dollar, esoteric home transducers.

When a pair of speakers comes across my bench as good as these for less than the cost of a night out on the town, it's a rare occurrence indeed. If you are in the market for reasonably priced high performance replacement speakers for your ride, you should check out the MM series. Based on the performance I've seen here, it seems Polk's reputation for providing excellent speakers at reasonable prices is going to continue.