Written by Garry Springgay // Photos by Parrot and Mark Pereira
Parrot MKi9200 Hands-Free Music Kit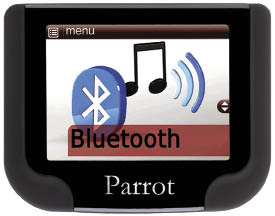 When it was originally conceived, Bluetooth wireless communication was intended to be a replacement for conventional wired serial communications. The name Bluetooth comes as a reference to King Harald Bluetooth I of Denmark, who was able to unite several clashing Danish tribes into a single, peaceful Danish kingdom during the 10th century.
The connection to the Kings accomplishment is the ability of Bluetooth technology to perform a similar melding of digital communication protocols.
With the advent of Bluetooth wireless technology, it seems that with each passing week there are new applications and new products that are based on the revolutionary technology of Bluetooth. One of the most successful companies to bring the benefits of Bluetooth technology to consumers world wide is Parrot.
I recently received the new Parrot MKi9200 Music Kit, and if you aren't currently enjoying the safety and convenience of a Bluetooth enabled radio in your car, you really should check this impressive product out.
The MKi9200 is the top of the line product in a series of new Parrot car kits. It combines all the functionality of Bluetooth with a small but easy to read LCD screen, hands-free calling, personal music players, wireless remote control, voice recognition, and even text to speech capabilities. On the telephone side of things, the Parrot MKi9200 will synchronize with your cell phonebook each time a contact is added, up to 8000 contacts. You can use the built in voice activated dialing, or browse the phonebook and the names will be actually read out to you. During incoming calls, Caller ID is also announced, and if you have a photo caller ID in your phone, the picture will also be displayed on the screen. Of course your car stereo will be automatically muted when a call is received.
The full color 2.4-inch TFT LCD screen also provides music playback information from your compatible A2DP device or iPod/iPhone. There is also an SD memory card slot for up to 32 gigabytes of MP3 music, and a USB connection is also provided if you prefer to use a flash drive. Nothing that fancy you say? Well, simply connect your analog player via the provided 3.5mm input jack. No matter what type of product you want to connect, the Parrot MKi9200 has you covered!
Designed to achieve a seamless and OEM type integration into almost any vehicle, the Parrot MKi9200 is compatible with virtually every Bluetooth enabled cell phone, smart phone, PDA, or iPhone. Up to 5 devices can be paired to the MKi9200. The unit comes complete with all the wiring harnesses, microphone, remote control, and dash mount 2.4-inch TFT LCD screen, and has a suggested list price of $299.99.
With products as well engineered and easy to install as this, you have no reason to be driving around with that phone in your hand, or dragging around a box full of CD's. Move into the 21st century, unite your devices, and follow the example King Harald set a thousand years ago!