Written by PAS STAFF
Page 6 of 7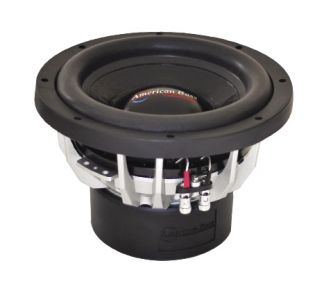 American Bass TNT

Subwoofers
The new TNT line of

subwoofers

from American Bass includes 10-, 12- and 15-inch models configured wi

th

dual 4-Ohm voice coils. The 10- and 12-inch models have 120oz magnets while the 15-inch monster sports a160oz monster. All boasts a rigid cast aluminum frame wi

th

a silver powder-coated finish. The moving assembly is based around a non-pressed paper cone and high-density foam surround. The suspension has been optimized for high excursion capabilities. Power handling is 600W for the 10 and 12, and 1000W for the 15. For more information visit
www.americanbassusa.com
.
---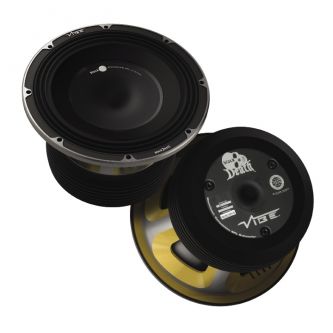 VIBE

BlackDeath

Bubonic
VIBE products are known around the world for producing immense heavyweight bass and now they have raised the bar higher than ever wi

th

the

BlackDeath

Bubonic. This Quad 0.75-Ohm voice coil

subwoofer

features triple-stacked 540oz high intensity ferrite ring magnets. It is capable of immense power handling, wi

th

an RMS power rating of 6,500 Watts and a peak power of 20,000 Watts - this is beyond deadly, it's Bubonic! Designed without compromise and engineered to extreme specifications, the

BlackDeath

Bubonic

Subwoofer

has no right to exist, and that is why VIBE created it! To start the plague, visit
www.vibecaraudio.com
.
---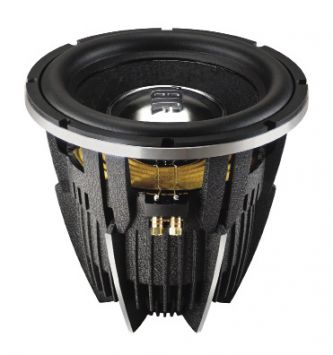 JBL W12GTi MKII
For more than 60 years, JBL has been delivering products embodying the technology developed in the professional arena – equipping leading recording studios and movie theaters, as well as live-music reinforcement in venues ranging from dance clubs to Woodstock. We continue to transform this expertise into products that provide the impact and excitement of a live performance. Just as every performance automobile manufacturer has a racing division to test cutting-edge technology and engineering capabilities, the

GTi

Series pushes the limits of JBL engineering and technology. The W12

GTi

MKII Differential Drive®* Design

GTi

subwoofer

is the result of extensive engineering wi

th

the goal of delivering the best subs money can buy. If you are looking for the absolutely best in low frequency reproduction, then look no further. For complete specifications, please visit
www.jbl.com
---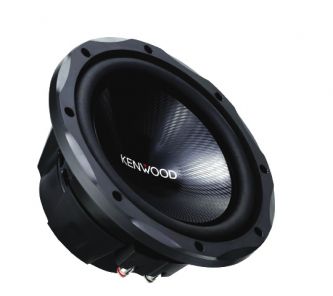 Kenwood

Performance Series

Subwoofers
Kenwood

Performance Series

subwoofers

strike a perfect balance between value and performance. The 12" KFC-W3013PS delivers improved heat ventilation, shallower mounting dep

th

and longer cone excursion over last year's model. Power handling is rated at 400 Watts (RMS), wi

th

a maximum peak power rating of 1,200 Watts. The KFC-W3013PS features a dual ventilation system that allows heat to escape from the voice coil even in extremely shallow mounting applications where the pole piece vent may be obstructed by the enclosure. A heavy-duty rubber surround extends the life of the woofer even under continuous high-power operation, while a new diamond-array cone design resists cone flex and provides better bass performance. Visit
www.kenwoodusa.com
or
www.

kenwood

.ca
for more information.
---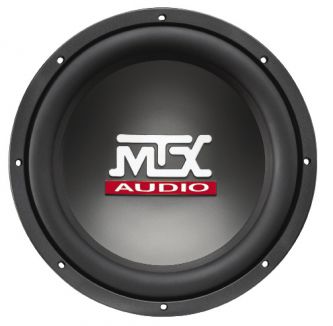 MTX Road Thunder

Subwoofers

MTX Road Thunder subwoofers are the newest generation of Thunder. RT subwoofers feature a 2", 8-layer aluminum voice coil allowing them to easily handle their 250W RMS rating and more. They utilize proven MTX technologies like a high-roll rubber surround which increases the sub's surface area and displacement as well as Spider Plateau Venting, which mechanically focusses cool air at the voice coil for greater reliability. Road Thunder subwoofers are designed to operate perfectly with the new Road Thunder amplifiers from MTX for the best in bass performance. RT subs are also available in 15", 10" and 8" sizes. For more details, hit up www.mtxaudio.com or www.mitekcanada.com in Canada.
---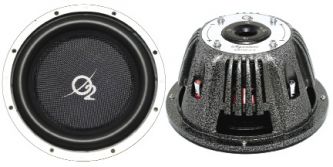 Oxygen Audio Signature Air12S

As part of the Ozone Signature line, the Air 12S subwoofer features a massive powder-coated cast chassis that is extremely rigid, while offering excellent ventilation for increased thermal power handling. Spring-loaded terminals provide a reliable and efficient connection to the pair of 2-Ohm voice coils. Up front a woven glass-fiber cone is bonded to a large rubber surround. A 2.5-inch voice coil and extended pole piece provide linear excursion. The Air12S is rated at 1,000Wrms and 2,000Wmax and is available in a 10-inch version called the Air10S. For more information, please visit www.o2audio.com.
---

PowerBass

Thin Woofers

PowerBass Thin Woofers are only 3.25" deep but don't let its lean size fool you, these woofers are big on bass. We gave our engineers the difficult task of building a thin woofer that was up to the PowerBass reputation of great performance and exceptional value. Starting with our proprietary polycarbonate/glass fiber composite frame, we built a basket that is stronger then steel and lighter then cast aluminum. Our unique one piece cone is more durable then paper, this injected molded cone is able to withstand the abuse that comes from delivering deep bass in a small enclosure. Available in 10- and 12-inch sizes, they are rated for 300Wrms and 600Wmax and with either single or dual voice coils. For more information please visit www.powerbassusa.com.