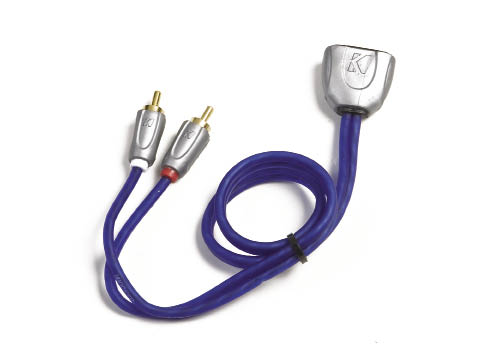 KICKER
ZISL Speaker-Level Signal Cable Adapter
The half-meter-long, 2-channel ZISL adapter seamlessly connects left-and-right speaker wires running from a source unit's high-level outputs to an amplifier's RCA inputs, using its own RCA connectors. Its silver-molded RCA ends utilize strain relief for long-lasting dependability and are easily identified by color. They also contain sure-grip, gold-plated collars for an ultra-secure connection and split center pins for maximum signal transfer. Supreme signal clarity is a result of the Z-Series' silver-tinned, oxygen-free copper wire which utilizes twisted-pair technology to eliminate inducted noise and interference.
For more visit www.kicker.com
In Canada visit www.gemsen.com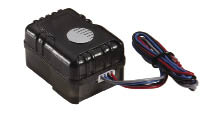 Orion
Remote Power Adapter
The award-winning ORRPA ORION Remote Power Adapter provides an amplifier switching solution for OEM radios having low-voltage or current-limited remote outputs. For high-powered OEM radios lacking remote output, the switching signal can be captured directly from any speaker wire. It incorporates a 2-3 second delay before triggering the output in all applications. Two or more adapters can be used to create a component turn-on sequence when the system includes a signal processor. A low-input current requirement and no induced transients make this a much better choice than electromechanical relays for switching on amplifiers.
For more visit www.orioncaraudio.com/orionwired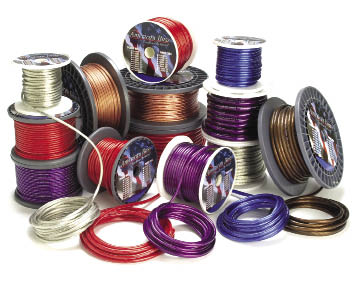 American Bass
Power and Speaker Cable
American Bass has a full line of power and ground cables, as well as speaker cable. Power cable is available in 10, 8, 4 and 0 gauge sizes and in glossy finishes in black, red, blue, silver and purple. Speaker cables are available in 16, 14, 12 and 10 gauge sizes. American Bass power and speaker cables are the perfect compliment to their amplifiers, speakers and subwoofers.
For more visit www.americanbassusa.com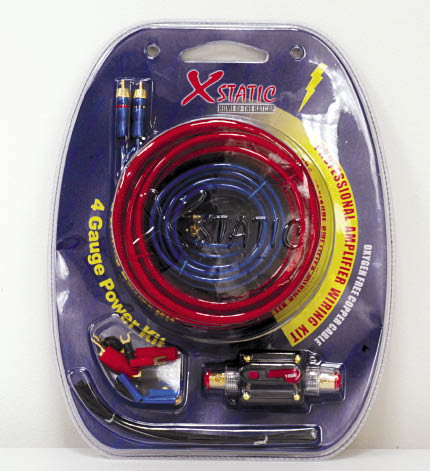 Xstatic
4-Gauge Kit
Xstatic professional amplifier wiring kits offer great value and deliver solid performance. The Xstatic 4-gauge installation kit features 17ft. of clear / red braided true 4-gauge power cable, 3 ft. black braided true 4-gauge ground cable, 30 ft. clear / silver 16-gauge speaker cable, 17 ft. clear blue RCA interconnect with central remote wire, an inline 100 amp circuit breaker, 6 ft. split loom tubing and all the necessary terminals / connectors and cable ties.
For more visit www.batcap.net
HOOKER AUDIO
TS Series inter connect
TS Series inter connect is 36 strand OFC. This interconnect features three types of noise rejection. Twisted, to reduce the effects of magnetic interference. Aluminum Mylar shield, to reduce the effects of electro-static noise. Compression tip end, to eliminate ground loop interference. We have a reputation of building products that maximize the components of your audio system instead of building products to meet a price point at the expense of quality.Our patented interchangeable XPD AGU fuse distribution block eliminates the need to stock several different models of fuse distribution. The XPD AGU incorporates our universal input using a ring terminal and can be changed from a two position block to three or four position.
For more visit www.hookeraudio.com
KnuKonceptz
KCA Power Kable
Looking for a power cable that is price minded without compromising performance? The KnuKonceptz KCA Kable offers just that. The core of the KCA Kable is made up of oversized Copper Clad Aluminum conductors which provide current transfer up to 250A. The KnuKonceptz KCA Kable is available in 0, 4 and 8 gauge and comes in Black, Blue or Red Ultra Flex PVC.
For more visit www.knukonceptz.com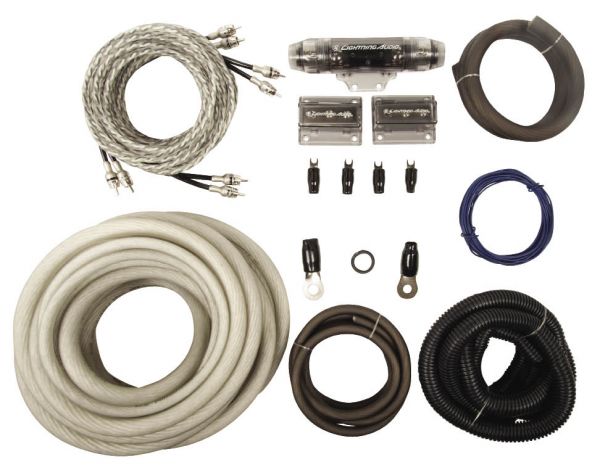 Lightning Audio
Dual Amp Kit LA-100D
Lightning Audio's new line of amp kits is led by the LA-100D, dual 1/0ga amp kit. The kit includes a 20 ft. power wire instead of the normal 17 ft. A low profile ANL fuse holder with 150 amp fuse keeps the system protected. Also included is everything needed for connecting multiple amps; including (2) premium dual-twisted RCA cables with 2-piece metal tips and built in strain relief. Power and ground distribution is also included via custom distribution blocks. And let's not forget all the hardware that is needed: ring terminals, split loom, and wire ties are also included.
For more visit www.lightningaudio.com
WIREZ
PDFCS-44
This unique and complete power distribution system handles both +12V and ground connections for systems with up to four amplifiers, including a dedicated 0AWG output connection for a massive subwoofer amp. The input side allows for connection of a stiffening capacitor as well. The block uses ultra-reliable Mini-ANL fuses and includes a polycarbonate cover and mounting screws.
For more visit www.gotwirez.com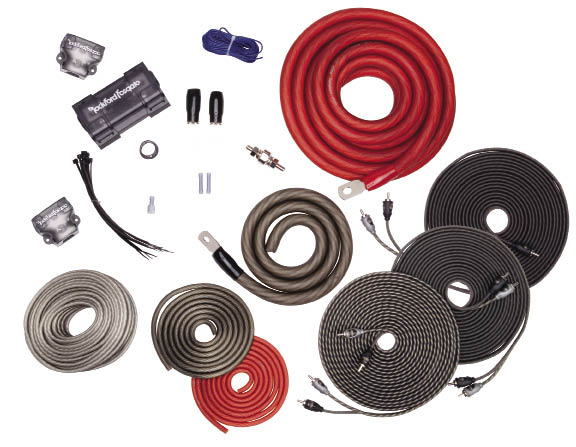 Rockford Fosgate
Dual Amplifier installation system RFK1D
Starting with a core of 1/0 AWG wire, and adding adequate lengths of 4 AWG power and ground this system can easily handle over 2,500 watts RMS. Getting the signal from the radio to the amplifiers using (3) 16ft. twisted pair interconnects help reject unwanted noise and are flexible enough for the tightest of applications. With all the wire, fusing, distribution and hardware all accounted for there is finally an installation system that you can buy correctly the first time. For more visit www.rockfordfosgate.com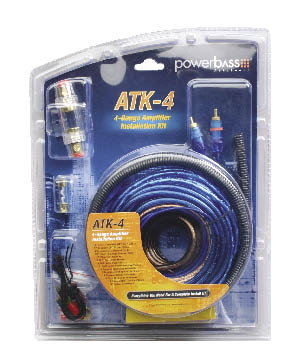 PowerBass
ATK AutoSound Series Wiring Kits
The PowerBass ATK-4 and ATK-8 amplifier installation kits include power, ground and speaker wire, twisted pair RCA interconnects, remote turn-on wire, split loom tubing, cable ties plus miscellaneous hardware and connectors. The ATK-4 (4-gauge kit) also comes with a 60-amp AGU fuse and fuse holder, while the ATK-8 (8-gauge kit) features a 40-amp AGU fuse and fuse holder.
For more visit www.powerbassusa.com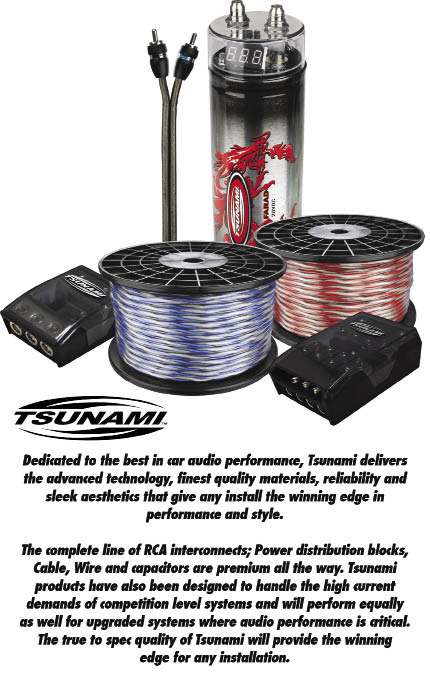 Tsunami
Wiring and Distribution
The complete line of RCA interconnects, power distribution blocks, cable, wire and capacitors are premium all the way. Tsunami products have also been designed to handle the high current demands of competition level systems and will perform equally as well for upgraded systems where audio performance is critical. The true to spec quality of Tsunami will provide the winning edge for any installation.
For more visit www.tsunamionline.com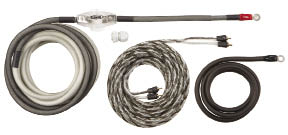 Scosche EFX
revopak4
4 gauge amp kits
The FLUX power and ground wire included in the amp kits is made with high strand count pure Oxygen Free Copper that ensures your amps are getting the power that they need to perform at their best. The kit includes the following products: Water Proof Grommet; Mini Wafer Fuse, Holder, 17' 4AWG Power Cable with Protective Mesh Cover, 17' reVo RCA Cable, 4' 4AWG Ground Cable, 17' Remote Turn On Lead (not shown), Hardware Pack.
For more visit www.scosche.com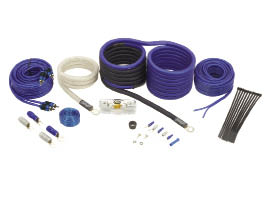 STINGER
HPM-Series SHK641 4-Gauge Amplifier Wiring Kit w/ RCA Cables
There are few things in this world that can totally foul up the performance of your car audio system than using cheap cables and wiring. That's why the guys at Stinger created the SHK641 4-Gauge Amplifier Wiring Kit: to ensure you have all the competition-grade wiring and cables you need to pull off a professional-grade 4-channel or dual-amplifier installation. TheSHK641 features all HPM-Series hardware, including 18 feet of 4-gauge power wire, three feet of 4-gauge ground wire, 30 feet of 16-gauge speaker cable, one MIDI SHD801 in-line fuse holder, one HPM1 interconnect and a 150-amp MIDI fuse. All hardware in the kit is color matched for killer looks, and pre-assembled ring terminals cut down on overall install time.
For more visit www.stingerelectronics.com
In Canada visit www.gentec-intl.com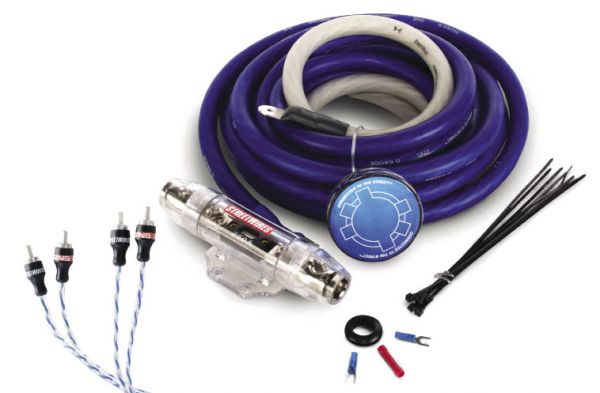 StreetWires
ZeroNoise ZN5
Featuring 100% OFC and an all-new Ultra Flex jacket, ZN5 amplifier kits give you power, ground, and remote wire as well as an appropriate fuse, fuse holder, ring terminals and cable ties, ZN5 amplifier kits are available in 1/0, 4, and 8 gauge wire sizes. The ZN5 interconnects offer superior noise rejection due to their twisted pair construction and parallel jacket design. The sure grip body maintains proper contact with the RCA terminal for uninterrupted signal transfer. Together these amplifier kits and interconnects ensure your system performs at the highest level.
For more visit www.streetwires.com