Page 1 of 7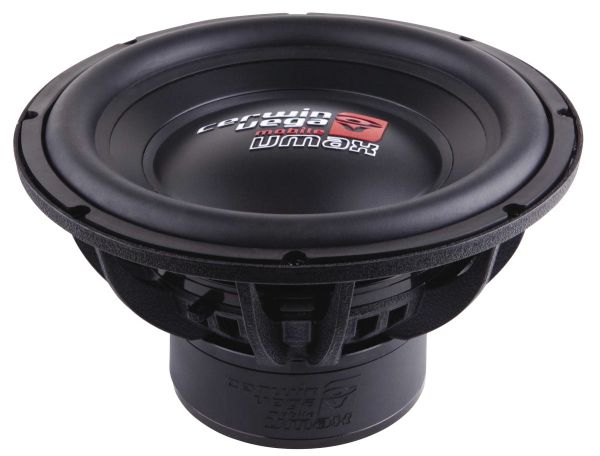 Cerwin Vega Mobile
VMAX Series
cerwinvegamobile.com

Cerwin Vega's award-winning heavy-duty VMAX subwoofers are constructed with a solid highdensity pressure-cast aluminum basket for long-lasting durability. Dual spiders with embedded tinsel leads and high-grade 2.5-inch dual voice coils attached to high-temperature heatdissipating aluminum formers enable the VMAX subwoofers to handle power up to 500 Wrms. Available in 10-, 12- and 15-inch sizes.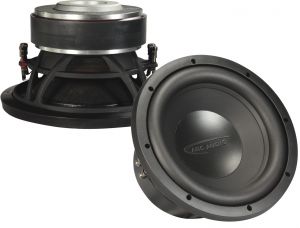 Arc Audio
Black 10
arcaudio.com
sound-solution.net

Arc Audio's new Black 10 is designed for audiophiles with a penchant for low frequency extension, stunning dynamics and realistic output levels. The Black 10 has a heavy-duty lowresonance aluminum basket with CNC-machined top plate for the highest tolerances. The high-excursion, low-mass cone is a mix of polypropylene, pulp paper and bamboo for maximum rigidity and damping. Available in dual two- or dual four-ohm configurations and is rated for 400 Wrms and 1,000 Wmax.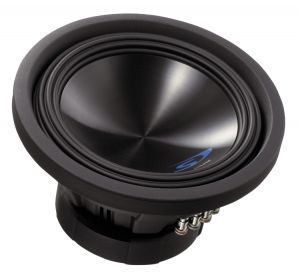 Alpine Electronics
Type S SWS-10D4
alpine-usa.com
alpine-canada.com

Newly-designed for 2012, Alpine's SWS-10D4 dual fourohm 10-inch subwoofer has significantly improved output, deeper bass extension and greater power handling than its predecessor. This Type S subwoofer A patented airflow management system minimizes power compression and ensures long playing time by removing heat from the massive 2.6-inch voice coil while Alpine's High Amplitude Multi-Roll (HAMR) surround provides extreme excursion without sacrificing cone area. CEA-2031 specifications: 500 Wrms, 1,000 Wmax; 28-200 Hz frequency response.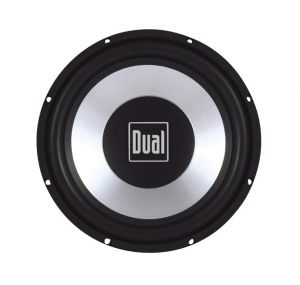 Dual
SD12
dualav.com

The Dual SD12 subwoofer features a 12-inch low-q optimized driver with 38 oz. magnet and nickel injection-molded cone that delivers loud and deep bass with minimal distortion. The sleek black treated foam surround and heavy-gauge stamped basket give it an edgy look, flexible protection and dynamic sound. Frequency response is 28-200 Hz with peak power at 500 Wmax and RMS power at 175 Wrms. The SD12 can be placed in sealed or vented enclosures.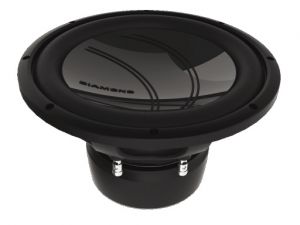 Diamond Audio
Tour Series
diamondaudio.com

Designed with extensive sonic properties and engineered to sound dynamic, Tour (TX) series subwoofers deliver high-output performance with superior sound quality thanks to a reinforced conical structured design. Long-lasting play is achieved with a dual four-layer 2.5-inch voice coil and unique chamber venting design. A reinforced Cartesian vector continuous curvature composite poly cone completes the Tour subwoofer and gives it that signature Diamond Audio sound. Available in 10-, 12- and 15-inch sizes.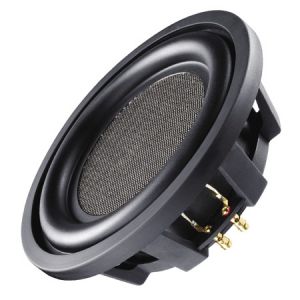 Helix
Espirit E12W
helixhifi.com

The Helix E12W Esprit 12-inch subwoofer takes both sound performance and install application into consideration. The dual twoohm voice coil and ferrite motor assembly can handle a respectable 400 Wrms and the thin-profile sealed fiberglass honeycomb membranes are housed in a tall-profile rubber surround that provides the listener accurate music reproduction. The E12W's extremely flat structural shape allows for applications never dreamed before.