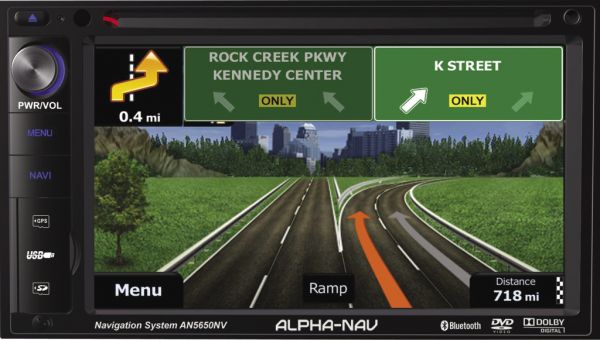 Alpha-Nav
AN5650NV
alpha-nav.com
The AN5650NV includea a 6.2" HD touch screen, AM/FM, CD/DVD/MP3 player andbuilt-in Bluetooth/A2DP to stream internet audio. iPod/iPhone direct control of audio and video, A/V cable included free. Built-in Steering Wheel Control interface. Navigation system is built-in with 11 million POI, text to speech directions, 2D/3D map display, 50+ traffic, routing, language and destination features. Line level outputs w/subwoofer, 50W x 4 amplifier, 24 Bit DAC and backup camera/USB/SD/3.5mm inputs.
---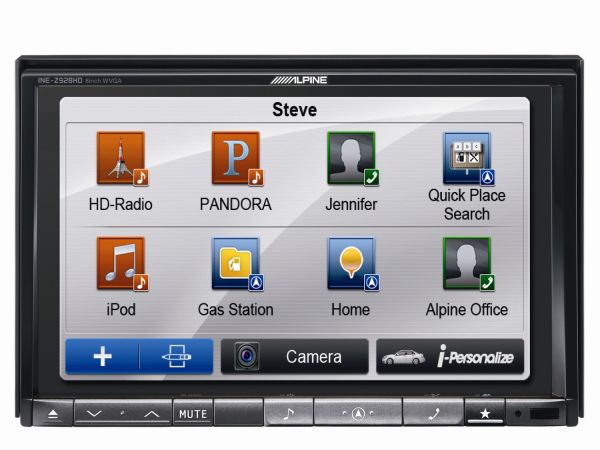 Alpine Electronics
INE-Z928HD
alpine-usa.com
alpine-canada.com
The INE-Z928HD has an 8-inch screen, Bluetooth, and plays HD Radio™, Pandora® (via smartphone), and SiriusXM (requires tuner and XM subscription). Separate dash kits work with 19 vehicles, providing a factory-look finish. The "My Favorites" screen can be customized with up to eight shortcuts for the most-used commands. "iPersonalize" applies optimal sound field settings to the vehicle. The navigation system depicts major landmarks, buildings, and terrain details in 3D in main metropolitan areas.
---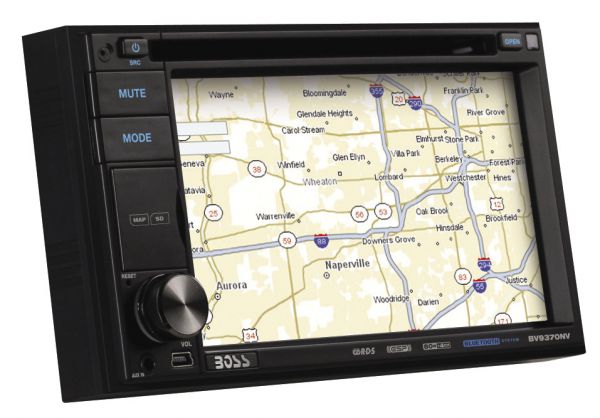 Boss Audio Systems
BV9370NV
bossaudio.com
Designed for double-DIN applications, the BV9370NV comprises an all-in-one chassis design that includes a 6.2-inch TFT touch screen, turn-by-turn navigation throughout North America, Mexico and Puerto Rico, CD/DVD playback, an SD card slot, AM/FM RDS tuner, and a built-in amplifier rated at 80 watts x 4 max. Users also can connect a back-up camera to the BV9370's screen, as well as control audio and source functions through factory steering wheel controls.
---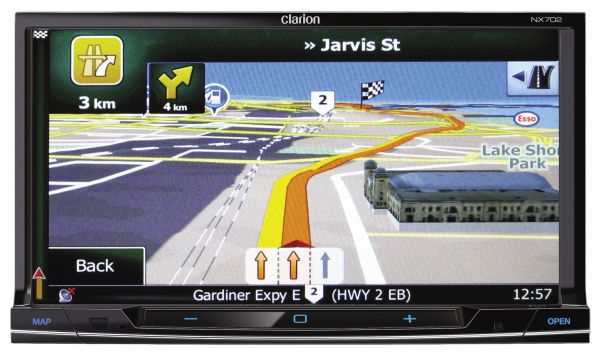 Clarion
NX702
clarion.com
The NX702 combines premium performance and features for a mobile multimedia experience that is hard to beat. A motorized 7-inch WVGA widescreen, 3D GPS Navigation with RDS-TMC traffic and 15 Million POI makes navigation easy. Audio features include 6-channel time alignment, 2- or 3-way crossovers and 6 channel 4 Volt preamp outputs mimic a great live performance in your vehicle. Connectivity for Bluetooth hands free and audio streaming, SiriusXM, iPod and iPhone, backup camera, rear seat entertainment and more make this the perfect solution for car audio enthusiasts.
---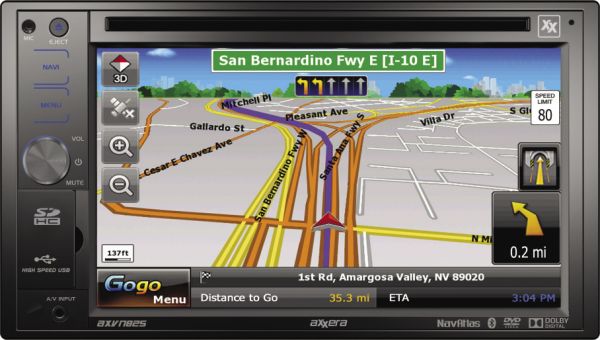 Dual
Axxera Multimedia
dualav.com
This versatile multimedia receiver features a 6.2" digital, LED backlit, high-resolution display with RGB illumination. The navigation function features built-in map from Navteq. The built-in Bluetooth technology supports hands-free calling, audio streaming and player control profiles. The rear USB input supports video playback and the front panel features SD card and 3.5mm auxiliary inputs to connect other portable media devices. The receiver is steering wheel control-ready and back-up camera-ready.
---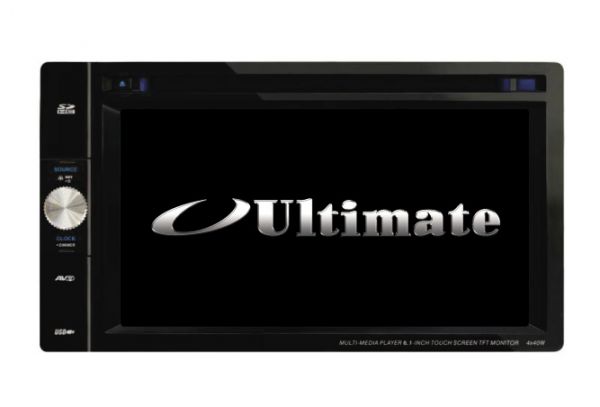 Ultimate
Multimedia Player
ultimate-sound.com
Ultimate introduces two double-DIN head units offering every conceivable feature for entertainment, convenience, and safety. The GPS model uses iGO8 software and NAVTEQ mapping. Watch DVD movies on a 6.1" touchscreen, listen to music off an iPod, CD, USB, or SD, and talk hands-free via Bluetooth. The reverse video input allows camera connection for back-up safety. All this and 4x40w, 3V pre-outs, sub level control, A2DP, built-in EQ, and an intuitive graphical interface.
---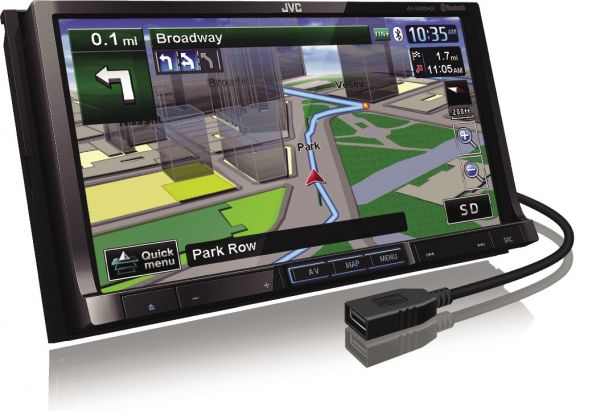 JVC
KW-NT800HDT
mobile.jvc.com
mobile.jvc.ca
JVC's KW-NT800HDT is a 7" In-Dash Navigation/USB/CD/DVD Receiver with built-in HD Radio and free on-screen real-time traffic, news, sports, and weather updates. Its high-speed processor searches and calculates routes quickly and allows boot-up in only eight seconds. Compatible with iPhone, it allows on-screen search and display of tracks, and works with Pandora and iHeart Radio streaming music apps. Android music can also be played back in mass storage mode via 1 amp current USB port.
---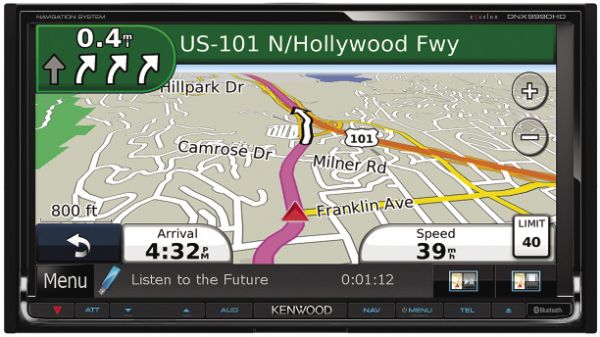 Kenwood
Excelon DNX9990HD
kenwoodusa.com
kenwood.ca
The DNX9990HD is the flagship mobile entertainment receiver of the Kenwood Excelon lineup. It features a wide range of built-in technologies, including Aha Radio App support, HD Radio, Pandora internet radio, Bluetooth with audio streaming capabilities and the latest features from Garmin Navigation; photo-realistic Junction view and Lane Assist and Traffic Trend routing. Android Smartphone connectivity, allowing for control of music files native to android-platform smartphone from the touchscreen of the DNX.
---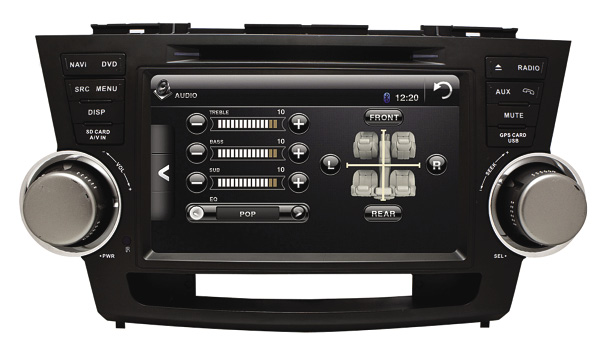 Metra Electronics
Metra OE Radio line
metraonline.com
Metra Electronics proudly offers the Metra OE Radio line for customers who want aftermarket features in a radio with a stock looking appearance. Take the MDF-8222-1 for the 2007-11 Toyota Highlander (pictured), it has navigation, iPod, Bluetooth, DVD, USB/SD, and even has a giant 8" touch screen, all in a radio that looks stock. Contact your Metra Electronics dealer for pricing and applications.
---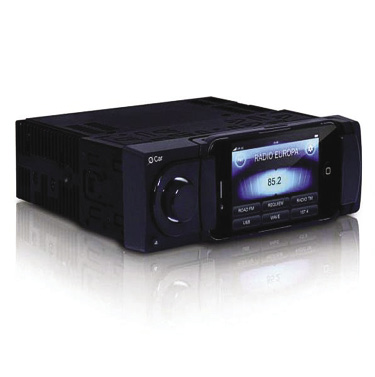 Oxygen Audio
O CAR
oxygenaudio.com
The O CAR is designed specifically for iPhone and allows you to control standard car stereo functions like volume and tuning, as well as browse and play your music library and Internet radio station apps. Additionally, the O CAR lets you view and interface with GPS navigation, maps and other communication features such as Siri. The O CAR also features a built-in RDS-enabled AM/FM tuner, Bluetooth connectivity and a 4-channel, 55-watt amp that links to a vehicle's factory or aftermarket speakers for outstanding sound quality and bass response.
---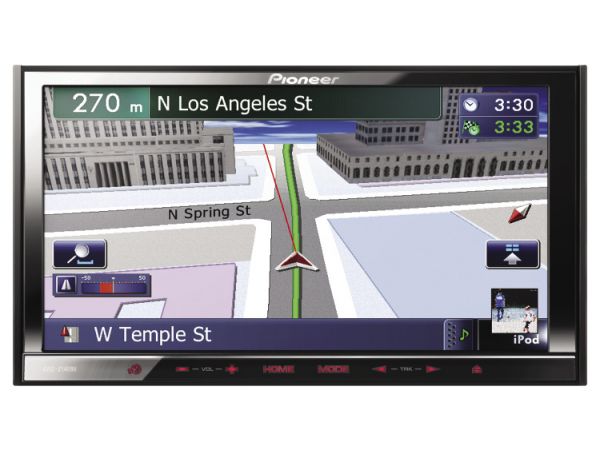 Pioneer
AVIC-Z140BT
pioneerelectronics.com
pioneerelectronics.ca
Pioneer's AVIC-Z140BT has everything you'd want from your in-car system including navigation, entertainment, information and connectivity features such as HD Radio Artist Experience™, iPhone/iPod, Advanced App Mode, and wireless app control via Bluetooth® for specific Android™ devices. It also features a 7-inch WVGA touchscreen display, DVD playback, Dual Zone, built-in Bluetooth (hands-free and music streaming), USB connectivity, SD card slot, back-up camera input, HD Radio tuner and traffic information.
---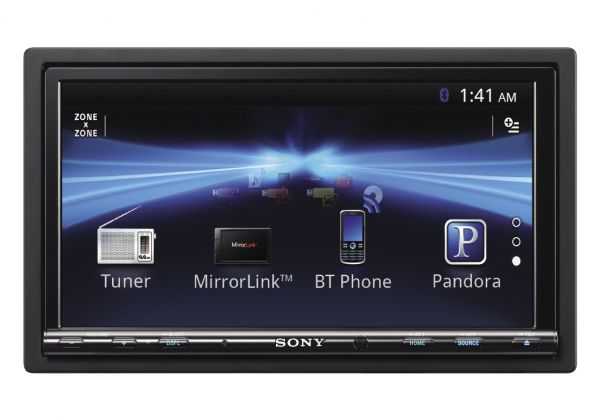 Sony
XAV-701HD
sony.com/car
sony.ca/caraudio
The new XAV-701HD in-dash A/V receivers feature high-quality WVGA panel displays with full touch screen capability and universal smartphone connectivity. The new models also feature Passenger App Control®, which allows connection of an iPhone® or iPod® to project video and compatible applications onto the screen of the receiver. In addition, the receivers support projection and control of GPS by Telenav®, available from the App Store® on iTunes®. An optional TomTom with external GPS unit upgrade is available, providing access to pre-loaded maps of the United States and Canada.
---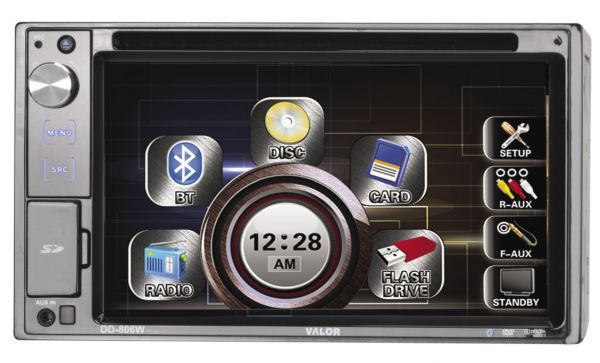 Valor DVD
DD-806W
4valor.com
The DD-806W Plus is a 2-Din 6.2" AM/FM/CD/DVD receiver. It has touch panel with 5 different color illuminations. Features full touch screen control and built-in integrated steering wheel control module and Bluetooth cell phone interface for hands-free calling. It supports DVD video, car audio, VCD, MP3 and WMA. The model has unique GUI designed and Bluetooth, as well as 40AM/FM Presets, a 45W x4 MOSFET Amplifier, Front SD Card, 2 Volt 4.1 RCA output, rear A/V auxiliary input, rear USB and rear view camera input.