Page 2 of 10
JL Audio 12W0v2
The JL Audio 12W0v2 Subwoofer is a 12-inch driver featuring a beefy voice coil and JL Audio's patented Elevated Frame Cooling for outstanding thermal power handling and stability. Plus, their motors have been designed and refined using JL Audio's proprietary DMA modeling to reduce distortion, increase output and enhance overall fidelity. Best-in-class excursion capability results in increased output and better sound quality at higher listening levels as well. For maximum application flexibility, W0v2's are designed for use in compact sealed or medium-sized ported enclosures. The 12W0v2 woofer powerful combination of performance, value and installation attributes will make them the "go to" choice for those seeking high performance from an affordable subwoofer system. For more visit www.jlaudio.com. In Canada visit www.gemsen.com.
---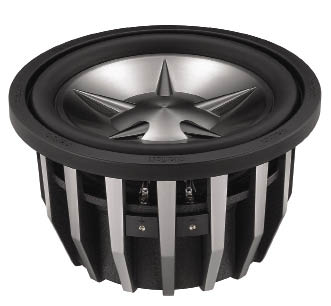 Clarion PXW Series Subwoofers
Clarion's PXW series of subwoofers offer outstanding performance and class leading features and technologies at a very aggressive price point. PXW subwoofers are based on a custom tooled cast aluminum basket with integrated Spider Exhaust Technology cooling. The two-piece cone assembly is a reinforced Kevlar/Paper composite design with an Electrolytic Spun Aluminum coated dust cap. Linear poly-cotton spiders and a co-polymer composite rubber surround help to ensure a finely-tuned balance of control and deep bass reproduction. The PXW series of subwoofers has been optimized for use in sealed or vented enclosures and are designed to offer an aggressive sound with good thump, while remaining accurate and dynamic. Clarion's PXW subwoofers are available as raw drivers or in custom-designed Canadian-built hardwood MDF speaker enclosures from your local authorized Clarion dealer. For more visit www.clarion.com
---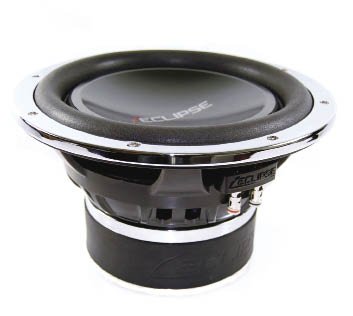 Eclipse SW8000
The Eclipse SW8000 subwoofer series uses many technologies to help provide great transient response, long excursion and extended low frequency response. With extra venting this subwoofer can be powered for simply adding a balanced low end or creating a rocking bass system. The cone uses airified paper formed using a special process in which air is mixed in with slurried paper. This lightens the cone by 25% while maintaining its strength and the dampening capabilities of paper. A progressive "S" surround works to keep the cone moving straight up and down thus eliminating extra movements that add distortion. For more visit
www.eclipse-web.com
or call (800) 233-2216. In canada visit
www.automobilitydistribution.com
---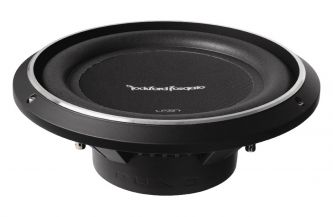 Rockford Fosgate P3SD412
The Rockford Fosgate P3 12-inch shallow mount subwoofer delivers the Punch - even in depth limited mounting situations. All vehicles are not the same: some can accommodate deep subwoofers and some can't. In the past that meant no Bass. Not anymore! Now even depth challenged vehicles can have real bass and the dual voice coil allows configurations for every application. Shallow woofers are designed for challenging spaces when a traditional woofer cannot be used. For more visit
www.rockfordfosgate.com
or call (800) 366-2349.
For More Products Read On