Page 6 of 10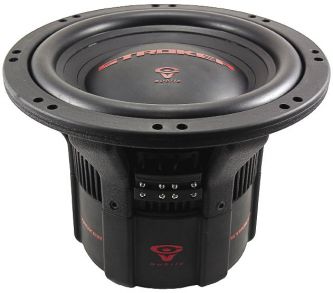 Cerwin-Vega Mobile STKR12
For more than 20 years the name Stroker has been the standard by which all other high-performance subwoofers have been measured. The Stroker returns in 2009 in its' most powerful version yet. The Cerwin-Vega Mobile STKR12 12-inch subwoofer uses massive multi-layer 3-inch dual voice coils, available in 2 or 4 ohm, to handle a staggering 1200 watts of RMS power. The new integrated terminal allows for all 8 awg connections to be made on one side of the woofer. The custom tooled skeleton cone design provides a reinforced yet lightweight alternative to conventional speaker cones. All of this is mated to a massive cast aluminum basket with double mounting holes to provide a more secure marriage between the woofer and enclosure. The STKR12 is only available at authorized Cerwin-Vega Mobile dealers. For more visit
www.cerwinvegamobile.com
.
---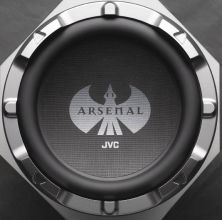 JVC Arsenal CS-AW7240
The JVC Arsenal CS-AW7240 subwoofer features an aggressive and stylish appearance, complete with sleek design and a silver or piano-black finish. The T3 Chassis (Thermal Transfer Technology) transfers heat away from the voice coil to the woofer's aluminum basket by connecting the motor structure to the basket, using a layer of heat transfer silicon. Patent-pending Multi-Mount Smart Trim Ring creates a clean installation appearance by concealing the mounting screws. Aluminum material reduces resonation within the subwoofer structure, which creates strong and clear output with Die-Cast Vented Aluminum Basket. Multi-directionally woven dampers correct balance of speaker, even with terminals concentrated on one side. Eco-friendly Hemp Fiber reduces unwanted mid- and high-frequencies in subwoofers like a natural low pass filter. Internal loss is reduced within the speaker diaphragm for pure fidelity sound. The CS-AW7240 features a Glass-Fiber laminated cone structure, dual-input 4 ohms voice coil, a Frequency Range 23-500Hz, and 1,800W Max./600W Nom. Music Power. For more visit www.jvcmobile.com or contact (800) 252-5722.
---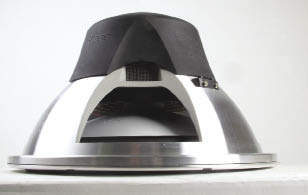 Vibe Space II
Described as thunderous yet refined, the R&D masters at Vibe proudly present the Space II series of Performance SPL subwoofers. Utilizing new cutting edge technology, known as Mechanical Thermal Unity, the Space II offers enhanced cooling by using a one piece alloy cone seamlessly coupled with a specially flanged alloy voice coil former for automated heat dissipation. Vibe's engineering of new technologies and material combinations has enabled them to create an immaculate subwoofer, capable of producing reference quality sound at huge sound pressure levels and available in 8, 12 and 15-inch sizes. For more visit www.vibe-usa.com or call (866) 622-VIBE.
---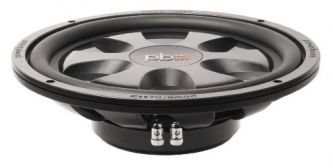 Powerbass S-12T Thin Woofer
New for 2009 is the PowerBass S-12T Thin Subwoofer. Built on a conventional platform, the basket is constructed of a glass fiber composite that is strong yet lightweight. A proprietary one-piece injection molded poly cone was designed to withstand flexing and break up at high power. The 2-inch KSV voice coil is available in single and dual 4-ohm models. For more visit www.powerbassusa.com or call (909) 993-5399.

For More Products Read On