---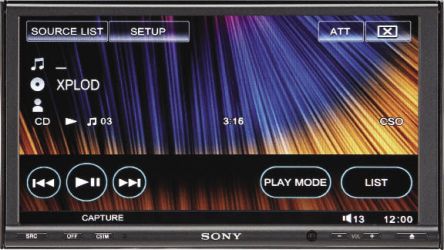 Sony XAV-W1
Sony's XAV-W1 Xplod® Double Din CD/DVD Receiver is the ultimate source unit for enjoying digital music and movies. Designed to elevate your in-car entertainment experience, the receiver features a 7 inch widescreen, 16:9 format touchscreen display and is satellite radio, HD Radio® and iPod® control ready (optional accessories required). The XAV-W1 is also surround-sound capable (Dolby Digital/Dolby Pro Logic II/dts Digital Surround sound) and features an interactive Karaoke mode to keep your passengers entertained mile after mile.
USA - www.sony.com/xplod
CAN - www.sonystyle.ca/xplod
---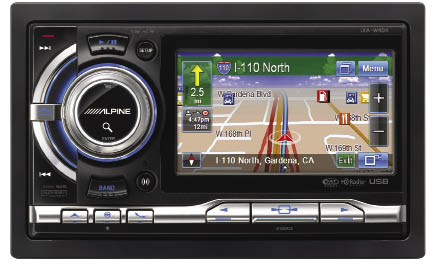 Alpine iXA-W404
Alpine's iXA-W404 Digital Media Station has new navigation capabilities with the addition of the NVE-M300 navigation drive. By adding the drive, consumers have turn-by-turn voice guided driving instructions integrated into the iXA-W404 with map data displayed on its 4.3-inch color touchscreen. The iXA-W404 is optimized for iPod and iPhone through its USB connection, providing premium sound quality. The double-action encoder knob or touch screen can be used to access large playlists, while album art and song information are displayed on the touch screen.  Other sources like satellite radio, HD Radio and Bluetooth wireless technology can be added to the iXA-W404.
USA - www.alpine-usa.com
CAN - www.alpine-canada.com
---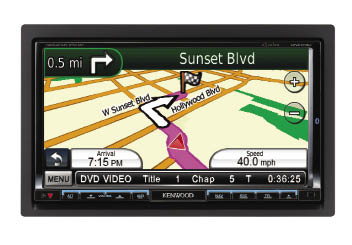 Kenwood DNX9140

The Kenwood DNX9140 is the newest addition to the Kenwood lineup of double din entertainment/navigation systems. It features a new advanced navigation platform from our friends at Garmin, which includes the ability to operate the navigation system, iPod/iPhone, Bluetooth, DVD/CD, USB and more by voice control. Now being that the DNX9140 is part of the eXcelon product line, it's not just about flashy features with little substance underneath. The DNX9140 is the flagship piece of the eXcelon product line. Meaning it has audio features an enthusiast requires; 5V pre-outs, 24-Bit D/A converter, 5.1ch DSP with digital time alignment and a 13-band parametric EQ. The system includes features designed to make your driving experience safer with built in Bluetooth® by Parrot for hands free cell-phone operation and a rear view camera input. To round it out a 6.95-inch high-quality touch-screen Wide VGA monitor featuring over 1.152 million pixels, delivers picture quality that elevates this unit into a class by itself.
USA - www.kenwoodusa.com
CAN - www.kenwood.ca
---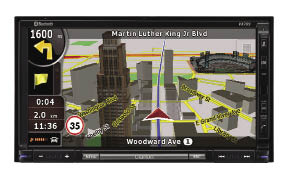 Clarion VX709 and NP509/CCB509

Clarion's VX709 Multimedia station features high quality DVD playback with built-in Bluetooth hands-free and streaming audio capabilities. It also features a USB port with USB iPod Audio connectivity – which means all your music is easily accessible via an intuitive on-screen interface. The NP509/CCB509 navigation system features high-resolution GPS-based navigation for Canada and the US. It offers unique features like 3D roads, 3D terrain, 3D Buildings and Landmarks, Turn-by-Turn voice prompts with Text To Speech, multiple destination route calculation and optimization and a whopping 12 Million Points of Interest database. Getting where you want to go has never been easier.
Read on for More Products
---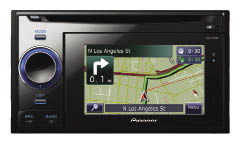 Pioneer AVIC-U310BT
Pioneer Electronics exhilarates the industry by offering the best value in in-dash navigation with the new AVIC-U310BT, a robust, full-featured system with the convenience of built-in Bluetooth for hands-free calling and Apple iPod/iPhone control. The comprehensive, 2-DIN system provides the sound quality and features expected from a Pioneer in-dash source unit, renowned navigation performance with turn-by-turn route guidance and the ease of wirelessly connecting to Bluetooth enabled cell phones.
---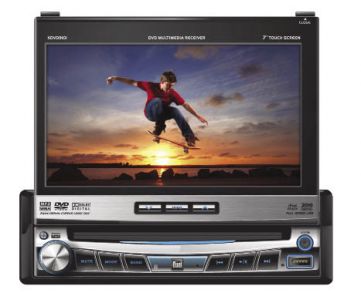 Dual XDVD9101
Dual introduces the new XDVD9101 7-inch in-dash DVD multimedia entertainment system with front panel iPod connectivity. The XDVD9101 features a 480 x 234 widescreen color monitor for crisp playback of your favorite DVD or other video using the front panel 3.5mm audio/video input. Full touch-screen controls provide access to advanced features such as CD/DVD/MP3/WMA playback, front panel USB input and iPod control. Complete system building is made possible by the front/rear/subwoofer RCA preamp outputs as well as additional inputs for rear camera and auxiliary audio/video RCA inputs. A full-function remote control and iPod connection cable are included as well.
---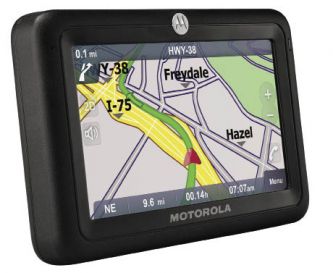 MotoNav TN30
Sometimes life isn't about reaching your destination but about the journey along the way. The MOTONAV TN30 GPS navigation and hands-free system not only provides clear turn-by-turn directions, spoken street names and lane guidance, but also doubles as a speakerphone for seamless hands-free calling. And because it's universally compatible, it can be paired with any Bluetooth enabled phone. So, sit back and enjoy everything the journey has to offer, and leave the navigating to the name you know and trust. The MOTONAV TN30 connects with your compatible Bluetooth enabled phone for hands-free calls. It works as a speakerphone, displays contacts and caller ID on the screen and automatically mutes directions while a call is in progress.
---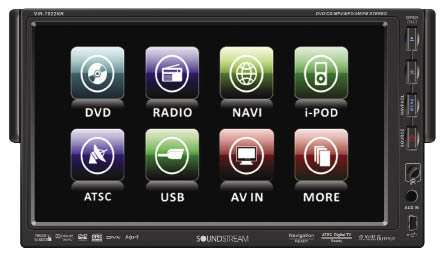 Soundstream VIR-7022NR
The Soundstream VIR-7022NR is a single DIN multimedia source unit with detachable 7-inch LCD touch screen! Take a moment to read that again… yep, it's detachable. The monitor attaches to the front of the radio and hangs down, rather than "flip-up" like typical source units with a 7-inch monitor. This low-ridin' LCD won't block any heating and A/C system vents or dash mounted controls. Plus it accepts Soundstream's DTV-1 and NAVIBOX-1 add-on modules for digital TV and GPS navigation too.

USA - www.soundstream.com
CAN - www.automob.ca
Read on for More Products
---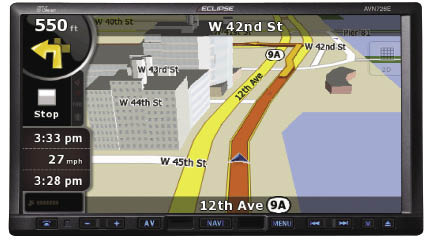 Eclipse AVN726E Roadview Navigation
The Eclipse AVN726E features stunning images, dynamic sound, and SD based navigation for an exceptional in-car experience. The high voltage 5-volt pre-out creates low distortion with clean and powerful sound on all of your music sources such as i-Pod, CD, USB, Bluetooth streaming music, XM and SIRIUS radio. i-Pod users can also tag songs that they like on an HD Radio broadcast for purchase on Apple's i-Tunes Music Store. DVD movies are viewed on a beautiful 7-inch wide QVGA screen that incorporates an advanced digital image processor for optimum outlining, color-depths and contrasts to make images more vivid. The digital to digital monitor further improves contrast by keeping data transfers in digital format and eliminating noise caused by the conventional analog conversion process. The AVN726E also offers advanced theft protection thanks to the built-in Eclipse Security Network system that prevents operation without a dedicated security medium. For enhanced safety, the unit keeps the driver concentrated on the road with turn by turn voice navigation, steering wheel-mounted controls and built-in Bluetooth hands free calling.
USA -
www.eclipse-web.com
CAN -
www.automob.ca
---

MD SOUND MD-3.5T
MD Sound, a 7 Elephants brand electrifies the mobile video market with the release of its New MD-3.5T color LCD Head unit. The MD-DVD3.5T is a full featured single DIN DVD player with tuner and flip-down panel. It is NTSC/PAL compatible with screen angle and position memory. Designed for suitable and enjoyable mobile amusement, it's audio and DVD capacity is complete including DVD/DVD-R/MP3/MP4/VCD/CD/CD-R/CD-RW delivering absolute convenience and functionality. It has AM/FM/MPX stereo with 30 preset stations, USB 2.0 and SD card input. For the truly advanced consumer the DVD/VCD/CD changer control interface, subwoofer output, and a card size full function remote control will qualify for an even more incredible capabilities of this head unit
www.mdsound.net or call (800) 977-9779
---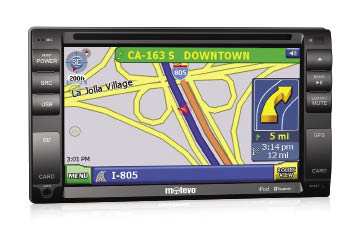 Motevo GTV-X1+
The Motevo GTV-X1+ in-dash double din multimedia navigation system offers all in one entertainment and value. Featuring a 6.2-inch fixed panel TFT LCD, iPod interface, SD card slot and USB port this unit supports DVD, DVD+R, VCD, CD, CD-R/RW, MP3, MPEG 1-4. With built-in GPS navigation and Bluetooth Hands-free control (also supports A2DP music streaming), the Motevo GTV-X1+ is the multimedia solution you've been looking for.
www.motevomobile.com or call (626) 810-6878
---
---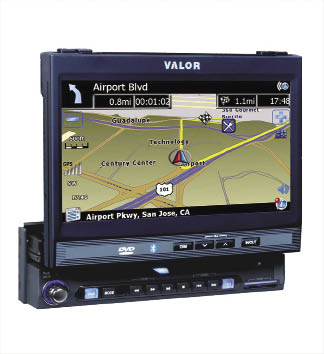 Valor Multimedia SDN-908W
The Valor Multimedia SDN-908W comes complete with AM/FM, DVD, CD, VCD, MP3, WMA and MPEG4 video playback, iPod control with cable included and Bluetooth cell phone integration. In addition, it comes with built-in GPS navigation using TelaAtlas Mapping featuring over 11 million Points of Interest (POI) and Text to Speech voice commands calling out all street names. The SDN-908W is a single din chassis with a fully motorized Touch Screen Control 7-inch LCD monitor. Additional features include: 4x55 Watts MOSFET Amplifier with 5-Channel RCA Line Level Outputs (Front, Rear & Sub), Front SD Card Reader, Front USB Port, 2 Rear Video Outputs, 1 Rear A/V Input and 1 Rear Camera Input. You can also play your music wirelessly via Bluetooth A2DP streaming. There is Last Position Memory for the DVD Playback and Built-in Dolby Digital Surround.
www.valormultimedia.com or call (888) 58-VALOR