---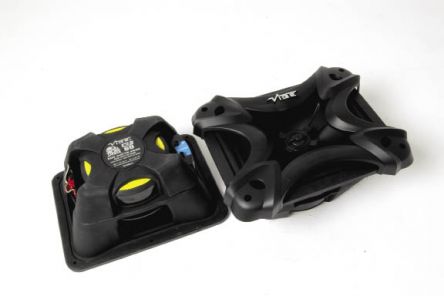 VIBE BD QB69
British car audio giants Vibe have unleashed a new strain of Black Death in the form of the ultra cool Vibe BD QB69. These rectangular 6X9's offer 20% more surface area making these capable of serious output. Driven by subwoofer motor boasting a 2.5-inch voice coil matched with an ultra sharp midrange and tweeter making these 3-way bad boys worthy of serious consideration for numerous applications. Thanks to the oversized design they handle serious power too rating at 200W RMS.

---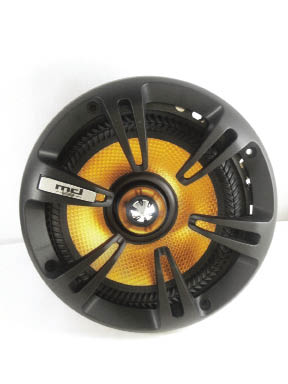 MD Sound MD6.5COMP01
The MD Sound MD6.5COMP01 2-way component speaker system includes 6.5 inch woofer and 25mm NdFeB Al-dome tweeter. With its 6.5 inch woofer enveloped in a PP injection cone rubber surround, the MD6.5COMP01 is designed to hold longer lasting power and helps the voice coil 'centered in the air gap' which improves efficiency. The 18 oz. Ferrite magnet enhances SPL capability. It is rated at 400 Watts 100 Watts RMS power, total peak power per Dual Speakers. The 4 Ohm impedance makes for a more efficient sound pressure. For more visit
---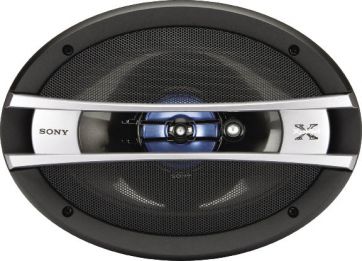 Sony Xplod GT Series
Crank up your system and hear every powerful note with Sony's Xplod GT Series speakers, providing big-time sound without the big-time impact on your wallet. The GT Series features woofer cones that are constructed of Sony exclusive Highly Oriented Polyolefine (HOP) and reinforced with Aramid fibers for a rigid and responsive cone. Additionally, the polyethylene naphthalate (PEN) diaphragm midrange drivers and polyetherimide (PEI) dome tweeters take care of the musical details, helping to drive explosive, clear mids and highs.
USA - www.sony.com/xplod
CAN - www.sonystyle.ca/xplod
---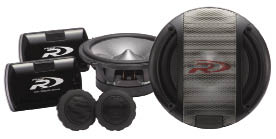 Alpine Type-R SPR-17S
The SPR-17S from Alpine Electronics is a 6.5-inch component 2-way speaker that delivers solid performance with superior efficiency, clarity and bass response. The speaker produces a warm midrange and bright, crisp sound reproduction. Experience greater music detail with the hybrid layered-pulp with mica coating woofer cone and 1-inch ring tweeter with resonance absorber. An external network design with seven-level tweeter adjustment allows for precise tuning, while the hidden screw terminal offers a sleek appearance. A shallower mounting depth and basket design makes installation fast and easy.
USA - www.alpine-usa.com
CAN - www.alpine-canada.com
Read on for More Products
---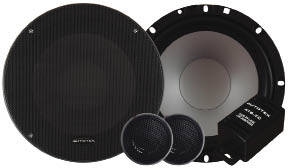 Autotek Super Sport AT6.2C
The 6.5-inch AT Series from Autotek was designed for entry-level enthusiasts for easy and uncomplicated installations in vehicles with separate midrange and tweeter locations. The combination of the bass enhancing neo-Mylar soft dome tweeter and alpha-cellulose cone attribute to low distortion and unwanted resonances. The durable moisture-resistant rubber surround and anti-resonant stamped steel basket are just some of the features normally found in higher end units. As added protection, the external 12 dB passive in-line crossover helps filter against powerful low bass frequencies.
---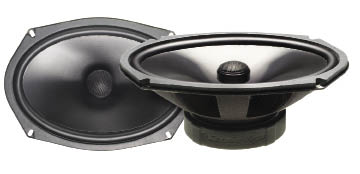 Cerwin-Vega Mobile VEGA69
The team at Cerwin-Vega Mobile continues to push the envelope in speaker technology with the introduction of the all-new VEGA69 6x9 coaxial speaker system. This speaker provides exceptional performance through the use of a high-output progressive spider design and ultra-stiff polypropylene cone. The high-efficiency ¾-inch treated silk dome tweeter has the capability to keep up with the output of virtually any subwoofer system making this coaxial the perfect complement to the companies popular subwoofers.
---
MB Quart Premium PVI 216
Superior sound quality and high-end performance is perfected in this 6.5-inch speaker with MB Quart's exclusive 40mm WideSphere tweeter assembly that fully addresses the inherent speaker problem of directional sound dispersion in a vehicle – making every seat, the best seat. Advanced features include a two-piece carbon-fiber reinforced composite chassis and polypropylene cone, edge wound 1-inch voice coils and gold-plated connection terminals for the best possible signal transfer. Premium performance crossovers for limitless mounting possibilities and a unique convertible feature with removable tweeter for use in both coax and component applications add to the prestige and versatility of the speaker.
---
Crunch Ground Pounder GRP6.5C
The 6.5-inch Ground Pounder component speaker provides all the power and performance expected from Crunch. Between the anti-resonant stamped steel basket and the silver alpha-cellulose cone rests a rubber surround that provides a sonically superior termination point for the sound waves that are launched off the speaker cone. This moisture resistant surround better seals the out-of-phase back wave and greatly enhances bass reproduction. Additionally, the impact resistant tweeter elements provide for smooth sound quality and the external 12dB Passive in-line crossover allows for optimum adjustment of the tweeter level. For more visit
Read on for More Products
---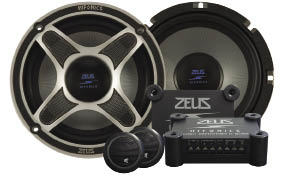 Hifonics Zeus ZXi6.5C
The Zeus 6.5-inch speaker from Hifonics is a powerful mixture of first-class sound quality and ultimate flexibility with multi-mount component tweeters. Plus, the low-profile MaxxFit speaker design offers a cure to limited speaker depth that is commonly found in many OEM applications. The center of the ceramic titanium composite cone is enhanced by a lightweight, yet rigid bass driver to provide an extremely smooth response. Coupled with a 12mm neodymium silk dome tweeter is the 360° radial air-cooled motor structure and magnet assembly. Together these deliver an even response up to 25,000 Hz for the most extreme power with the most extreme sound. A rich blue glow of the logo illuminates from the dust cap. www.maxxsonics.com
---
Boston Acoustics SR60 high performance component speaker features a 6.5-inch woofer with TwinStage heatsink and a Type-S1 1-inch Kortec tweeter. Leading the component drop-in category, Boston SR speakers utilize many key features from the acclaimed Boston Pro speakers to give them plenty of pure, natural performance all with minimal distortion and maximum bass. With features like VariMount Adapter Rings, quick-fit tweeter mounting cups and separable/dockable crossovers, SR speakers are designed specifically for easy installation into a variety of factory locations. www.bostonacoustics.com
---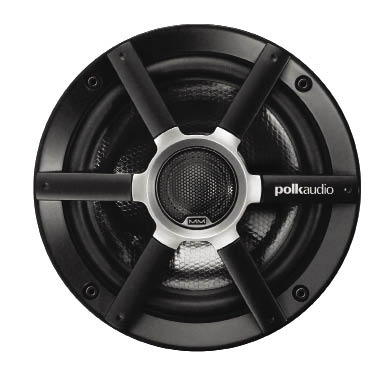 Polk Audio MM651
Introducing the MM651 6.5-inch coaxial speaker from Polk Audio! One of several new models in the Mobile Monitor Series, this incredible speaker is designed to perform with its space age materials, awesome looks and spectacular sound. MM651 uses advanced materials such as Neodymium magnets, woven glass cones and carbon composite baskets- normally found on expensive exotic speakers. This design means MM651 is slimmer and will fit into additional applications and a swivel mounted tweeter allows precise aiming of the sound. MM651 is marine certified and can be used on boats and watercraft as well.
---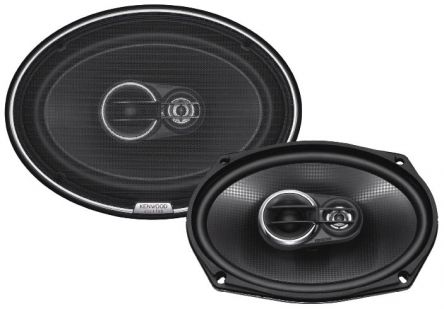 Kenwood Excelon Coaxial Speakers
The Kenwood Excelon series of coaxial speakers feature two or three-way speaker designs using carbon-polypropylene with fiber texture cones. The surface irregularities help to diffuse sectional vibration while increasing internal loss to ensure smoother peaks and dips as well as a flatter frequency response. What's more, the simple and clean design helps to heighten the overall appearance of the speakers. Also features soft dome tweeter design for smoother, detailed music playback accuracy. Speakers are available in several sizes and come with a two-year standard warranty.
USA - www.kenwoodusa.com
CAN - www.kenwood.ca
Read on for More Products
---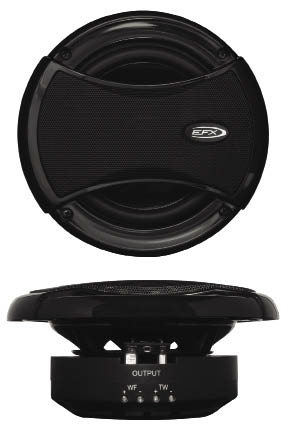 EFX C65
The EFX C65 convertible component set can be mounted in either a coaxial or component alignment with separate tweeter for ideal positioning. The C65 loudspeaker set also includes our patent pending Universal Backmount Adapter for quick, secure and easy tweeter mounting behind factory panels or pillars.
---

Clarion Ultra Series Speakers
The Ultra Series of speakers from Clarion features 6.75 and 5.25-inch components sets, as well as a 1-inch component tweeter set. The speakers are built around a rigid cast aluminum chassis featuring integrated cooling for the magnet assembly as well as pressure relief from beneath the spider for improved linearity. The woofer cones are made of glass fiber for excellent strength and damping characteristics. A neodynium-powered silk dome tweeter offers exceptionally smooth and detailed high frequency response. The Ultra series from Clarion - clear, dynamic and accurate.
---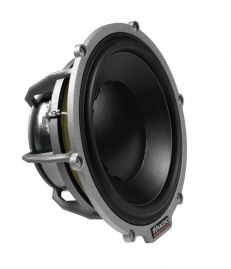 Dynaudio Esotar² E430
The Dynaudio Esotar² automotive loudspeaker series represent the highest level of automotive music reproduction – not just for Danish high-end loudspeaker specialist Dynaudio but for the entire arena of mobile audio. The compact Dynaudio Esotar² 430 opens up the possibilities for system installations, and is a perfect complement to the performance benchmarks set by the Esotar² loudspeaker separates. The Dynaudio Esotar² 430 midrange features a geometrically optimized 3.5" diameter MSP (magnesium silicate polymer) cone, a proprietary material providing the ideal combination of stiffness, low weight and excellent inner damping.
---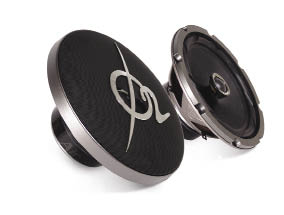 Oxygen Audio Air 202
The Oxygen Audio Air 202 speaker system offers 2-way 8-inch speakers complete with crossovers. Oxygen Audio Air 202 utilize high quality materials to deliver great sound at a great price and include the unique O2 grilles. The Air 202 speakers are rated at 120 watts RMS and 200 watts Max power.
Read on for More Products
---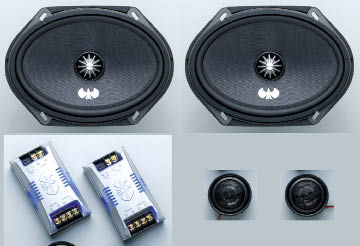 JVC

Arsenal Series CS-ARS680
The JVC Arsenal Series CS-ARS680 6 x 8/ 5 x 7 2-way component speakers feature an illuminated crossover network, a glass fiber laminated hemp cone, 1-inch titanium hard dome tweeters, T-3 Chassis, and a radiating equalizer. Its slim design and included adapters allow for installation in a wide range of cars. The CS-ARS680 component speakers have
a 240W Max. music power/80W RMS and come with a two-year standard warranty.
USA - www.mobile.jvc.com
CAN - www.jvc.ca
---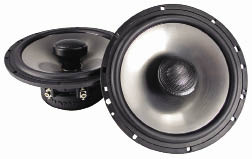 Diamond Audio D363.5I
The new D363.5I from Diamond Audio provides high-end performance on a shoestring budget. This 6.5-inch coaxial features a low-resonant ABS composite chassis mated to a mica-filled poly cone, linear spider and UV resistant butyl rubber surround. High frequencies are handled from the coaxials 1-inch aluminum dome tweeter mated to a unique swivel post. Diamond Audio is so sure these speakers will hold up, they back this (and all other D3 speakers) with a three-year warranty when purchased and installed from an authorized Diamond Audio dealer.
---
For 2009 the PowerBass L-series coaxials and components are employing a new poly cone material with a Zirconium/Titanium coating which the company has designated as Z-2.  This new material allows the speaker to handle more power with less distortion, providing a cleaner, clearer sound. A 1-inch (25mm) Aluminum Dome tweeter was selected for the highs and comes with a 3-way mounting kit (flush/surface/angle). The use of a 2nd Order Butterworth Crossover Network further adds to the systems fidelity and increases listener enjoyment. www.powerbassusa.com
---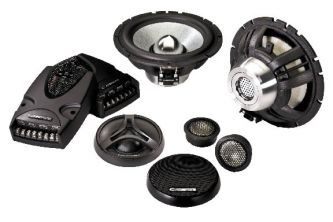 Cadence CVL3-WK
Cadence CVL Series speakers were conceived as an alternative to overpriced and underperforming speaker systems. The CVL3-WK three-way component set delivers unparallel sound quality, performance and power handling in a package that rivals speakers costing up to three times more. The CVL speakers offer natural sound in reproducing instruments, vocals and sound effects for your movies. CVL components utilize state of the art cone material made of a structural foam core attached to a Carbon/Kevlar fiber composite glass layer to achieve the perfect combination of rigidity and incredible lightness.
Read on for More Products
---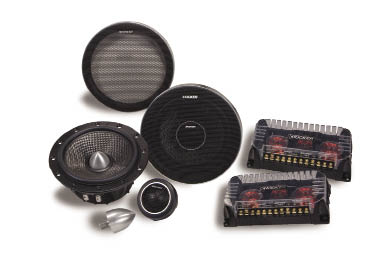 Kicker QS-Series
Kicker QS-Series matched component systems reach an entirely new level of optimal audio, using the latest, most innovative parts and cutting-edge processes to give the listener the absolute closest thing to live sound. It simply provides the clearest music that ears will ever experience. Midrange speaker sizes determine the difference between the QS65.2 System (6.5-inch) and the QS60.2 System (true 6-inch that fits 5.25-inch location as well). These mids reach their uncanny range with a Kicker first – the Tri-Tech cone, a straight efficient cone consisting of a woven carbon-poly facing, a highly-advanced, super-rigid Rohacell foam core, and another carbon-poly backing all sandwiched together for utmost internal damping and unparalleled sound.
USA - www.kicker.com
CAN - www.gemsen.com
---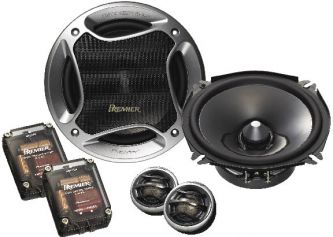 Pioneer TS-A Series
Pioneer Electronics next generation TS-A series speakers feature the highly touted basalt rock speaker technology. Inherited from last year's high performance TS-D line of speakers, the basalt rock composite in its speaker cones make them extremely light and rigid, a combination necessary for increased output in lower bass frequencies. The basalt enhanced cones are matched with a soft dome midrange placed in a wave guide, resulting in an open and smooth sound output that delivers an incredible sound quality experience like being at a live music performance.
---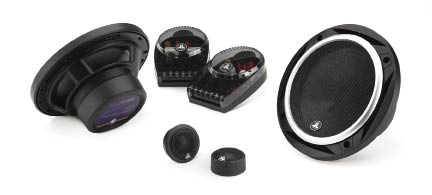 JL Audio Evolution C2-650
The JL Audio Evolution C2-650 is a component system with 6.5-inch (165mm) woofer and a true, edge-driven 0.75-inch (19mm) silk dome tweeter that excels on or off axis and offers clean, flat frequency response to well beyond 20 kHz. The System includes flush and surface mount tweeter mounting fixtures and true 2-way outboard crossovers with three user selectable tweeter attenuation levels. It is designed to fit popular drop-in factory speaker sizes and has installer-friendly features and frames designed to work equally well as full range speakers or as satellite components in a system with a subwoofer.
USA -  www.jlaudio.com
CAN - www.gemsen.com
---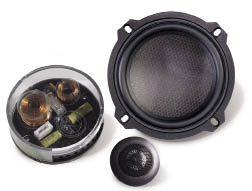 Memphis Car Audio MClass
Memphis Car Audio MClass component speakers offer a host of advanced materials, features and mounting options. The smooth aluminum/magnesium tweeters come with a full complement of hardware for flush, surface or angle mounting. New aluminum/magnesium adds strength. Passive crossover allows you to customize sound, or to use 2 amps. And, of course, you'll avoid heat and reduce damage to the tweeter. This product features ferrofluid cooling, cast aluminum basket, high-end gold-plated push terminals, carbon honeycones, butyl rubber surround, kapton voice coils, two-way passive crossover, and bi-ampable inputs with tweeter protection.
Read on for More Products
---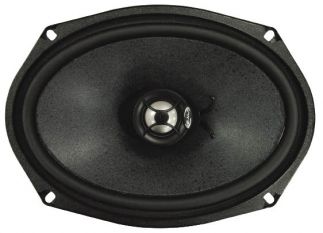 Realm LS69cx
Realm introduces its high-end line of component speakers. The LSC69CX 6x9 component speakers boast high-quality materials enhancing the capabilities of the speakers and include superior components. The component speakers offer great low-end extension for good bass performance.  Realm loudspeakers include three-position tweeter attenuation and offer surface, flush and angle mounting hardware. Known for high-strength and lightweight, Realm loudspeakers utilize a Nomex composite cone.
---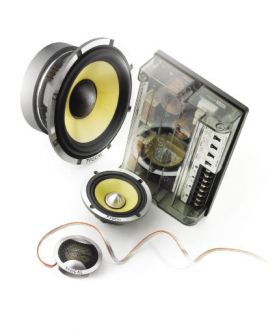 Focal 165KRX
Focal has developed the K2 Power series to reach the top levels of acoustic resolution and sound pressure. The Focal 165KRX 6.5-inch 3-way component speakers feature a thermoformed, structural foam central core cone woofer, coated with an Aramid fiber layer on the front side and a glass layer on the back side. The cone results in a woofer that is impressively rigid, lightweight, and distortion free, even at high output levels. The Tweeter is a TN53K inverted dome tweeter. Focal uses advanced materials and technology to make a speaker that is unmatched in quality and sound.
---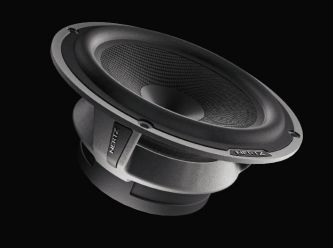 Hertz

Hi-Energy HCX165
The Hertz Hi-Energy speaker line has established itself as the reference of value within the world of car audio. Astonishing acoustical qualities, innovative design, high power handling and reliability, brought together by the soul and passion of Hertz engineers. All of this blends into a truly remarkable product. The technology and performance of the new Hertz Hi-Energy speaker line is normally found in products costing considerably more. The Hi-Energy HCX165 was recently awarded "best ever" in the coaxial speaker category by U.S. mobile electronics retailers.
---