Page 2 of 7
---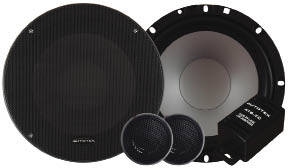 Autotek Super Sport AT6.2C
The 6.5-inch AT Series from Autotek was designed for entry-level enthusiasts for easy and uncomplicated installations in vehicles with separate midrange and tweeter locations. The combination of the bass enhancing neo-Mylar soft dome tweeter and alpha-cellulose cone attribute to low distortion and unwanted resonances. The durable moisture-resistant rubber surround and anti-resonant stamped steel basket are just some of the features normally found in higher end units. As added protection, the external 12 dB passive in-line crossover helps filter against powerful low bass frequencies.
---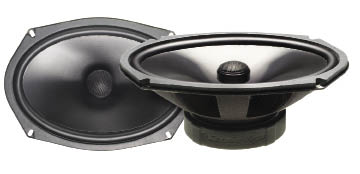 Cerwin-Vega Mobile VEGA69
The team at Cerwin-Vega Mobile continues to push the envelope in speaker technology with the introduction of the all-new VEGA69 6x9 coaxial speaker system. This speaker provides exceptional performance through the use of a high-output progressive spider design and ultra-stiff polypropylene cone. The high-efficiency ¾-inch treated silk dome tweeter has the capability to keep up with the output of virtually any subwoofer system making this coaxial the perfect complement to the companies popular subwoofers.
---
MB Quart Premium PVI 216
Superior sound quality and high-end performance is perfected in this 6.5-inch speaker with MB Quart's exclusive 40mm WideSphere tweeter assembly that fully addresses the inherent speaker problem of directional sound dispersion in a vehicle – making every seat, the best seat. Advanced features include a two-piece carbon-fiber reinforced composite chassis and polypropylene cone, edge wound 1-inch voice coils and gold-plated connection terminals for the best possible signal transfer. Premium performance crossovers for limitless mounting possibilities and a unique convertible feature with removable tweeter for use in both coax and component applications add to the prestige and versatility of the speaker.
---
Crunch Ground Pounder GRP6.5C
The 6.5-inch Ground Pounder component speaker provides all the power and performance expected from Crunch. Between the anti-resonant stamped steel basket and the silver alpha-cellulose cone rests a rubber surround that provides a sonically superior termination point for the sound waves that are launched off the speaker cone. This moisture resistant surround better seals the out-of-phase back wave and greatly enhances bass reproduction. Additionally, the impact resistant tweeter elements provide for smooth sound quality and the external 12dB Passive in-line crossover allows for optimum adjustment of the tweeter level. For more visit
Read on for More Products