Written by PAS Staff
Page 2 of 4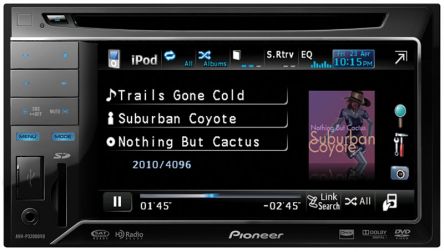 Pioneer
AVIC-X920BT
Pioneer's AVIC-X920BT is the latest all-in-one system that features a large 6.1-inch WVGA touch screen display, an advanced audio/video and navigation user interface with intuitive and innovative touch control architecture, enhanced voice recognition, second generation Eco-routing and Pandora Link internet capability. The system also provides built-in bluetooth for hands-free phone operation, audio streaming, and AVIC FEEDS iPhone App compatibility. USB connectivity enables iPod and additional digital media sources to be connected and directly controlled through its interface. Pandora feature is not available in Canada.
www.pioneerelectronics.com
www.pioneerelectronics.ca
---

Dual
XDVDN9131
Take control over everything with the Dual XDVDN9131 in-dash multimedia/navigation receiver. It features a single DIN chassis, fully motorized 7-inch touch-screen monitor and a detachable fold-down front panel for security. Find your favorite destinations using the integrated navigation with more than 2 million points of interest or play music and video from your iPod device. Built-in bluetooth wireless technology allows for hands-free calling and streaming of your music via A2DP. The integrated SDHC card reader plays your favorite MP3/WMA files and allows for future map updates. An external microphone and connection cable for an iPod device are also included.
---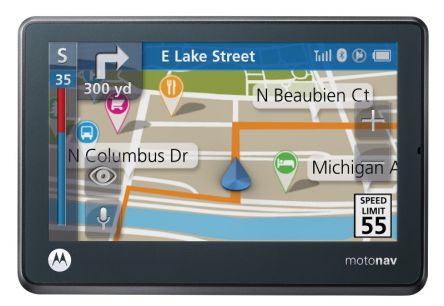 MOTONAV
TN700 and TN500 Series
Constantly be in touch while staying focused on the road with the MOTONAV TN700 and TN500 series. Motorola's personal navigation system ensures you stay on the map while discovering the world around you. Motorola introduces two new personal navigation devices: The MOTONAV TN500 series is an easy-to-use personal navigation device with voice commands and stunning graphics while the MOTONAV TN700 series features a cinematic display that also offers streaming traffic alerts and a 3D landmark viewing map. Both devices have a speakerphone that pair with Bluetooth-enabled phone keeping your whole life in sync while on the road.

www.Motorola.com/MotoNav
---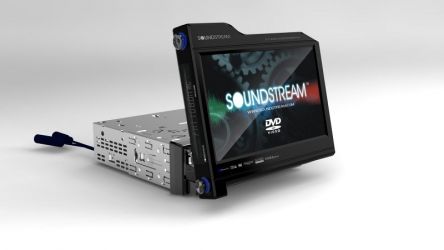 Soundstream
VIR-7022NR
The Soundstream VIR-7022NR is a single DIN multimedia source unit with detachable 7-inch LCD touch screen! Take a moment to read that again… yep, it's detachable. The monitor attaches to the front of the radio and hangs down, rather than "flip-up" like typical source units with a 7-inch monitor. This low-ridin' LCD won't block any heating and A/C system vents or dash mounted controls. Plus it accepts Soundstream's DTV-1 and NAVIBOX-1 add-on modules for digital TV and GPS navigation too.

USA - www.soundstream.com
CAN - www.automob.ca
Read on for More Products