MS-A1004
JBL

The JBL MS-A1004 is a compact, four-channel amplifier that gives you up to 400 Watts of raw power to use any way you see fit. It connects to any line-level or speaker-level source and features onboard displays for easy, foolproof installation and configuration. A digital input mixer lets you map your inputs to any speaker output, and sophisticated network circuitry puts you in precise control of the crossover points and slopes of each channel pair. With great power comes great possibilities - not to mention great sound - and the MS-A1004 delivers on all counts.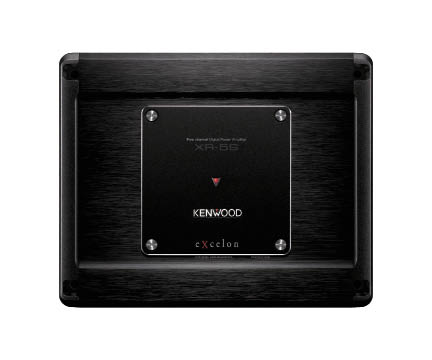 Kenwood
Excelon XR-5S
The XR-5S from Kenwood is part of their Excelon Reference Fit series of amplifiers. This 5 channel amp will produce 80Wrms x 4 and 350Wrms x 1 into 4-Ohm loads. The amp utilizes intelligent high-speed switching technology to deliver audiophile sound quality while offering excellent efficiency. The result is a footprint of only 9.25 x 7.5626 inches. The front, rear and sub channels all have high- and low-pass crossovers, adjustable from 50 to 200Hz and each have their own sensitivity control, adjustable from 0.2 to 5V.
www.kenwoodusa.com
Canada: www.kenwood.ca
Clarion
XH5410
The Clarion XH5410 is a 4-channel amplifier rated at 90Wrms x 4 into 4-Ohms, 160Wrms x 4 into 2-Ohms and can be bridged to produce 320Wrms x 2 into 4-Ohms. The amp features Clarion's unique Input Voltage Selector (IVS) feature that reduces channel imbalance and Precision Frequency Selector (PFS) electronic crossover to make system setup quick and accurate. A wide-bandwidth Class-AB audio path ensures smooth frequency response, accurate imaging and great dynamics. Speaker level inputs, computer controlled protection circuitry and gold plated connections round out the feature set.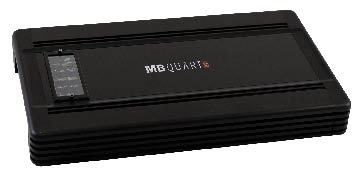 MB Quart
Q-Series
MB Quart's finest amplifiers offer a rich design and world-class quality. These amplifiers are extremely efficient and produce high-quality sound that others can only dream about. Their engineers have introduced "Q Control" which is a collection of advanced features only found in this new series of Q amplifiers. Multi-Colored Clipping Indicators, Frequency Multipliers and selectable Filter Slopes provide Sound Quality enthusiasts useful tools for getting crystal clear power and distortion free musical reproduction from their audio systems. These amps feature RMS power and are CEA compliant, top mount controls, double sided PCB design, and variable Low/High Pass, and a full feature crossover design with 6 and 12dB filter slopes.
www.mbquart.com
T1000-4
Rockford Fosgate's new AD amplifiers incorporate powerful full-range sound in a compact chassis design. The Class AD amplifiers are optimized for multi-channel applications because they require fewer switching devices and share a common high voltage supply. The amplifier constantly monitors each channel's power to dynamically adjust output to ensure max power output. Each channel is completely independent from each other and has its own constant power and protection circuitry, allowing constant power to be attained regardless of impedance. The T1000-4 is rated at 150Wrms into 4 channels at 4-Ohms, 250 Wrms x 4 into 2-Ohms and can be bridged to produce 500Wrms into 2 channels at 4-Ohms.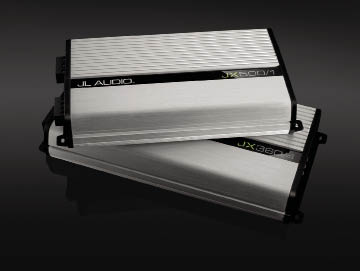 Pioneer
GM-D7500M
Pioneer's GM-D7500M Class-D mono amplifier is designed to offer excellent electrical and thermal efficiency, allowing the amplifier to produce the same power output as conventional amplifiers more than double their physical size. The GM-D7500M is 80-90 percent more efficient than those of traditional class A/B design. It was engineered specifically to power in-vehicle subwoofers and features 2-Ohm stability - allowing it to deliver high power and loads of current in a wide variety of configurations, from a single subwoofer to multiple subwoofer applications. The GM-D7500M is rated to produce 200 Watts into a 2-Ohm load.
www.pioneerlectronics.com or www.pioneerelectronics.ca
Alpine
MRX-V60
Alpine's MRX-V60 is a 4-channel plus Mono amplifier from the new X-Power series of amplifiers. It uses the same Global Modulation Topology found in Alpine's PDX amplifier series, but with traditional negative feedback and Adaptive Feedback Control. It has the same small footprint as the PDX series, with the highest bandwidth, best signal-to-noise, lowest distortion and highest damping factor for its class. The MRX-V60 has an input select switch that makes 5-channel output possible even with a 2- or 4-channel input. It is compatible with the RUX-KNOB remote bass knob (sold separately). The amp is rated at 50Wrms x 4 and 200Wrms x 1 into 4-Ohms and 75Wrms x 4 and 300Wrms x 1 into 2-Ohms
JVC
KS-AR9501D
With it's 1500Wrms power output, adjustable subsonic filter, variable low-pass filter, high/low level inputs and flexible installation options, the ARSENAL KS-AR9501D mono-block offers everything you're looking for in a subwoofer amplifier...but in the off chance that you need extra power, JVC has you covered. With its external bridging feature, you can strap two KS-AR9501D's together to give you a monstrous 3,000Wrms into a 2-Ohm load.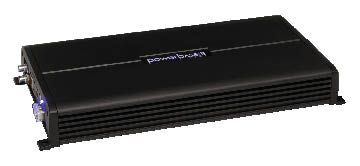 Sony
Xplod Amplifiers
When it comes to giving you a good kick in the pants, there's no substitute for Sony Xplod amplifiers. Flexible output configurations fit your needs from one channel of power to many. With audiophile output stages, your music isn't just loud, it's also clear. Sophisticated input level, crossover and low bass adjustments enable you to optimize the sound for your choice of speakers. Also, all Sony multi-channel amps can be bridged for maximum flexibility.
Canada: www.sony.ca/xplod
Arc Audio
XDi Amplifier series
The new XDi amplifiers from Arc Audio feature an ultra-compact footprint that maximizes installation flexibility. The series includes 3, 4 and 5-channel units, as well as a pair of mono block designs. The 3 and 5 channel amps are a hybrid design, using a discrete 400-Watt high-efficiency Class D subwoofer section. All amps feature a high-frequency switching power supply that keeps noise out of the audio band and lowers distortion. Each amp is based on a custom made aluminum extrusion heat sink with machined fins. High quality terminals blocks and chassis-mounted RCA jacks ensure a perfect and reliable connection every time. A remote bass level control is available for all models for maximum system control.
www.arcaudio.com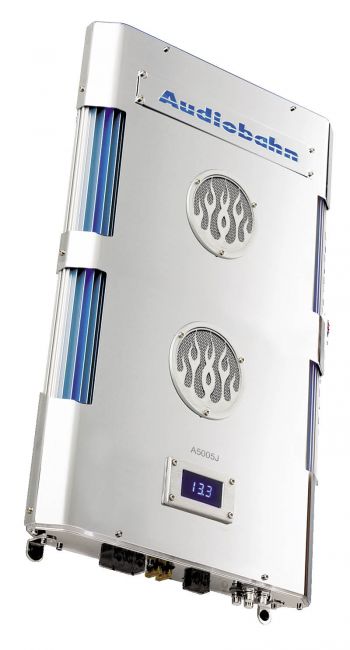 incriminator audio
IA6.4
The IA6.4 is a four channel, full range digital amplifier capable of producing a large amount power with a very small case. This 7"x12" powerhouse produces up to 150 watts per channel @ 2 ohms and includes a complex crossover network. The IA6.4 also houses an advanced 5-way protection circuitry system to ensure that failures due to outside conditions are kept to a minimum.
www.incriminatoraudio.com
Orion
XTR10001 Class D Mono Amplifier
XTR High Performance Amplifiers are built on a reputation of quality and reliability, and embody the true meaning of power and performance. They're housed in a sleek heat sink, loaded with features and pack an eXTRemely powerful punch for their size. XTR amps stay true to the Orion legacy of cracked windshields and punishing SPL! XTR Amplifiers feature classic Orion industrial design, all MOSFET power supply and output stages, heavy gauge direct-wire high current power and speaker terminals and a 12dB/Octave Low-Pass Filter. The XTR10001 delivers 1,000 Wrms into one channel at 1 Ohm.
Cerwin Vega
Mobile HED Amplifiers
Cerwin Vega Mobile has recently launched its brand new entry-level series of HED (High Energy Design) amplifiers. HED amplifiers deliver a new level of performance and value. Packed with an array of feature such as a built-in internal temperature-sensitive fan, a high-mass heat sink and bass boost control option on select models, these new HED series amplifiers have redefined the entry-level price point category. The sleek and modern cosmetic design finishes off the HED package so you can style and profile while dropping the beats! The HED series of amplifiers consists of 4 new models beginning with the 2-channel HED300.2, the 4-channel HED600.4, and 2 mono amplifier models, the HED500.1 and the HED1000.1.
Hifonics
Brutus Elite Amplifiers
The Hifonics Brutus Elite Series represents the famous Brutus Super D-Class mono blocks, with the addition of three Class A/B full range stereo amplifiers. The Brutus Elite series mono blocks offer High Efficiency Super D-Class Technology that is a tried and tested technology and feature 4/2/1 Ohm Stability, Bass EQ with 45 Hz Bass Boost and Variable Low Pass, Subsonic Filter, Phase Shift and Level Control plus many more features.
Audiobahn
A5005J
As part of the new Intake series from Audiobahn, the A5005J is the first 5-channel amp from the company. The four main channels are Class A/B for good sonic performance, while the powerful subwoofer channel is Class D for excellent efficiency. The amp produces 50W x 4 and 250 x 1 into 4-Ohms. The sub channel can produce 500W into a 2-Ohm load. Additional features include crossovers, bass boost, a subsonic filter and RCA throughput to connect to another amp. The Intake series' traditional chrome finish, digital voltage display and air intake fan are, of course, included.
American Bass
HD-3500 Monoblock
The new American Bass HD series of amplifiers are designed with modern Class D output switching for excellent efficiency. The HD-3500 is rated at 1500Wrms and can be strapped to another amp for twice the output. Features include a 35-300Hz 12dB low-pass crossover, 10-50Hz subsonic filter, a bass boost control that can add up to 9dB and a wired remote control. A protection circuit monitors temperature, voltage and speaker terminal short circuits.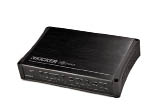 Kicker
IX1000.5
The Kicker IX1000.5 may be small in size, but not in performance. This 5-channel amp is rated to produce 125Wrms x4 into 2-Ohms and has a subwoofer section that will produce 500W into a 2-Ohm load. The amp is compact at only 11-3/8 inches in length. It includes fully variable electronic crossovers, KickEQ bass boost, and can be fed with high- or low-level input signals for flexible signal connection. The amps are also stackable, meaning less room in your trunk or hatch is consumed – leaving you room for your gear!
Canada: www.gemsen.com
Diamond Audio
RTMS Equipped Amps
Diamond Audio has introduced its new D600.1 and D1000.1 mono-channel amplifier models that will be equipped with its brand new RTMS (Recovering Thermal Management System) power-stabilizing feature. An advanced real-time microcontroller was incorporated into the Diamond military-spec printed boards to analyze and control overheating of the amplifier. By manipulating power output through heat dissipation management, the amplifier runs cooler, is more efficient and delivers much longer and balanced audio play. Diamond Audio's pursuit of designing and engineering world-class amplifiers continue so audiophiles can "listen as the artist intended."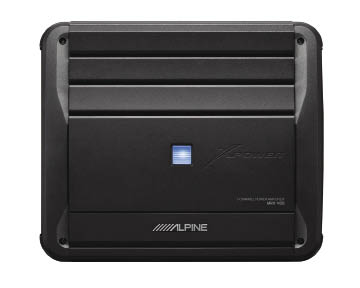 O2 Audio
Element Amps
The Element series of amplifiers from O2 Audio includes 5 models – a pair of 2-channels, a 4-channel and a monoblock. All the amps feature Nickel-plated RCA jacks, MOSFET Power Supplies, integrated protection circuitry and electronic crossovers. The EL.A1800.1 includes a subsonic filter and polarity switch. You can also strap two of them together to double power output into a single load.
pPI
Phantom Class D Full Range Amplifiers
Is bigger always better? No! For many years, if you wanted a big system, you needed big products. Not anymore. Introducing Phantom amplifiers for 2011. Using state of the art SMT and Class D technologies, you can have a system as big as you want, and still not sacrifice all your storage area. These new big amps in a tiny chassis are available in 1, 2, 4 and 5 channel models to fit every application,
Helix
Blue Amplifiers
Continuing with the philosophy of German engineering and precision, the Helix Blue series amplifiers share a lot of the same design elements as their more expensive brethren. With monoblock, 2-channel, 4-channel and 5-channel versions to choose from, you are sure to find one or two to match the needs of your system. Along with features such as variable frequency bass boost, a variable frequency subsonic filter (monoblock only) and active crossovers configurable in high, low or even bandpass modes, the Blue series amplifiers provide feature rich performance at affordable prices.
FLI
FL900s Amplifier
New from FLI is the ultra compact FLI Loaded amplifiers. All 3 variants (2 channel, 4 channel and monoblock) share the same small footprint and illuminated heat-sink. Featured here is the FL900s 4-channel Class-D amplifier. The clean aesthetics conceal a range of convenient features such as high and low inputs to help with OE integration and a 12dB bass boost. The FL900s is rated to produce 100Wrms of output into 4 channels and an optional remote control is available.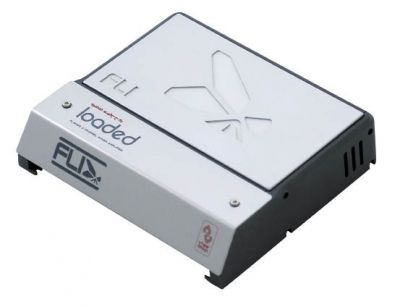 Vibe
BlackDeath Reaper
After years in development, Vibe Audio's SPL competition level BlackDeath Reaper amplifier is finally ready to be unleashed on the world. Capable of outputting deadly power - the Reaper has an RMS output of 14,500 Watts at 1-Ohm, full high voltage stability of up to 18V and a strapping circuit allowing 2 amplifiers to deliver 29,000 Wrms into a single 2-Ohm load.
Autotek
Mean Machine Amplifiers
The Autotek Mean Machine Series is designed to provide incredible performance and outstanding aesthetics in a multitude of amplifier configurations that are competitively priced. There are eight models to choose from in this line including five multi-channel class A/B stereo amplifiers for your vehicle's sound stage and three D-Class mono blocks for those in the need of efficient bass output. You need to see them; they have incorporated a blue illuminated optical surround into the heat sink. These amps feature Maxi-fuses for protection, a CNC-machined MM logo, low and high-pass filters, RCA inputs and outputs, and remote bass control for the monoblocks.
Phoenix Gold
SD-Series SD800.5
Introduced at the 2011 Consumer Electronics Show to great fanfare, the Phoenix Gold SD800.5 is the flagship model in its new SD-Series of mini-amplifiers. Small in size (only 13.6 inches long and 2 inches high) and massive in performance, this 800W, five-channel digital amplifier was engineered with state of the art full range Class-D circuitry that can operate at over 80% efficiency. Ideal for just about any vehicle installation, this amp features a sleek, contoured look with a smoked, translucent Plexiglas top that highlights the impressive electrical design.
Canada: www.gentec-intl.com
Soundstream
Reference Sound Quality Amplifiers
People ask all the time, "Are the new Reference amps as good as the old ones?" Think about it, Soundstream would be foolish to offer an inferior Reference amp. While they were astonishing at the time, technology and engineering have improved. The new Reference amplifiers are nothing short of phenomenal! Using all Class A/B technology and EXTENSIVE on-board pre-amp processing, Reference amplifiers give the best sound quality and nearly limitless tuning abilities. We are sure you'll find a 1, 2, 4 or 5 channel Reference amplifier to suit your audiophile needs. Listen & feel…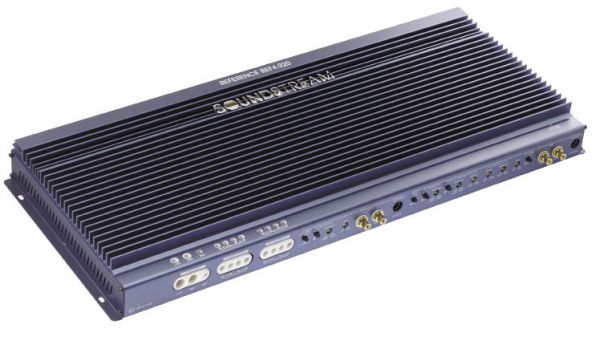 MTX
RT500D
The MTX RT500D is a return to the roots of MTX Audio, pure power. The RT500D is loaded with features that set it apart from the competition and make it the ideal amplifier for any subwoofer system. The PCB is dual layer fiberglass with large copper traces that increase current flow capacity while the patented Adaptive Class D technology increases efficiency for longer play times while a reduced RFI design improves the amplifier's sound quality. The feature set includes a Low-Pass filter with a 24dB slope as well as a variable bass boost, subsonic filter and an included EBC.
Lightning Audio
LA-2000MD
Massive power for massive subwoofers! The Lightning Audio 2000MD is a 2,000 Watt Mono Digital amplifier designed for 2-Ohm woofer loads like a pair of 4-Ohm woofers wired in parallel or four 4-Ohm DVC woofers wired in series/parallel. This amplifier features balanced/RCA inputs, 0-180 degree phase adjustment, 35-250Hz low pass crossover, up to 18dB of bass boost with one band parametric EQ, 15-55Hz subsonic filter, master/slave capability with RCA outputs for daisy-chaining another amplifier for massive power.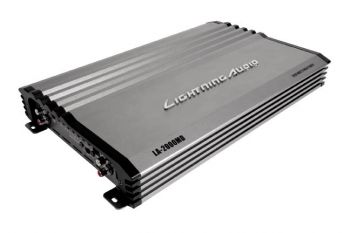 Mosconi
AS 200.4
The MOSCONI AS series amplifiers are designed, developed and produced in Italy. They have been built to address every demand that one could have in a high-end amplifier and deliver them all in one intuitive design. They offer high quality sonic performance, coupled with the ability to drive loads down to 1-Ohm stereo. The use of dedicated semiconductors, the distribution of power among parallel transformers and the adoption of a high efficiency thermal management system provides all the strength, quality, versatility, control and reliability needed to drive loads down to 1-Ohm Stereo or 2-Ohms mono BTL. The amp is rated to produce 200 Watt per channel @ 4 Ohms, 320 Watt per channel @ 2 Ohms, 640 Watt BTL mode @ 4 Ohms and 950 Watt BTL mode @ 2 Ohms.
JL Audio
JX Amps
For those customers seeking high quality audio on a budget, JL Audio introduces the new JX series of amplifiers. The series includes four amplifiers including two monoblocks, a 2-channel and a 4-channel. All the amps were designed in-house to offer great performance and be extremely reliable. In particular, power supply components are all oversize compared to comparably priced products. All amps feature crossovers and both high- and low-level inputs.
Canada: www.gemsen.com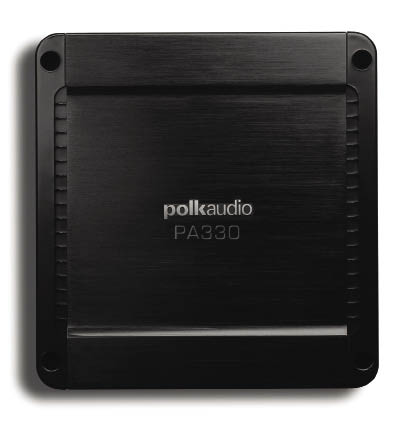 Polk Audio
PA Series Amplifiers
Polk Audio's PA330, PA660 and PA880 are Class A/B MOSFET amplifiers that provide all the high-performance juice you need to ensure your car speakers perform to their full potential. These amplifiers represent the next generation of amplification - created for the budget-minded enthusiast who desires uncompromising performance from their car's sound system. Yet they're powerful enough and loaded with features so serious audiophile can do battle with them in competition. The amps' compact designs work in any kind of install, from retro American classics to high performance European machines. The series includes 3 models – a 2-channel, a 4-channel and a 800W Mono Block.
Hertz
HDP Amplifiers
From the creative minds of the Elletromedia in Italy come the new Hertz HDP amplifiers. The series of amps includes a 1000W Class D monoblock called the HDP1, a 4x150W 4-channel called the HDP4 and a 5-channel called the HDP5 that produces 60Wx4 and 310Wx1. All three amplifiers feature fully adjustable electronic crossovers and feature the Hertz ADP Automatic Remote Turn-On function that allows them to be seamlessly integrated with an OEM source unit. An over-sized power supply with low resistance capacitors and high quality switching devices ensures these amps have the reserve power to keep your music tight and dynamic at all volume levels.
Brax
Matrix Amplifiers
Designed as individual audio components, the Matrix amplifiers are pure, clean power machines. With a multi-layer circuit board layout the utilizes discreetly mounted Burr-Brown devices, pure silver solder, and two completely separate power supply sections; the sophisticated design delivers perfect sound reproduction through its short, unfiltered signal path. As music is dynamic, consideration of power delivery is critical. The Matrix Series amplifiers feature onboard energy storage combined with an impedance independent power supply that actively monitors driver impedance. Couple this with Schottky-power diodes and 32 hand-selected and matched MOSFET transistors, the result is smooth, continuous power output.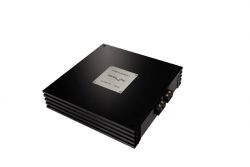 Powerbass
XAX Mini Amps
The Powerbass Xtreme XA-1200D amplifier is rated to product 1200Wrms into a 1-Ohm load. The compact footprint measures a minute 1.92 by 7.08 by 14.59 inches, making it easy to install anywhere. The amp includes a wired remote level control, an electronic crossover and an adjustable subsonic filter. You can strap two of these monsters together to produce 2,400 Watts into a single 2-Ohm load.
Boston Acoustics
GTA Amplifiers
Boston's GTA-500m, like the entire GTA series, sets a new standard in value for high performance amplification, capturing the best performance, design and features from the company's acclaimed line of GT Reference amplifiers. With stunning looks, an aggressive feature set, and crisp clean power (500w x 1 @ 2?), the GTA-500m delivers. Add in features like its space maximizing Integrated Mounting System (IMS), efficient extruded aluminum heatsink and single sided connection design—GTA amps are an ideal choice for any system, be it stealth or show.
Crunch
GPV Amplifiers
The Crunch GPV amplifiers boast five models to choose from with more power than ever. The look has been updated with a classy black heatsink, and now has a red illuminated scrolling pulsating V logo. This series includes two 2-channels, two 4- channels, and one mono amp. They feature military PCB design, 4/2/1 Ohm stability, SEPP A/B analog class, fully adjustable 12 dB crossovers, a subsonic filter, Bass EQ, high/low level inputs and are multi channel configurable 4/3/2/1
Audison
Voce Amplifiers
From the 1,600W AV uno Mono amp to the ultra-flexible AV 5.1k, the new Voce amplifiers from Audison are built with performance and accuracy in mind. The new Voce amps include high-end features like continuously variable phase adjustment (0 to 180°), ART remote signal sensing for seamless OEM integration and an optional module called the AV bit IN. This module replaces the analog input stage and allows for a direct digital S/PDIF interface with the Audison bit ONE or bit ten D audio processors. The result is smooth, pure detailed sound – perfect for enthusiasts and competitors alike.