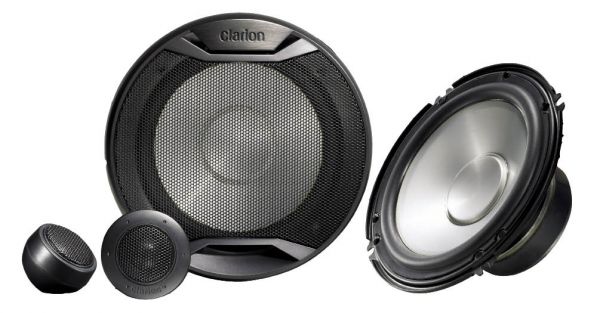 Clarion
SRQ1621S
Clarion's Q-Series speakers offer incredible performance and a more incredible price. The SRQ1621S features a Mica-Injected PP cone at price levels well below the competitions mineral-added speakers. A rubber woofer surround and a powerful Strontium magnet ensure excellent dynamics. The ¾" pure soft dome tweeter offers smooth and detailed high frequency response.
For more visit www.clarion.com and Like us on Facebook at www.facebook.com/clarionusa
---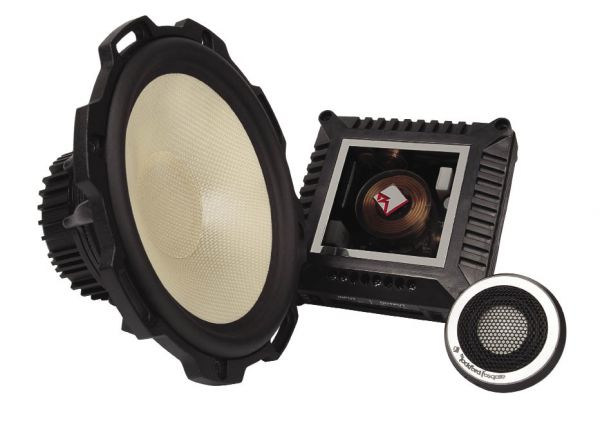 Rockford Fosgate
POWER T3 component system T3652-S
Incorporating many of the features found on the ultra high end T5 components, the T3 components deliver high performance well beyond the needs of the typical car audio application. Using the first Liquid Crystal Polymer cone (LCP) and VAST (Vertical Attach Surround Technique) technology these speakers offer increased cone area while being extremely agile.
For more visit www.rockfordfosgate.com
---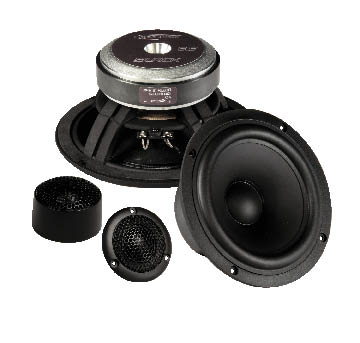 Arc Audio
Black Series
The Black Series will be available in 2 way and 3-way component systems along with raw driver offerings in 4", 5" and 6" speakers with small and large format pro audio style tweeters giving al level of installers and installations a plethora of choices to customize the sound and overall performance of their system.
For more visit www.arcaudio.com or call 209-543-8706.
---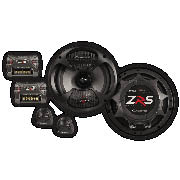 Cadence Sound
ZRS Series
The ZRS series of component and coaxial speaker systems are the affordable solution for the autosound enthusiast seeking a high performance speaker system with rich well-balanced sound, excellent tonal characteristics, and incredible detail with high output levels. Competition level sound quality, high output and reliability were the goals for the ZRS series of component and coaxial speaker systems.
For more visit www.cadencesound.com or call (800) 477-2328
---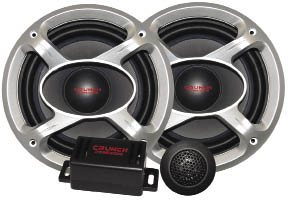 Crunch
P1 Speakers
The P1 feature a progressive grill, compact in-line crossover for the 6.5" component, Neo Mylar Soft Dome Tweeter with plenty of output - the lineup sounds great! They also feature Impact Resistant Tweeter Elements, Silver Alpha-Cellulose Cones, Spade Speaker Terminals, Moisture Resistant Rubber Surround, High Mid-Bass Impact, and an Anti-Resonant Stamped Steel Basket.
---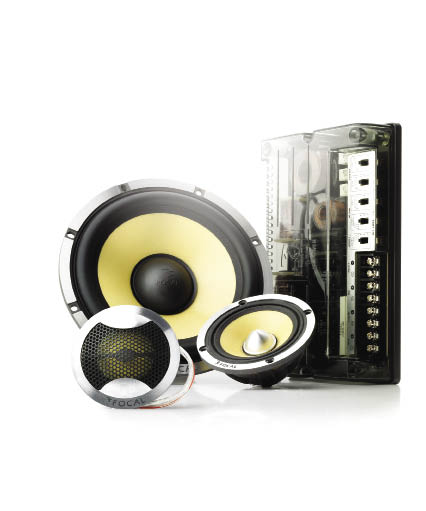 Focal America
165 KRX3
The flagship of Focal's K2 Power line of car audio products, the 165 KRX3 is a 6.5" 3-way kit designed to provide both high fidelity and high power. The aramid fiber inverted dome tweeter combines smoothness, precision and optimized imaging which produces an astonishingly broad and realistic soundstage.
---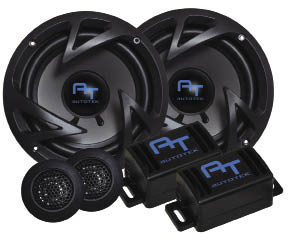 Autotek
ATX Speakers
Technology is evident everywhere in Autotek's ATX series full-range and component speakers. They feature durable moisture and UV resistant rubber surrounds and high output neo-Mylar soft dome tweeters. They also feature Impact Resistant Tweeter Elements, Silver Alpha-Cellulose Cones, Spade Speaker Terminals, High Mid-Bass Impact, Anti-Resonant Stamped Steel Basket and Wide Nominal Power Range.
For more visit www.autotekcaraudio.com
---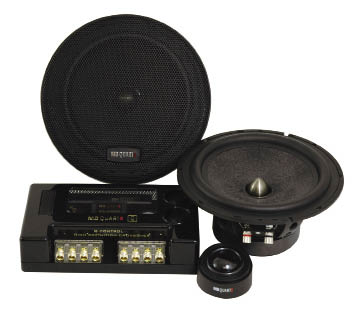 MB Quart
QS216
The mid-bass woofer is made from Nomex PMI composite material designed to be simultaneously low in mass and rigid. Next, it touts a 40mm Teteron silk dome tweeter allowing flawless reproduction of sound and improved durability from the Teteron blend. The high definition crossovers offer advanced "Q Control" for the tweeter and midrange with variable points of attenuation.
---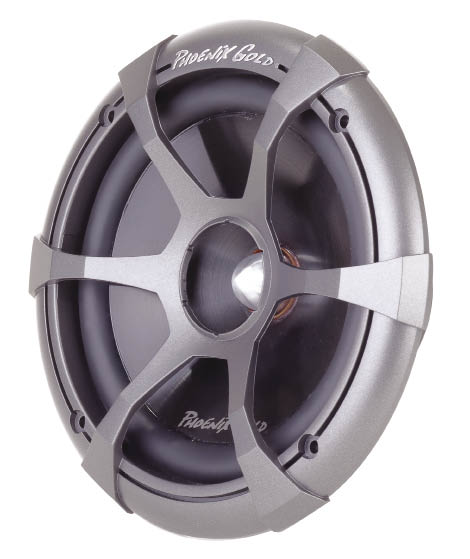 Phoenix Gold
Ti-Series Ti65CS Component Set
The Phoenix Gold Ti65CS is designed specifically to complement the company's Ti-Series amplifiers and subwoofers, the Ti65CS set consists of two slick looking 25mm silk dome tweeters; two 6.5-inch speakers with aluminum-plated polypropylene cones, interwoven tinsel leads and anti-resonant cast baskets, and an 18dB external crossover module with tweeter level adjustment.
For more visit www.phoenixgold.com and in Canada www.gentec-intl.com
---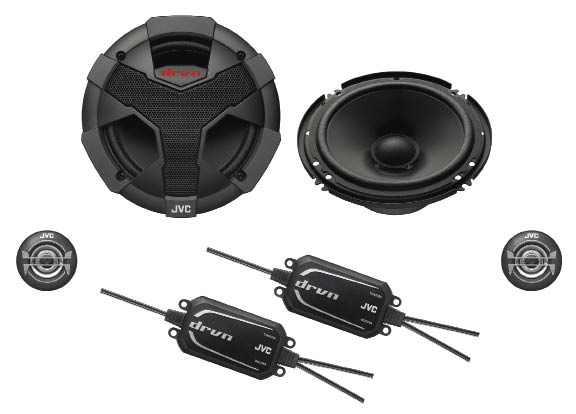 JVC
DRVN Series CS-VS607 Component Speaker Set
Without giving up what you expect in a component speaker set; great sound quality and power handling, JVC was able to produce a component set with features well-above its price tag.  With it's hybrid cone and surround materials, 3-way tweeter mounting system, in-line crossover network and an aggressive design, the CS-VS607 is an absolute steal at $130 ($120 US).
---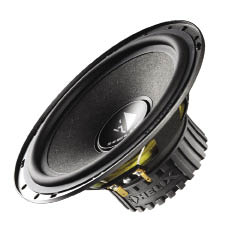 Helix

Precision Component System P236P
The Precision 2-way dedicated component system takes advantage of aluminum impregnated, sisal-fibre diaphragms and silk dome tweeters combined with audiophile grade crossover components to provide dynamic characteristics and a unique sonic signature. Also available in 4 inch and 5 ¼" inch versions.
For more visit www.helixhifi.com
---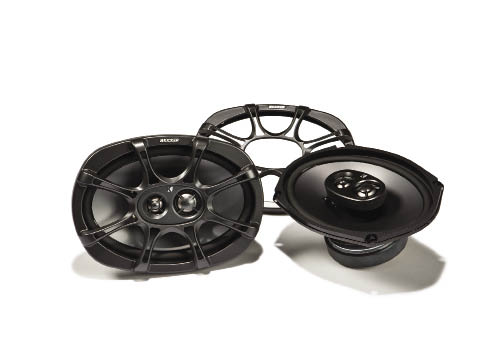 Kicker
KS Coaxial Speakers
Kicker KS series speakers are designed to be drop-in upgrades to your factory speakers. They feature a massive motor structure for excellent power handling, high efficiency and maximum performance. Their Extended Voice Coil (EVC) technology allows for maximum cone travel for superior bass response. The tapered polymer cone and Santoprene surround provides smooth and accurate frequency response.
For more visit www.kicker.com and in Canada www.gem-sen.com
---
Orion
XTR Coaxial Speakers
Orion XTR Coaxial speakers offer renowned ORION performance in easy-to-install standard frame sizes. Featuring adjustable angle soft silk-dome tweeters, UV-coated fiber blended cones and universal fit baskets, the XTR652 6.5" coax offers robust power handling of 60 Wrms / 120 Wpeak with a mounting depth of just over 2 inches.
---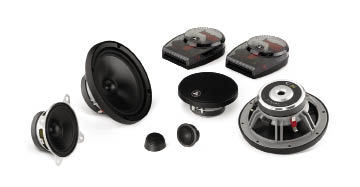 JL Audio
C5-653
The JL Audio C5-653 system incorporates 6.5-inch (165mm) woofer with JL Audio's exclusive DMA-optimized motors and patented Elevated Frame Cooling technologies. Midbass capability is outstanding thanks to DMA and critically engineered suspension designs. The 4-inch (100 mm) mid-range driver is compact, efficient and offers extremely flat, uncolored response.
For more visit www.jlaudio.com and in Canada www.gemsen.com
---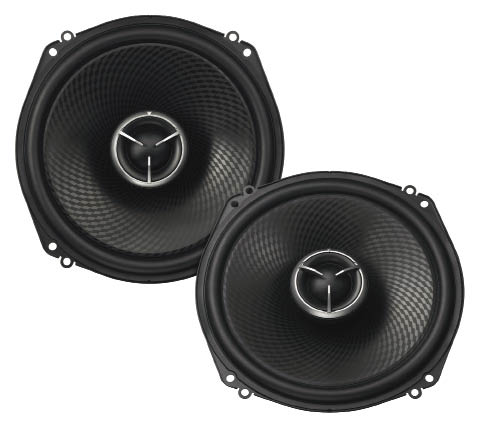 Kenwood Excelon
KFC-X183C
This model is designed to fit into factory speaker locations ranging from 6 ½ -inch up to 6x9-inch through the use of a multi-application mounting adaptor. The KFC-X183C is a 180mm (approximately 7.1-inch) two-way speaker system with a 1-inch soft-dome tweeter and diamond-array pattern woofer cone. Power handling capability of the KFC-X183C is 80 watts RMS (at 4 ohms), 280 watts peak.
For more visit www.kenwood.com and in Canada www.kenwood.ca
---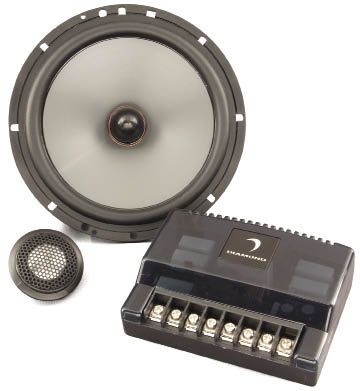 Diamond Audio
D6 Convertible Speakers
---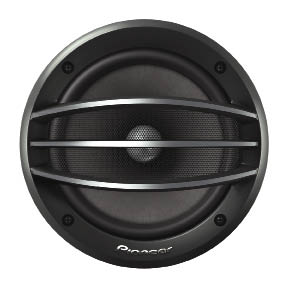 Pioneer
TS-A1604C
---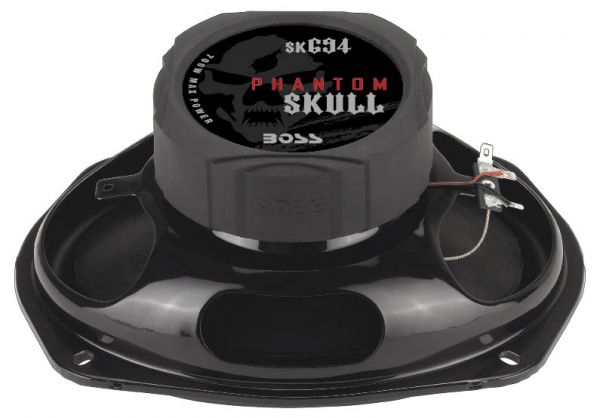 BOSS AUDIO
SK694 Phantom Skull Speakers
---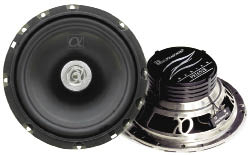 Alphasonik
PFZ652E
The PFZ652E features a black anodized aluminum voice coil former, titanium vapor-deposition cone & dome tweeter, integrated crossover with solid-state tweeter protection, polypropylene injected cone and a 360 degree swivel tweeter. The system has a power handling of 160 Wrms and a frequency response of 55Hz to 22kHz, +/- 3dB. The sensitivity is 92dB 1W/1m and a mounting depth of 2.5" (64 mm).
For more visit www.alphasonikinc.com
---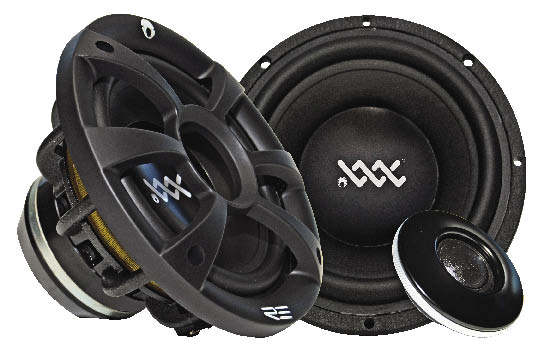 RE Audio
XXX6.5C component
---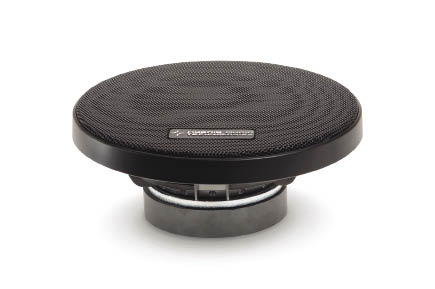 Hybrid Audio
Imagine I61-2 Coaxial and Convertible Component Set
The Imagine-series speaker systems boast a unique convertible design. The cone is a proprietary paper design. Paper is widely acknowledged as the best damping material, as it provides the near optimum balance of strength and weight. The addition of a water-proof treatment, proprietary to Hybrid Audio Technologies, ensures all-weather capability, including marine and motorcycle uses.
For more visit www.hybrid-audio.com