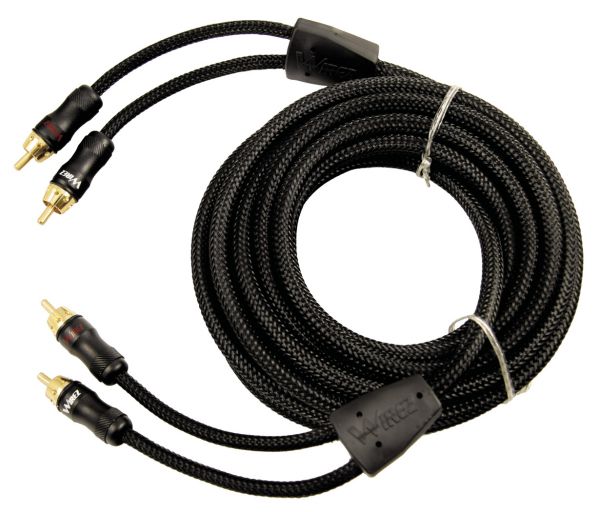 The folks at Wirez are just a bit fanatical when it comes to the design of its products. The Signature Series interconnects are case in point. With a background in electronics and car audio installation, the product designers at Wirez understand the challenges installers regularly face better than most.
Wirez Signature Series two-channel interconnects are designed to overcome these challenges without sacrificing excellent sound quality.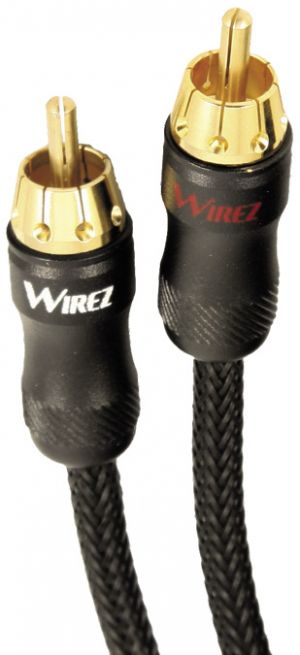 First and foremost is the Twisted Pair Design (TPD). High-quality copper cables are spun together at right angles to one another to help eliminate cross-talk effects that leak signal onto the ground wire. Alone, however, this has little effect on rejecting external noise, though it does help ensure  processors and amplifiers with differential inputs will properly reject any noise that is common to both conductors.The Wirez design team focuses on ensuring its Signature Series Interconnects are impermeable to extraneous noise as the cables are run through a vehicle. The Wirez methodology attacks this phenomenon with three primary conductor design features.
This is where the Wirez Dual Drain System (DDS) comes in. The twisted pair of conductors is wrapped in a metallized nylon foil shield that's grounded. This blocks RFI and EMI noise from getting to the conductors. Each channel is twisted and wrapped individually, then spun together and wrapped in yet another metallized nylon foil shield.
Most importantly, all of this built-in noise rejection technology runs from the very end of the cable to the other thanks to proprietary Tip-to-Tip Noise Rejection Technology (T2T). Unlike some similar designs, the DDS extends past the molded Y-splitter right to the gold-plated ends. Other designs leave the conductors in this region exposed to all manner of noise right where it is most common – behind the radio in the dash. Wirez takes this design so seriously that it has a registered Trademark on its T2T technology.
Signature Series interconnects also feature gold-plated Dual Compression Tip (DCT) ends that feature a split center pin and precision-machined ground for maximum contact and conductivity. Once the conductors are carefully soldered to the tip, the whole assembly is injected with plastic to ensure the conductors can't be pulled out. The entire interconnect is wrapped in a flexible, abrasion-resistant nylon braided jacket that's easy to pull through a vehicle.
With these advanced noise rejection designs, coupled with premium quality conductors and connectors, there are countless anecdotal reports from people that have switched from other products to Wirez Signature to not only eliminate noise in their systems, but also to improve its overall sonic performance. The absence of background noise can greatly help bring out the most minute details and subtleties in listeners' music.
Wirez Signature Series interconnects are available in two-, three-, six- nine-, 12- 17- and 20-foot two-channel length. A 17-foot four-channel, Y-adaptors and both male-to-female and male-to-male configurations are also available.
For more information about Wirez Signature Series interconnects and other Wirez installation accessories, please visit www.gotwirez.com to find your closest authorized dealer. Wirez is also on Facebook.