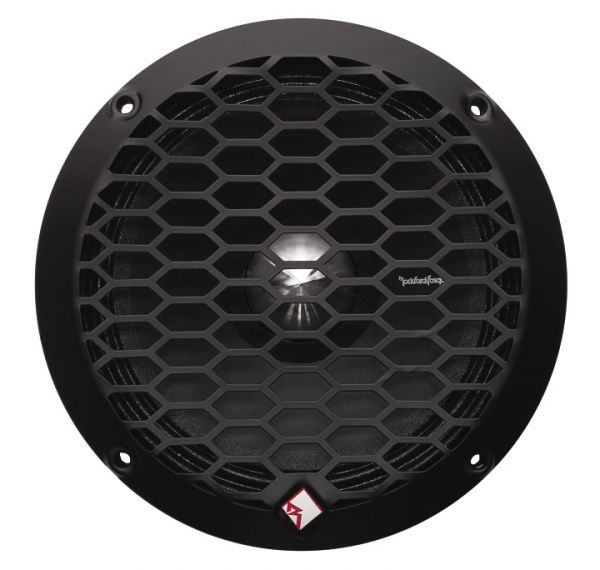 As an amateur musician, I can't tell you how many times I've heard the saying, "If you can't play good, play loud!" Well, a recent trend that began in Columbia and has spread to other parts of Latin America as well as pockets of urban areas on the east coast of the U.S., fully subscribes to this theory.
The trend involves what is commonly known as "Open Air SPL." To participate, you basically mount as many very loud speakers as possible on the outside of your vehicle and see how loud you can go! So far no one has gotten too high-tech in the actual measurement or development of rules, but two cars line go head-to-head to see which one is loudest, mostly for the applause and adoration of the on-looking fans.
Not wanting to miss out on a segment of the market for which the brand is widely recognized, Rockford Fosgate has introduced a series of speakers designed and engineered specifically for this new SPL activity. Called "Punch Pro" speakers, Rockford has created six- and eight-inch midrange drivers and 1.5-inch bullet-style tweeters. All Punch Pro speakers are available in either four- or eight-ohm versions to accommodate designs that use as many as you can fit onto the exterior of a vehicle. All models also come with a full one-year warranty.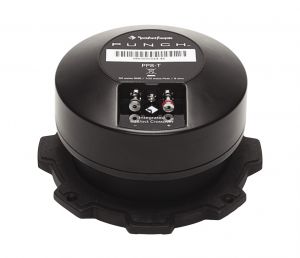 Rockford Fosgate sent me an example of its new eight-inch Punch Pro midrange/midbass driver known as the PPS4-8 as well as the four-ohm version of its SPL targeted tweeter, the PP4-T.
The driver is rated for 125 Wrms and is constructed using a stamped frame, a high-temperature rated two-inch low-mass aluminum voice coil and a special fatigue-resistant poly-cotton spider. And, because these speakers are all about playing loud, special attention has been paid to keep the moving mass as lightweight as possible – they employ fiber-reinforced paper cones and corrugated treated cloth surrounds.
SPL contests are hard on speakers and to make sure areas of high stress are addressed, the PPS4-8 uses an oversized motor structure, periodic stitched lead wires and an aluminum phase plug manufactured from billet aluminum stock. Although the PPS4-8 is an eight-inch driver, it has a shallow mounting depth under under three inches. The PPS4-8 retails for $99.99 in the U.S.
The matching PP4-T tweeter is also very ruggedly constructed and this sucker is huge! (I can't remember the last time I picked up a tweeter with a mounting hole diameter of 4.5 inches and mounting depth of over 2.5 inches.) Built around an ultra-rugged cast aluminum housing, the PP4-T has a continuous power rating of 50 watts and utilizes a magnet assembly the envy of most 6x9s and employs a field-replaceable diaphragm. An Integrated Concealed Crossover (ICC), which is basically a first order network with a -3 dB point of 4.5 kHz, is incorporated directly into the PPT-4 tweeter, which also has a suggested retail price of $99.99.
From a sonic perspective, these speakers are probably not going to win any golden Tonearm awards, but they are certainly going to play very loud with a minimum of power for hours on end. If you think "Open Air SPL" might be for you, check out the entire series of Rockford Fosgate "Punch Pro" drivers at www.rockfordfosgate.com and remember to "Practice Safe Sound!"
TECHNICAL SPECIFICATIONS
Power Handling (PPS4-8) 125 watts RMS / 250 watts peak
Power Handling (PPT-4) 50 watts RMS / 100 watts peak
Fs (Woofer) 80 Hz
Fs (Tweeter) 3 kHz
Crossover (Tweeter) -6 dB per octave, @ 3,500 Hz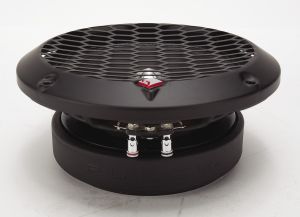 Frequency Range (Woofer) 80–5,000 Hz
Frequency Range (Tweeter) 4,000 Hz–20 kHz
Sensitivity (Woofer) 94.5 dB / SPL @ 1.0 W / 1 M
Sensitivity (Tweeter) 105 dB / SPL @ 1.0 W / 1 M
Nominal Impedance 4 ?
---
Rockfordfosgate.com
@rockfordfosgate
facebook.com/rockfordfosgate