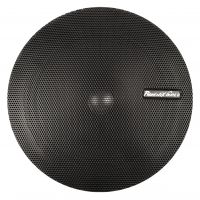 Phoenix Gold
Elite.65cs
The new Elite.65cs speakers from Phoenix Gold deliver clean, super-realistic sound without the high frequency "brightness" commonly found in other car audio component systems. The superior performance comes from a 25 mm pure silk dome tweeter housed in anodized aluminum and a 6.5-inch midrange featuring a dual roll surround to eliminate unwanted resonances and acoustical artifacts. Plus, both components are specifically engineered with complex FEA analysis to optimize the motor structures.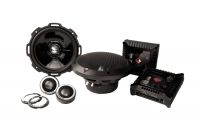 Alpine Electronics
SPS-610 Type-S
Alpine's SPS-610 6.5-inch speakers are ideal replacements for factory speakers. Providing an system upgrade for any vehicle, these highly-efficient speakers can operate from the built-in power of a factory or aftermarket head unit and deliver amazing lows, mids and highs. Features a HD polymer frame for improved sound and installation. CEA-2031 specifications: 80 Wrms, 240 Wmax; 70 Hz – 22 kHz frequency response; four ohms nominal impedance.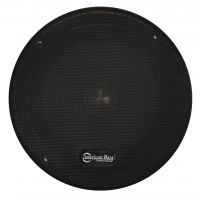 American Bass
SQ-8B
The American Bass SQ-8B speakers are extraordinary eight-inch midrange speakers with exceptional sound quality rated at 350 watts max power. This speaker incorporates an accordion surround, open-back basket, 40-ounce magnet and a 1.5-inch high-temperature voice coil. It has a frequency response of 150 Hz – 8 kHz, sensitivity rating of 102 dB (@ 1 W / 1 M) and four- or eight-ohm impedance.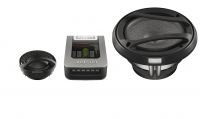 Audison
AV K6 and AV K5
The prestigious "European In-Car Speaker System 2010-11 Award" (EISA) was bestowed to the AV K6 and AV K5 component kits – the new reference within their category. Audison speakers employ the most advanced technologies, all at the service of the music. The entire R&D laboratory's experience was poured into the design of these precious components to create a synergy between the traits of high-quality sound, bandwidth, dynamics, naturalness and richness of details.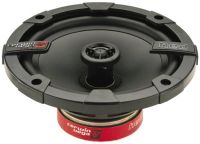 Cerwin-Vega Mobile
HED Series
Cerwin-Vega Mobile's HED series midrange speakers deliver clarity and definition to any kind of music. Featuring a 19 mm composite Mylar dome tweeter, linear woven rolled spider and voice coil, these speakers deliver loud and aggressive full-range performance. The HED65C components feature external 12 dB crossovers while the coaxial models have a built-in 6 dB crossover network and come in a range of sizes from 5.25 inches to 6x9.

Clarion
Q-Series
Clarion Q-Series speakers offer excellent sound quality, efficiency and premium features and performance at a price point accessible to almost anyone. Aramid mica-injected polypropylene woofer cones and high-flux density strontium magnets provide deep tight bass and smooth midrange performance. Soft dome tweeters with neodymium magnets ensure smooth, detailed and accurate high frequency response. Perfect upgrades to factory speakers, Q-Series speakers are available in 5.25- to 6.75-inch sizes, including 6x8 and 6x9 oval and component sets.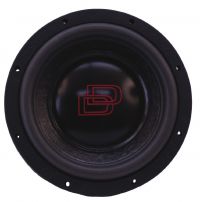 DD Audio
DD3500g Series
The DD3500g Series introduces a new suspension and an exclusive composite spider system. DD Audio's years of continued loudspeaker research has led to the introduction of a new suspension system on its made in America subwoofers that is more linear, exhibits less hysteresis, sounds better and suffers from less breakdown than traditional cloth/resin dampers or spiders. The proprietary DD Audio composite spider system enables speakers to be pushed to even higher performance standards.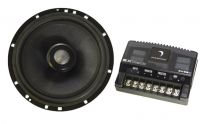 Diamond Audio
Studio SX Series
The Studio SX65v model is a convertible speaker system with a unique composite foam core carbon fiber cone that reproduces a distinct, natural sound. Designed around a Tru-mount convertible composite ABS frame design, the Studio system comes with a 25 mm aluminum dome tweeter with Ferro fluid cooling and an external 18 dB/octave SQ-matched crossover with rear acoustic fill output. Power handling for the Studio SX65v is rated at 60 Wrms. For those seeking professional studio sound quality, look no further than Studio series from Diamond Audio.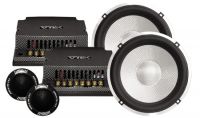 Earthquake Sounds
VTEK Series
Designed to deliver audiophile sound quality, the VTEK series includes Earthquake's top of the line coaxial speakers and matched components. Silk tweeters are perfectly conceived to reproduce the crispest and most accurate highs while matching perfectly with the midrange drivers. The VTEK-Xi coaxial speakers deliver the same quality and performance as the original VTEK speakers but are available in a convenient two-ohm package that eliminates the need to buy over-priced replacement speakers.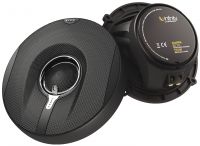 Infinity
Kappa 62.11i
The latest iteration of Infinity's respected Kappa series automotive speakers showcases advanced materials and construction techniques delivering remarkable performance at surprisingly moderate prices. The 62.11i coaxial fits six-, 6.5- and 6.75-inch openings with an included adaptor ring system. High power handling (75 Wrms; 225 Wmax), broadband response (45 Hz – 25 kHz), unique iCGM™ basket and other features combine to make the new series a compelling choice for the upscale car audio consumer.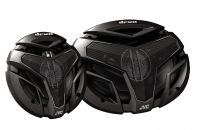 JVC
drvn XX Series
Designed to fill your car with more powerful yet delicate and impressive sound, JVC introduces the drvn XX Series to the mid-class speaker lineup. Based on "Sound Dynamics" design concept, the Carbon mica 3D woofer and rubber surround offer precise, speedy response while larger cones deliver enhanced midrange and 3D grilles support wide-spreading sound. Available in 5.25-inch three-way, 6.5-inch three- and four-way as well as 6x9 four-way designs.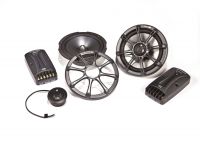 Kicker

KS Series

Concert-like quality and audio realism are obvious features music lovers desire from their car speakers. Unfortunately, factory sound doesn't offer those smooth, clear middle- and high-frequency ranges. Fortunately, KICKER® has the solution to fix the problem with its KS-Series component systems, which constitute as substantial upgrades from stock drivers, for installation in precise, audiophile-favoring locations.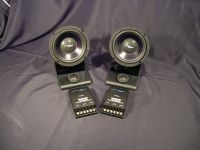 Linear Power
Speaker Line
Linear Power speakers are the culmination of many years of experience by knowledgeable individuals who have been in the car audio industry for a very long time. These American-made loudspeakers are built with materials capable of providing many years of the very best performance and sound quality. Linear Power speakers are truly built "For the Love of Music" and complement its new line of amplifiers in every possible way.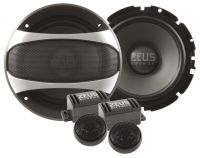 Hifonics
Zeus ZRX 6.5C
Hifonics is delivering the truth in sound quality with POWER from the GODS! This 6.5-inch component speaker has 800 Wmax power handling and includes a neo-Mylar 1.25-inch soft dome tweeter with three mounting options included. The Zeus system also features an easy-to-install crossover, polypropylene midrange for maximum damping and a butyl rubber surround for structural rigidity. A great speaker system for a great price!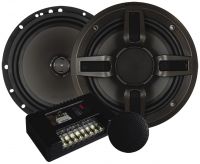 MB Quart
Premium PVL216
MB Quart has been delivering the best sounding audio for 50 years! The Premium is a 6.5-inch convertible component/coaxial system for great flexibility. The 40 mm WideSphere™ silk dome tweeter reproduces frequencies up to 32 kHz and the crossover features tweeter attenuation at 0, -3 and -6 dB to fit any installation. The midbass woofer is secured with a composite frame strengthened with carbon fiber. The speaker features a polypropylene cone and progressive long-travel spider.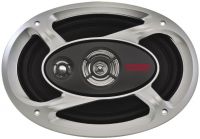 Crunch
POWERONE P1-693
The POWERONE 6x9 gives huge sound from its three-way design and max power handling of 1,000 watts! Can you handle "The POWER of MUSIC" from Crunch? This POWERONE features a neo-Mylar soft dome tweeter, silver Alpha-Cellulose high-impact cones with moisture-resistant rubber surrounds and built-in crossover. All that Crunch for under 60 dollars plus installation that's a breeze!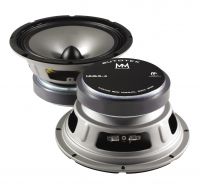 Autotek
Mean Machine Pro M6.5-4
Mean Machine Pro speakers have one goal – to tread LOUDLY! The M6.5 is a full-range speaker that utilizes a 1.5-inch voice coil and magnet motor components that look like they belong on a woofer. Huge power handling of 200 Wmax for mids and highs. Match this with a subwoofer system and your vocals and instrument tracks will be heard like never before. "Tread LOUDLY!" with Mean Machine Pro speakers from Autotek.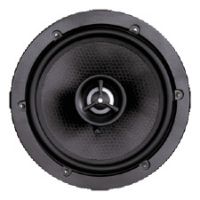 Memphis Car Audio
MClass Series
Model pictured 15-MC62 coaxial. Features include and outboard crossover network with tweeter protection, aluminum/magnesium swivel tweeter, carbon honeycomb cone, butyl rubber surround, MClass speakers are available in seven sizes ranging from four inches to 6.75 inches and 6x9.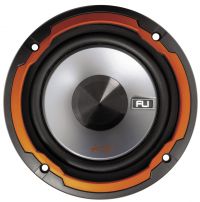 FLI ACID
Speaker Line
FLI ACID is a new breed of car audio packed with attitude and outstanding performance. The FLI ACID speaker range is made up of four-, five-, six-, 5x7- and 6x9-inch coaxial speakers utilises a unique four-way design with PEI midrange and tweeter elements; and five- and six-inch components, which have a separate silk dome tweeter for crisp high frequencies and a lightweight IMPP woofer cone for a speaker that packs a punch! Multi-fit design for compatibility with 99% of vehicles.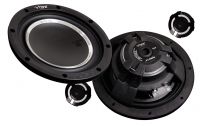 Vibe Car Audio
Slick Matrix Speakers
Slick Matrix speaker kits aim to provide the perfect upgrade to your stock speaker system. The range includes tweeters, midrange drivers, woofers and crossovers, all of which are fully compatible with one another. This allows you to build the perfect two- or three-way speaker kit as a direct replacement for your stock speaker system in the factory locations. No matter the vehicle, the Slick Matrix system covers every possible location within the vehicle, whether it's the dash, door or the storage compartment.

Morel
Virtus Series
The new Virtus series offer Morel's core technological virtues at an exceptional value. Comprising of two- and three-way component systems, each Virtus system embodies Morel's technological advancements featuring the Unified woofer chassis (a compact design that allows it to fit in the size constraints of today's cars), a new MT120 Acuflex™ soft dome tweeter and the new MXR crossover technology for total component integration of the carefully-refined acoustic parameters of the tweeter, midrange and woofer.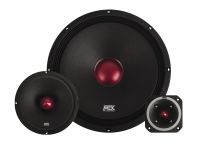 MTX Audio
RTX Series
MTX Audio, the worldwide leader in high-performance mobile, marine and residential audio products, is pleased to announce the release of the RoadThunder Extreme (RTX) Series of pro-style, full-range drivers. RTX drivers include midbass and bullet tweeters designed for extreme output. These drivers feature lightweight treated paper cones enabling them to be highly efficient in order to deliver extreme volume levels.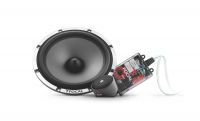 Focal America
P 165 V15
The newest addition to Focal's Performance line, the P 165 V15 consists of a 6.5-inch aluminum basket, Polyglass cone, a 6/12 dB per octave crossover and the TNB aluminum/magnesium inverted dome tweeter. This made in France system is designed to reproduce all varieties of music with excellent subjective balance from the bass to the treble. Music breathes effortlessly and the reproduction seems boosted and alive with the new P 165 V15.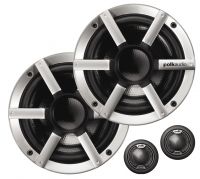 Polk Audio
MM Series
Three years of Polk research and development has resulted in the Polk Audio's new MM Series speaker systems that offer unparalleled high-performance sound quality with exceptional fit and a high-efficiency design requiring less amplifier power for more audio output. While a separate amp is recommended on full-range models for the ultimate in performance, MM loudspeakers will sound wonderful when driven by aftermarket head units or factory installed electronics.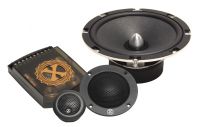 PowerBass
2XL-60.3C 3-way Component Kit
This 6.5-inch three-way component system includes a three-inch silk dome midrange and one-inch silk dome tweeter. An outboard 12 dB passive crossover network can be wired for standard or bi-amp systems. Power handling is rated at 120 Wrms and 240 Wmax. Frequency response is listed at 59 Hz – 20,000 Hz.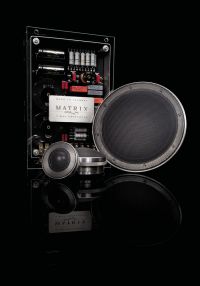 Brax
Matrix M3CPP
The beat of a drum, a vocalist's breath, fingers stringing a guitar. It's these nuances in music that are the reason Brax speakers are uncompromising in their reproduction of pure sound. The M3CPP loudspeaker system is hand-built in Germany featuring sisal-fiber aluminum oxide coated cones, silk dome tweeters and machined aluminum motor structures. Power handling is 120 Wrms and 170 Wmax.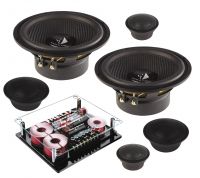 Helix
C62C
Made in Germany, the Helix C62C is designed for those seeking a loudspeaker optimized for premium sound quality in the car environment. The acoustic properties are enhanced by the sisal fiber cone with elastomer structural damping, silk dome tweeter and the optimized component crossover. Power handling is 190 Wrms and 380 Wmax.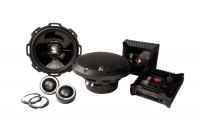 Rockford Fosgate
Power Series T2652-S
From billet machined aluminum phase plugs to audiophile-grade component crossovers, Power T2 loudspeakers from Rockford Fosgate offer superior performance to satisfy the audiophile in everyone. Featuring patented Vertical Attach Surround Technology (VAST) that increases cone area and a ferrite motor structure, the T2 bi-amp capable component will handle 100 Wrms and 200 Wmax.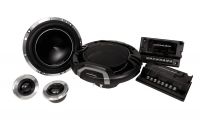 Lightning Audio
LA-1652-S
For those wanting to put a party inside their car, Lightning Audio offers the LA-1652-S component system. The included swivel-action mount lets you point the tweeters exactly where you want and the direct couple crossover design means you can customize that tweeter sound with direct wire – no jumpers needed! These speakers handle 125 Wrms and include kick proof grilles.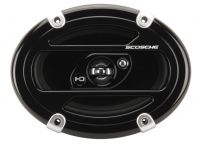 Scosche Industries
HD Series
The HD speaker lineup includes five different speakers, all boasting a rugged butyl rubber surround and injection molded polypropylene (IMPP) cone for enhanced durability and precise musical reproduction. The cone reacts instantly to transitions in music and minimizes acoustical output distortion. Additionally, the three-way triaxial design provides powerful bass, smooth mids and brilliant highs. Protective grills are included for increased shielding.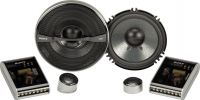 Sony
GS Series
Experience lifelike sound quality with the GS series speakers by Sony. The composite MRC woofers and aluminum dome tweeters with adjustable angle mounts deliver studio quality performance running through the external two-way crossovers. Sony GS series speakers come with a three-year warranty.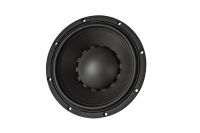 Max Speakers.com
MAX Fidelity MF165/77L
High-quality 5.25- and 6.5-inch midbass models available in four- and eight-ohm models. Three-inch voice coils produce very clean, excellent response and dispersion up to 4 kHz. High Qts and low Qts versions can be made to spec.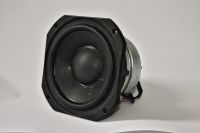 Max Speakers.com
MAX Professional PR04neo
High-efficiency four-inch ultra mid-high features a huge neodymium magnet boasting a 20,000 Gauss magnet gap and cloth roll suspension that delivers very clean, very loud sound and frequency response of 104 Hz – 20kHz. Four- and eight-ohm models available capable of more than 100 dB at 2.83 V. Must be heard to be appreciated.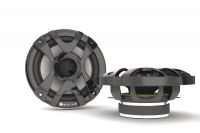 Exile Audio
SX65M
These new and improved SX65m coaxial speakers are a substantial upgrade for marine and auto speaker systems. Molded into the grill to eliminate the mounting post (coming up through the midbass cone), the robust 25 mm tweeter provides an aggressive tonal balance and seals up the midbass cone for a smoother, rich acoustical signature as the tweeter and mid drivers blend. New gloss black grills finish the design off nicely.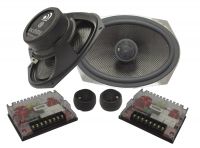 Massive Audio
CKX Series
CX represents the care to detail and due diligence in listening to what consumers were saying about CK Classic, while still making the carbon fiber CKX a relatively inexpensive component kit that rival others costing many times more. Upgrades include a new "18 dB Phase Coherent Linkwitz-Riley Crossover Network " that allows for precise tuning and interchangeable face plug that allows the tweeter to be screwed directly to the midrange converting the CKX to a coaxial system for even more installation flexibility.