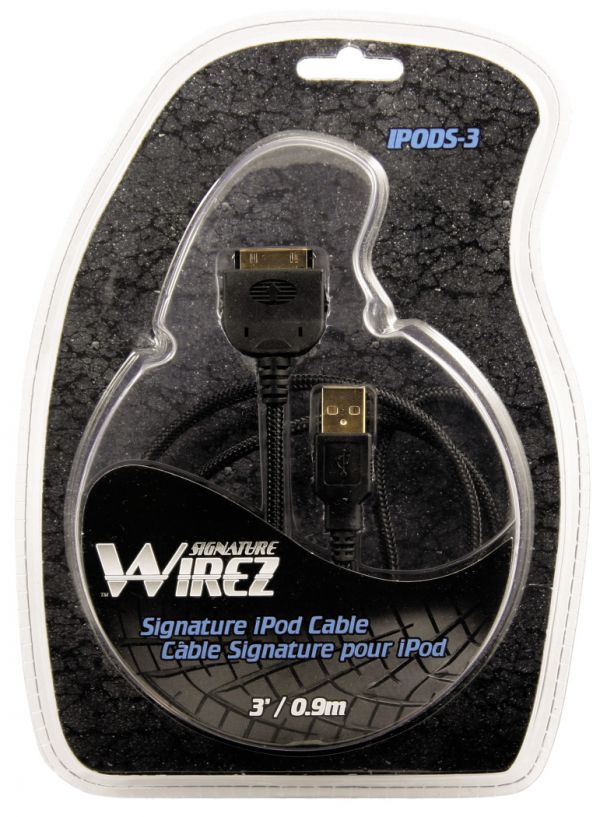 The Apple iPod, and subsequently the iPhone and iPad have revolutionized the computer and mobile electronics industry. These devices have spawned a new industry of accessories to support these products, and Wirez is on board with several unique solutions.
What is commonly referred to as an iPod cable is a cable with a 30-pin Apple dock connector at one end and a USB connector at the other. These cables are used to charge your Apple device and transfer movies and music to and from. It seems simple, but the creative minds at Wirez have put their own spin on this. The Wirez IPODS-3 is their Signature Series iPod cable. This 3.3 foot long cable features gold plated connectors on both ends. The cable is wrapped in the classic Wirez braided nylon jacket for good looks and durability. In the Tech Series, Wirez has 3 additional cables - all are black, allowing them to cosmetically integrate with vehicle interiors as opposed to the white cable that comes with the iPad, iPod or iPhone. The cables are available in three lengths, 6 inches, 3.3 feet and 6 feet. The short IPODT-.5 6-inch cable is the perfect solution for installations where the USB connector is on a pigtail and located in the glove box. Adding 3 feet of cable to your glove box makes no sense. The classic IPOD-3 cable works great with factory and aftermarket source units and lets you store your iPod or iPhone in the glove box or a center console. The IPODT-6 is a six foot long cable and is great for letting rear seat passengers enjoy an iPad when connected to a cigarette lighter adapter, or if they want to play DJ with an iPod or iPhone.
The IPAD2THRM is a rear seat headrest mounting kit for the iPad 2 and new iPad. This bracket lets you attached your iPad to the posts of a front seat headrest. It is adjustable for post spacing between 2.5 and 8 inches. It can also tilt up, down or side to side. The kit includes a 6 foot iPod cable for charging, and dual 2.1 Amp USB charging adapter and a 6 foot long audio cable to feed audio into a factory source unit. You can easily let rear seat passengers watch a movie or play a game on a long road trip without the need for them to hold on to the iPad.
Wirez has recently introduced a dock extender cable called the IPODTDE-3. This 3.3 foot long cable has a male Apple dock connector on one end and a female on the other. This cable can be used to connect Apple devices into docking stations for which they weren't originally designed. For example, you could connect an iPad to a Bose SoundDock. You can also use this cable to extend the connection from a proprietary iPod cable like many Kenwood and Alpine source units' use.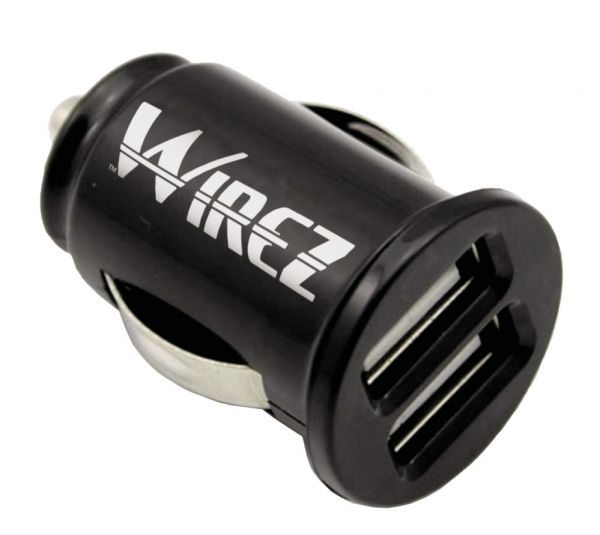 If you have a factory or aftermarket radio with an auxiliary input jack, the Wirez HFTAUX-3 will let you send the incoming phone call audio from your iPhone or Blackberry into your radio. A built-in microphone on the end of the cable passes audio through to the person who called you. The cable includes a send/end button that is compatible with iPhone and Blackberry devices. This is a simple, elegant and low-cost hands-free cellular solution.

Wirez also sells a USB extension cable called the USBEXT-3. This is a USB extension cable, similar in concept to the IPODTDE-3, but with male and female USB connections.