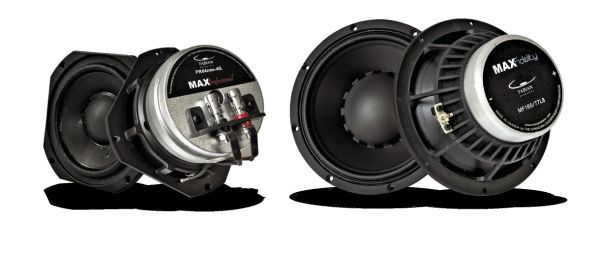 The Canadian Loudspeaker Corporation (CLC) has been dedicated to providing the audio industry with some of the highest quality loudspeakers available since 1983. The company has four basic divisions: OEM supply, manufacturing and distribution, engineering and quality assurance as well as and a service division, with facilities in Ontario, Canada as well as in China.
In addition to stocking more than 120,000 speakers in Canada for supplying many different manufacturers with raw drivers and other parts for home, car and professional audio applications, the CLC is also the go-to place for all your speaker re-coning and rebuilding needs. The company has a long list of product innovations and accolades going back to the mid 1980s
But, what really caught our interest was the fact that CLC sells separate drivers for a variety of car audio applications under the MAX Speakers brand name.
MAX Fidelity MF165/77L
The MAX brand has several different product lines covering everything from home hi-fi quality products to high-SPL professional drivers and pretty much everything in between. There is the MAX Fidelity series, MAX Drive series, MAX Professional and MAX Pentivent series.
To illustrate the type of quality products it produces, the company's president Frank Fabian sent me one of its MAX Fidelity MF165/77L midrange drivers. There's no doubt this driver would be very much at home in a good home audio cabinet, but it can certainly also be utilized as a high-end car audio driver.
The MF165/77L is a 6.5-inch driver built around an aluminum zinc alloy cast basket. It features a three-inch aluminum voice coil and a special mineral-filled polypropylene cone and dust cap with added high-loss damping. To reduce distortion further, the voice coil former attaches directly to where the cone and dust cap meet, which eliminates unwanted cone surface below the dust cap. The voice coil former also gets special attention in the form of venting all around the upper perimeter to increase cooling and power handling. Magnetic energy to drive the moving parts is supplied by a double-stacked strontium ferrite magnet that's configured in a U-cup configuration, which places the magnet inside of the voice coil rather than the usual configuration where the magnet surrounds the voice coil. The technique improves magnetic field symmetry and diver linearity,thereby further decreasing distortion.
The MAX Fidelity series speakers are available in either four- or eight-ohm versions in either 5.25- or 6.5-inch sizes.
By combining technical innovations with high-quality manufacturing and decades of design experience, the MAX Fidelity drivers bring unsurpassed clarity and fidelity as well as excellent power handling. And, isn't that pretty much exactly what we're looking for in our car systems? To find out more about all the available products and services offered, check out the Web site at www.maxspeakers.com.
MAX Professional PR04neo
If you're into the rapidly growing "open air SPL" scene or if you're simply looking for midrange/high frequency speakers that will provide a ton of output while maintaining exceptional sound quality and reliability, you should definitely check out the MAX Professional series of drivers.
I recently received what the folks at MAX Speakers claim to be the highest efficiency four-inch driver in the world! Known as the PR04neo, the four-inch cast midrange driver has incredible 100 dB sensitivity at 2.83 V of input. But, not only does the PR04neo play incredibly loud, it also boasts a natural tone and clarity, which most other professional sound reinforcement type speakers lack.
Using an advanced technology neodymium motor with a magnetic flux density of over 20,000 gauss, this driver has more Bl product than many 12-inch woofers! Another key advantage in high output situations, the driver also exhibits very low power compression, which is caused by voice coil heating and reduces output. And, thanks to the low mass construction of the pressed pulp cone and dust cap, the four-inch speaker can also be used quite effectively as a tweeter! Couple its output with a low resonant frequency of only 105 Hz and you have a combination midrange/tweeter driver that can be used in a multitude of applications, especially point source type systems.
The PR04neo is rated at 100 W continuous power and comes complete with a warning that it can easily generate high enough SPL levels to induce hearing damage. If you're looking for a great sounding speaker that can keep up with the rest of virtually any system; and, allows you to eliminate fragile tweeters from your SPL system, this is the driver for you. More info on the MAX Professional series of drivers can be found at: www.maxspeakers.com/professional.php.