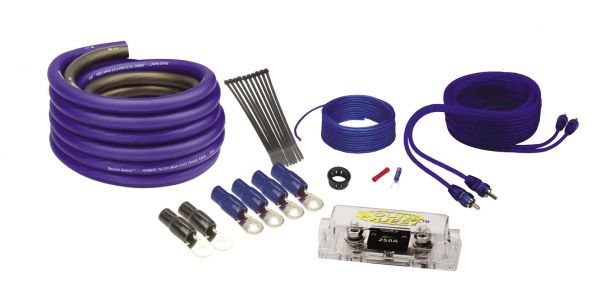 SoundQuest
SQ600H Hybrid Series Wiring Kit
Skimping on wire quality may save a little cash, but the system sound quality suffers tremendously. That's why SoundQuest recently introduced its Hybrid Series Wiring Kits. The SQ600H kit comes with 17 ft. of power wire, 3 ft. of ground wire, 17 ft. of interconnects and 20 ft. of speaker wire, all of which are made from a 70/30 hybrid of copper and CCA for great performance at a great price.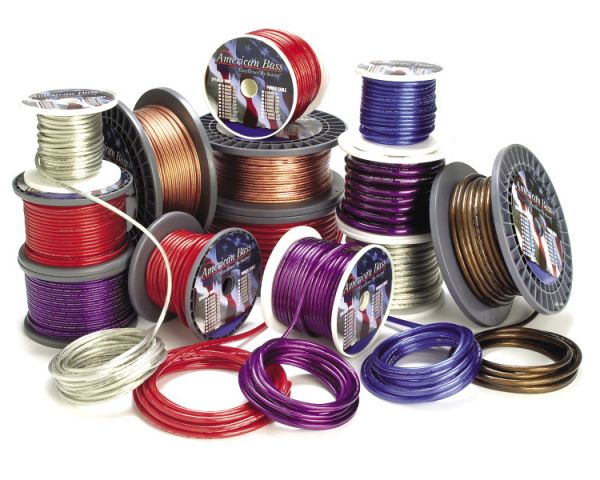 American Bass
Mega Flex Series
American Bass introduces the Mega Flex series of power and speaker wire. This newly designed wire is extremely flexible, easy to work with, and highly conductive. Power wire comes in 0-gauge, 4-gauge, and 8-gauge and available in various colors. Amplifier installation kits are also available in 0-gauge, 4-gauge, and 8-gauge. Speaker wire is available in 10-gauge, 12-gauge, 14-gauge, 16-gauge, and 18-gauge Mega Flex and Twisted.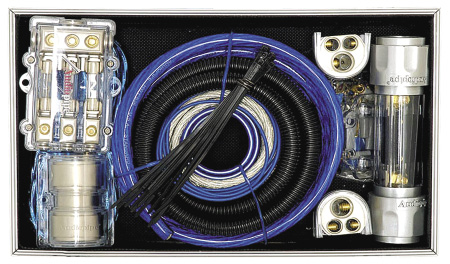 Audiopipe
PK-D5000P Platinum Series Dual Amp Kit
Audiopipe's platinum series dual amp kit includes a 17 ft. run of our 4-gauge power wire, a 3 ft. 4-gauge silver ground wire for the main power and ground and a total of four 3 ft. 8-gauge wire cuts for the power/ground distribution. A platinum ANL fuse and holder is provided for use at the system's main battery as well as 3 smaller AGU style platinum fuses to be used with the distribution block. Two platinum battery terminals allow for multiple wiring possibilities and future additions.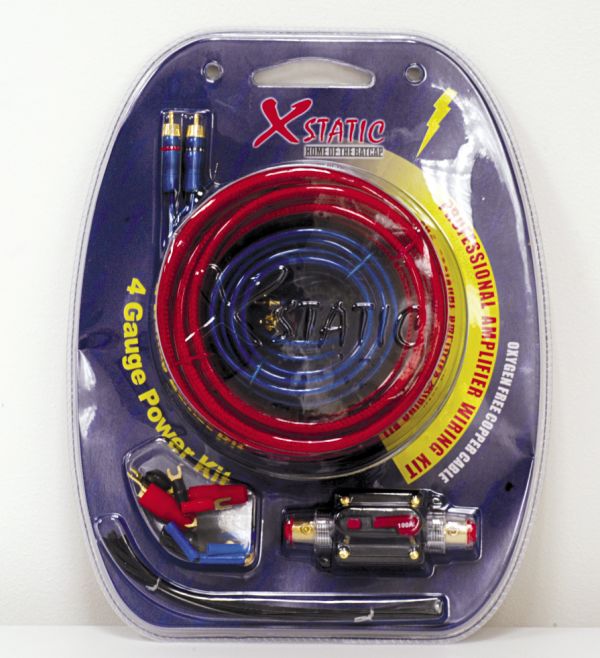 Xstatic
4-Gauge Kit
The Xstatic 4-gauge installation kit features 17 ft. of clear/red braided true 4-gauge power cable, 3 ft. of black braided true 4-gauge ground cable, 30 ft. of clear/silver 16-gauge speaker cable, 17 ft. of clear blue RCA interconnect with central remote wire, an inline 100 amp circuit breaker, 6 ft. of split loom tubing and all the necessary terminals/connectors and cable ties.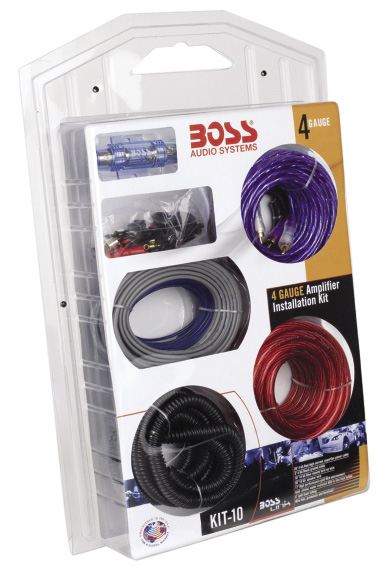 Boss Audio Systems
KIT10 Amplifier Installation Kit
The KIT10 4-Gauge Amplifier Installation Kit comes with everything the do-it-yourself-er needs to install any amplifier. A 20 ft. 4-gauge cable with see-through fuse holder and a 3 ft. 4-gauge ground cable connect to the battery with gold-plated, insulated terminals. 30 ft. of 16-gauge speaker wire cover the cabin area while a high-performance, 17 ft. RCA cable delivers interference-free signal from the radio. Accessories include an AGU fuse, split-loom tubing, grommets, wire ties and gold-plated ring terminals.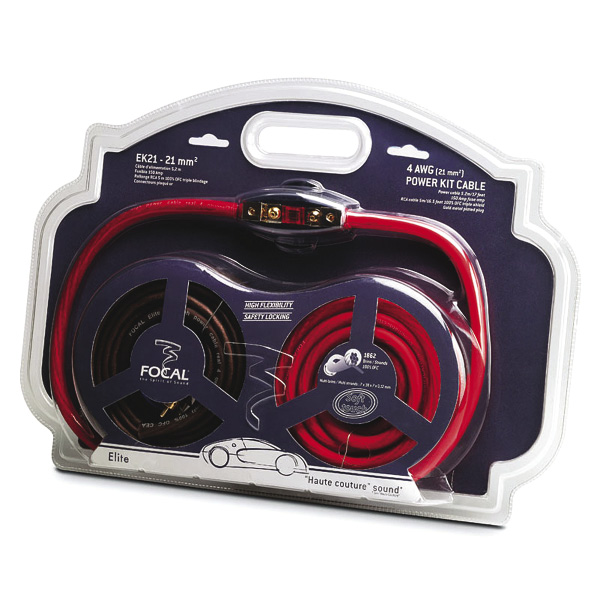 Focal
EK21 Amp Kit
The Focal EK21 is the perfect "Ready-for-use" solution for installing the Focal ELITE or other high-end amplifiers. This kit includes only the best in terms of high-end connector technology and will ensure audiophile-quality sound and the elimination of most types of interference. The included cables feature High Flexible PVC Soft Touch technology and 100% Oxygen Free Copper (OFC) conductors. The power supply cables feature multiple braiding for maximum flexibility making the cable easy to feed into the smallest areas of the vehicle. ?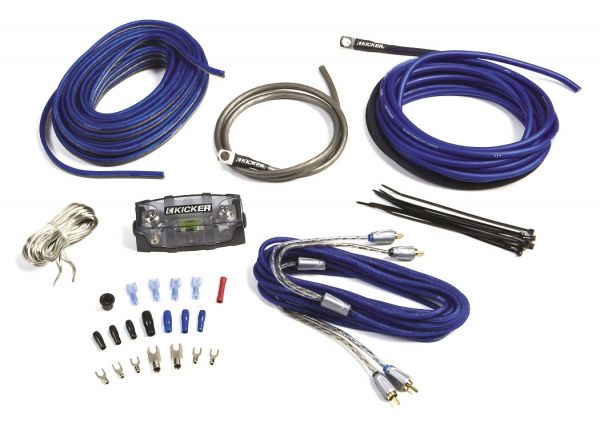 KICKER
Z-Series Full-Spec Complete Power Kits
Genuine KICKER Full-Spec, Complete Power Kits deliver maximum performance and durability for the ultimate audio experience, while demanding the most from genuine KICKER Subwoofers, Component Speakers and Amplifiers. All-inclusive power kits and a wide selection of component hardware provide everything needed for the ultimate amplifier hookup. Reliable Z-Series Kits feature interconnects, speaker wire, hyper-flex™ power and ground, a heavy-duty fuse holder and fuses, connectors, zip ties and heat-shrink wrap.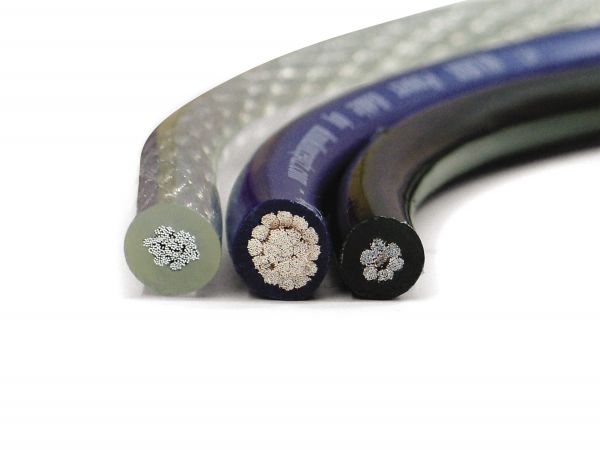 KnuKonceptz
4 Gauge KCA Kable
KnuKonceptz 4 Gauge KCA Kable features oversized Copper Clad Aluminum conductors and an ultra flex PVC jacket. Your system demands true American Wire Gauge standards, KnuKonceptz delivers and at a cost that is affordable. The KCA Kable is available in 8, 4, and 0-gauge. In addition to power wire, the KCA Kable is also available in complete amp installation kits.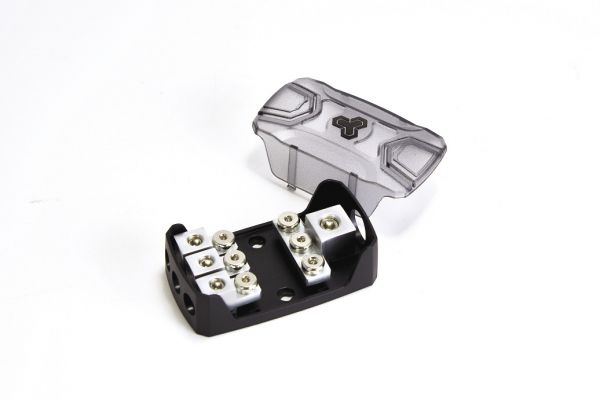 MAXXLINK
VFD3AFS
Mobile accessories are supposed to make installation more flexible and improve performance. That is why MAXXLINK has introduced the FLEXIbrass line of power distribution components. All MAXXLINK brass fuse blocks incorporate the FLEXIbrass design. This allows different gauge wires to be used without the need for reducers when stepping down gauges. Reducers rob the system of value current. The VFD3AFS is designed for 0 or 4-gauge in and up to 3 output cables of 4 or 8-gauge.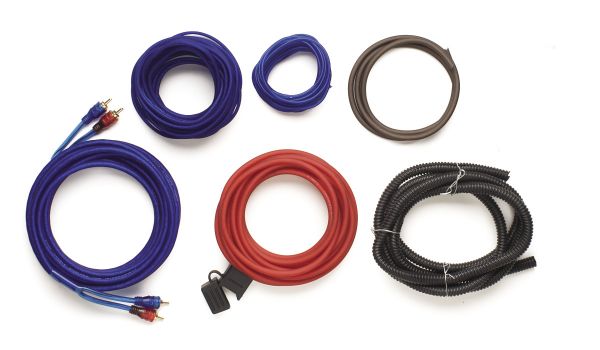 PowerBass
AWK-8 Amplifier Wiring Kit
The PowerBass AWK-8 kit includes 8-guage CCA Power and Ground wire, speaker wire, turn-on wire, 1-twisted pair RCA cable and split loom tubing. Installation hardware, fuse and gold terminal rings included.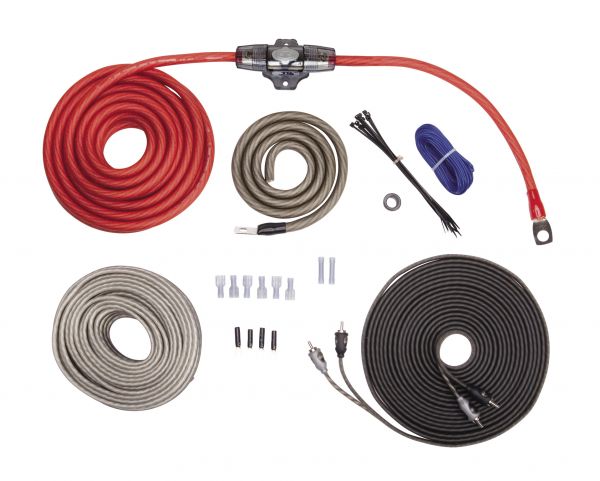 Rockford Fosgate
RFK4X
The complete RFK4X installation kit includes 17 ft. of 4 AWG power wire, 3 ft. of 4 AWG ground wire, 30 ft. of 16 AWG speaker wire, (1) 20 ft. twisted pair RCA, Maxi fuse holder and fuse, 20 ft. of remote wire, and 60 Amp fuses. The full spec RFK4X meets or exceeds AWG (American Wire Gauge) requirements and includes 100 percent Pure Crystal-Oxygen Free Copper (PC-OFC), and comes complete with a one year standard warranty.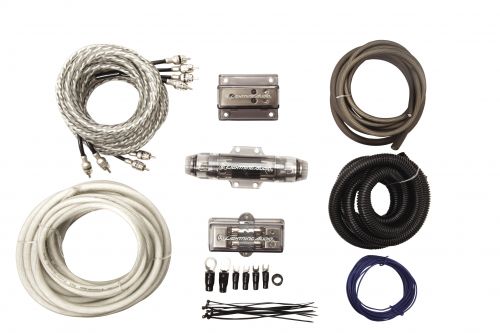 Lightning Audio
LA-40D
The LA-40D 4-gauge dual amp kit with premium RCA has everything you need to complete your install for systems up to 1,000 watts. The kit includes 17 ft. premium dual twisted pair signal cable, 4 and 8-gauge power and ground wire, 18-gauge remote wire, ANL fuses, 4 and 8-gauge terminals, and all the hardware required to connect two amps to your system. Complete with one year standard warranty for a worry free install.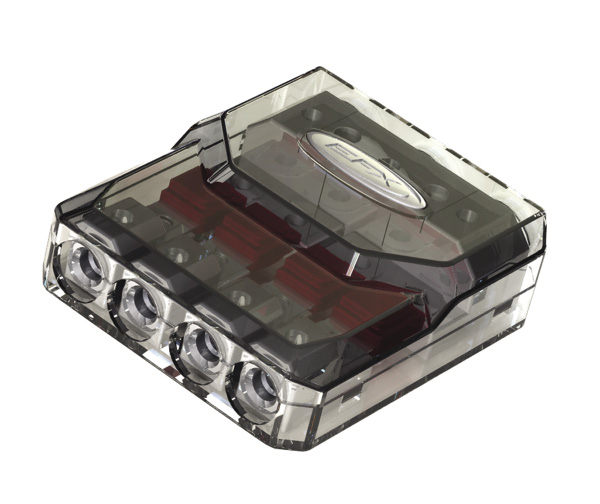 Scosche
EFX Delta Distribution Block (DBLOCK)
The DBLOCK Competition series distribution/combination power-ground block features 0/4 AWG inputs and 4/8 AWG outputs, both with EZ-insert profiles. Compact and easily configurable for almost any installation, the DBLOCK uses compact AFC fuses (sold separately) and is encased in a protective polycarbonate cover.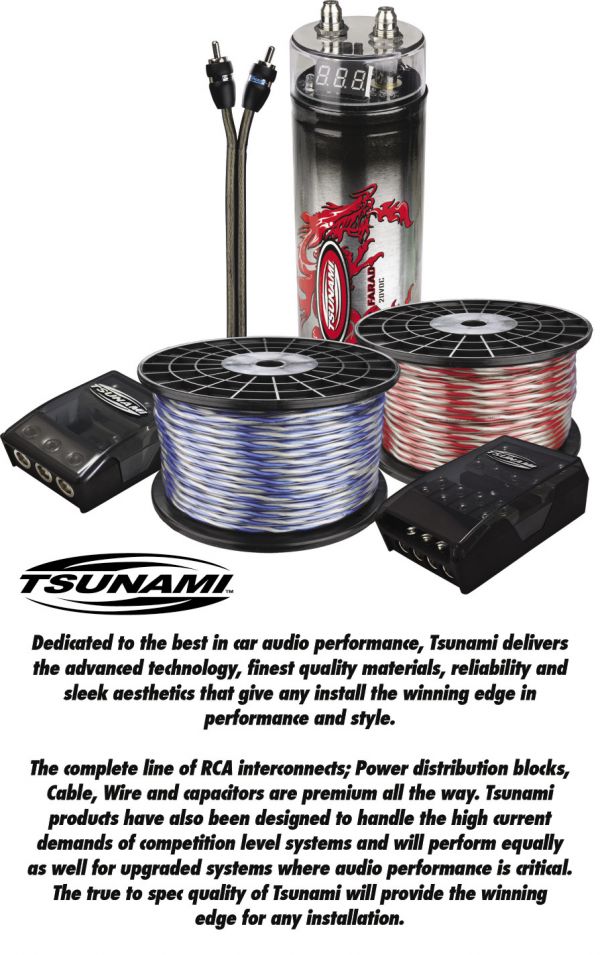 Tsunami
Installation Kit
Tsunami products have been designed to handle the high current demands of competition level systems and will perform equally as well for upgraded systems where audio performance is critical. The true to spec quality of Tsunami will provide the winning edge for any installation.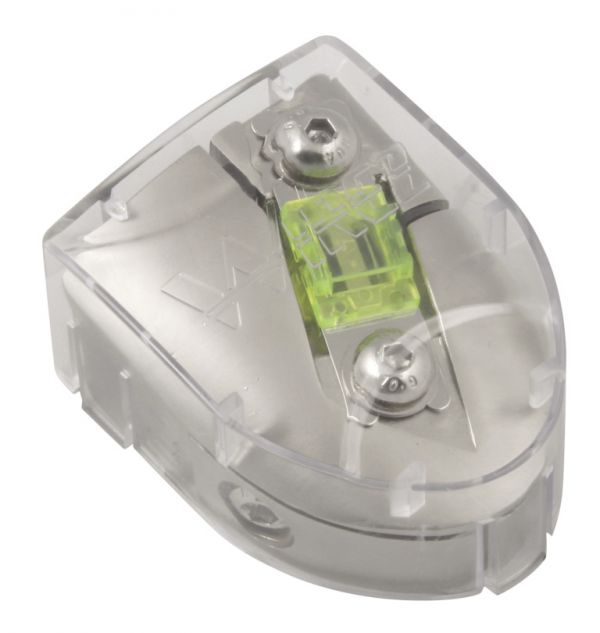 Wirez
Fused Battery Terminal
The Wirez BTFPS-4 is a positive battery terminal with an integrated Mini-ANL fuse holder. The fused output will accept 4 or 0 AWG wire. Two 8 AWG and one 4 AWG direct outputs make it easy to reconnect factory wiring. To maximise system performance, use the BTPNS-4 Positive/Negative battery terminal to upgrade all your system grounds for maximum current delivery.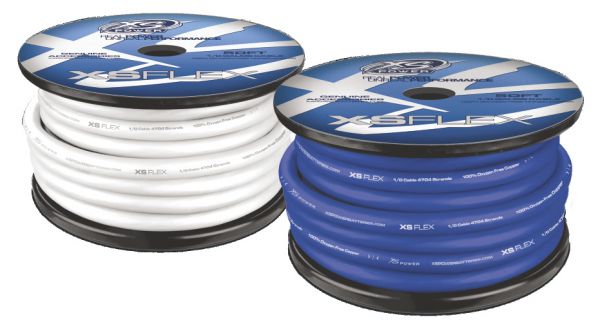 XS Power
XS Flex Cable
The XS Flex line of power cable is XS Power's flagship power cable. It is available in both blue and clear. The XS Flex Cable is 100% Pure Oxygen Free Tinned Copper Cable with a massive 4,704 strand count. The XS Flex Cable exceeds the industry CEA-2015 cabling standards and is True AWG cable. The high strand count and soft touch cable jacket allows the wire to be super flexible and easy to use in any installation.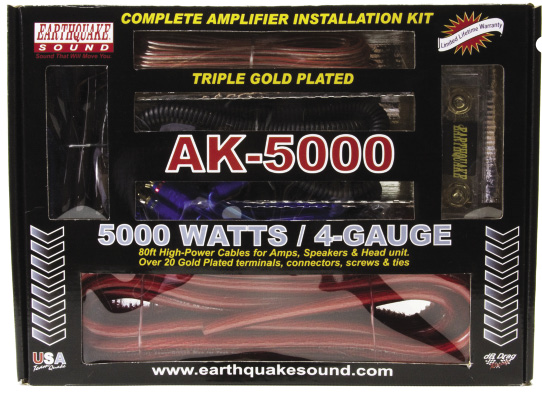 Earthquake Sound
AK Series
Earthquake Sound Corporation proudly introduces the AK Series of installation kits. With over 70ft of 100% pure copper cables for Amplifiers, Speakers, & Head Unit, over 15 Gold Plated Terminals, Connectors, Screws & Ties, and the Gold Plated ANL Fuse Holder and fuse; the AK kits easily cover all your installation needs.