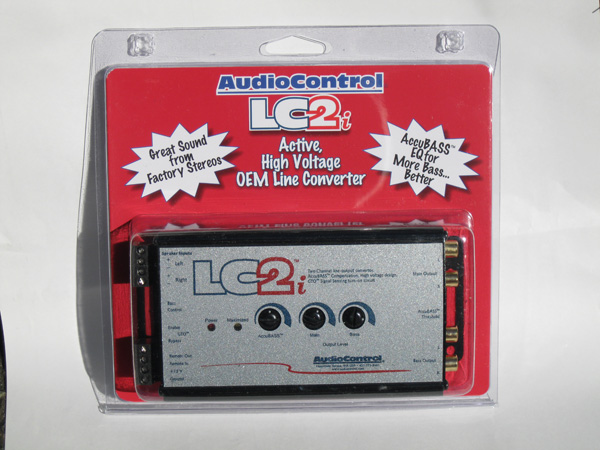 Visitors to the AudioControl booth at this weeks CES will be happy to see AudioControl's new LC2i OEM interface on prominent display. This unique processor began shipping during the 4th quarter of 2010 and set record unit sales during it's first 90 days of shipping.
"Dealers have embraced the LC2i in a big way as it is a great sounding, cost effective way to interface with most factory installed audio systems," commented Chris Kane from AudioControl. "Early sales eclipsed our expectations causing our production department to really scramble to keep up with orders. One of the nice benefits of having our own U.S. based factory is that we could react to the dramatic increase in demand with minimal backorders."
The LC2i, is a compact, two-channel processor with active input circuitry, which allows it to accept speaker-level signals of up to 400 watts per channel from factory-installed source units or amplifiers. It converts them to high-quality pre-amp signals that can then be directed to after market processors and/or amplifiers. Users can enjoy maximum sound quality while maintaining the use of factory volume and steering wheel controls.
The LC2i is also the world's first processor to incorporate AudioControl's, patent pending, AccuBASSTM processing which automatically corrects for the bass roll-off that is common with many factory installed audio systems. Simple "Threshold" and "Level" controls allow users to optimize the bass response to match their speaker system.
"The AccuBASS circuit is very unique as it allows mobile electronic specialists to deliver great bass response to their customers", commented AudioControl president, Tom Walker. "Happy customers create lots of referrals which is very important for today's retailers."
Being a high-value OEM integration processor, the LC2i is installer friendly and equipped with a number of features that make it ideal for simple systems:
GTOTM (Great Turn-On) Circuit – Powers up the LC2i when it detects signal on the speaker level input

Fixed and variable outputs with discrete level controls

Input For Optional Remote Level Control
The LC2i has a client selling price of only $99.00 and like all AudioControl signal processors, is backed by an industry leading, five-year parts and labor warranty when installed by authorized AudioControl dealers.