Page 1 of 3
---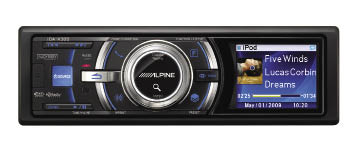 ALPINE iDA-X305
www.alpine.com
The iDA-X305 gives consumers a fully integrated iPod/iPhone experience in the car, and meets the specifications for "Made for iPod" and "Works with iPhone" compatibility. As a dedicated iPod receiver, the iDA-X305 does not have CD/DVD playback. Its USB connection allows for high-quality iPod playback, as well as connectivity for USB memory devices and MTP portable MP3 players. Searching through files is quick and easy with access to all iPod navigation tools. Any iPod with a 30-PIN dock connector is compatible with the iDA-X305.The iDA-X305 can connect to and support a variety of digital media sources and playback formats, including HD Radio with multicasting and iTunes Tagging, satellite radio, MP3/WMA players and Bluetooth. The iDA-X305 features a 2.2-inch color TFT display that shows artist, album and track information. If the iPod displays album art, this also will be shown on the screen.
---

Pioneer DEH-P7100BT
USA - www.pioneerelectronics.com
Canada - www.pioneerelectronics.ca
Pioneer's DEH-P7100BT flagship single CD player is designed for the tech savvy enthusiast who simply wants it all. In addition to playing different music files (CD, MP3, WMA and AAC), the unit features key technologies such as advanced Bluetooth 2.0 from Parrot (for hands-free phone calls with
a voice recognition control to initiate phone calls), dual USB inputs and the first iTunes tagging with RDS radio and HD Radio. For iPhone and iPod users, Pioneer's DEH-P7100BT allows you to tag songs playing on your favorite radio and HD radio stations to preview and purchase later. The iTunes tagging feature also lets you share your tags with other iPod and iPhone devices that are connected with the dual USB inputs.
---


Sony CDX-GT930UI
USA - www.sony.com/xplod
Canada - www.sonystyle.ca/xplod
Sony's new CDX-GT930UI head unit is the ultimate car stereo for enjoying digital music. Boasting features like iPod and iPhone (and other USB devices) direct connection via a rear USB-1 wire, connectivity to portable music players is simple and easy. With Quick-BrowZer and ZAPPIN technology, you can quickly find that perfect song while enjoying your drive. Its wide area "Extended FL" 4-line, full motion display allows users to see a song's title, artist, genre, and playlist with just a quick glance. The receiver also has a motorized, detachable faceplate, a 4-volt front, rear and sub preamp output and a rear auxillary-input.
---

JVC KD-R900
USA - www.mobile.jvc.com
Canada - www.jvc.ca
The JVC KD-R900 in-dash CD receiver features two full-speed USB 2.0 ports for connection of an iPod/iPhone, USB flash memory drives, digital audio players, and portable HDD devices. The KD-R900 features full Bluetooth functionality, including hands-free phone calling and wireless audio streaming capability via an included USB Bluetooth adapter. Convenient and Full-Speed iPod/iPhone song selection is made possible through a 2-way iPod control feature, allowing the option of using the in-dash receivers or the iPod/iPhone controls themselves to make music selections. The unit is equipped with a Flip-Down detachable faceplate and a Full Dot LCD display with variable-color illumination, capable of over 30,000 colors. The unit is also HD Radio Ready, Satellite Radio Ready, and MP3/WMA compatible. The KD-R900 features a 3-Band Parametric iEQ, wireless remote, MOS-FET 50W x 4, and 5V front, rear, and subwoofer pre-outputs with Subwoofer Control.
---

Clarion FZ409
www.clarion.com
The FZ409 from Clarion represents one of the biggest changes to the industry in terms of the human machine interface. The front panel features Clarion's new Capacitive Touch Interface – 14 'zones' on the front panel that give you complete control over all functions, but with no moving parts. An OEL display makes seeing what you are listening to easier than ever. The FZ409 has a USB port for a memory stick with MP3/WMA or AAC files and is iPod Ready – just connect the USB cable that came with your iPod for full control over all your music. The optional CCA723 cable will let you output video from your iPod to an external screen with full control from the deck. Performance features include BBE MP Sound Restoration, a 3-band parametric equalizer, built-in electronic crossovers with sub level control, 6-channel preamp output and a rear auxiliary input. The FZ409 is Bluetooth Ready – just add the BLT370 and enjoy high quality audio streaming or hands-free phone conversations. For information on this, or any of the other new Clarion products, please visit you local authorized Clarion dealer.
For More Products Read On