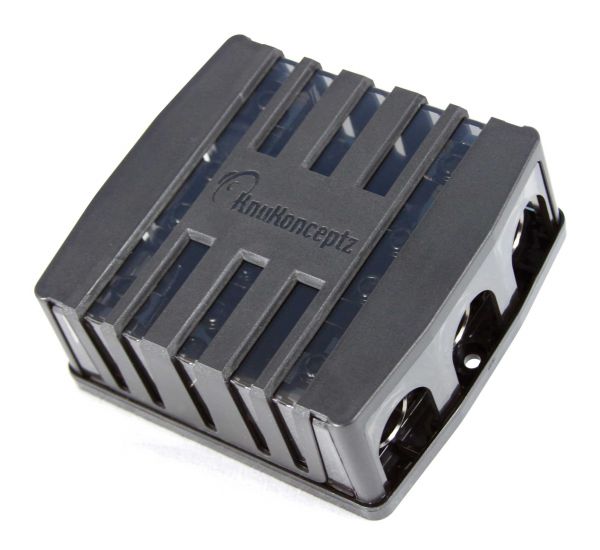 Sometimes when we're buying parts and accessories for our audio systems (or anything else for that matter), it's tough to decide which one to get because we know that down the road, system changes, upgrades and expansion are bound to occur. This is especially true when selecting things like distribution blocks for fusing and grounding.
The folks at KnuKonceptz have come up with a brilliant method of fixing that problem. Their power distribution and grounding blocks can be configured in different ways to satisfy your present needs and future system requirements. They sent us the "KonFUSED 2/3/4 Way Power Distribution and Ground Block," also known as the KNF60.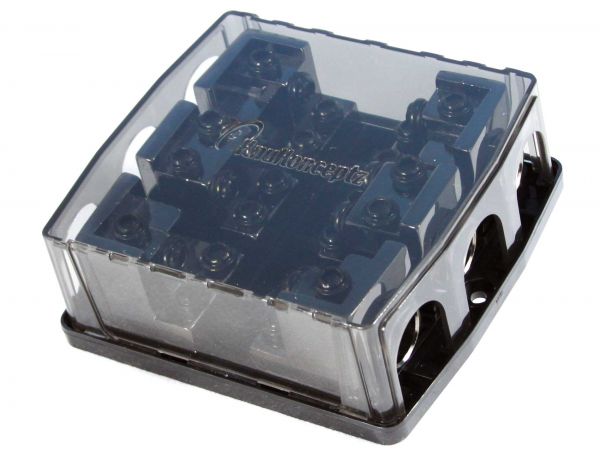 Measuring approximately 4.75 inches by five inches, this cleverly designed, patent-pending distribution block is basically composed of three input and three output terminals. A sturdy snap-on top cover protects the terminals from exposure. Sounds pretty standard right? That's about all that is standard on the KNF60. The ingenious part is that you can connect these six terminals together in a wide variety of configurations. Each KNF60 comes with a selection of mini ANL-style fuses and straight high-current jumper bars. By placing the fuses and jumper bars across the various possible terminal locations, you can create your own custom block with linked, fused or open terminals for whatever you're building.
Included are four 150A and two 100, 60, 50, 40 and 30A fuses. In addition, five of the high-current jumper plates are also included.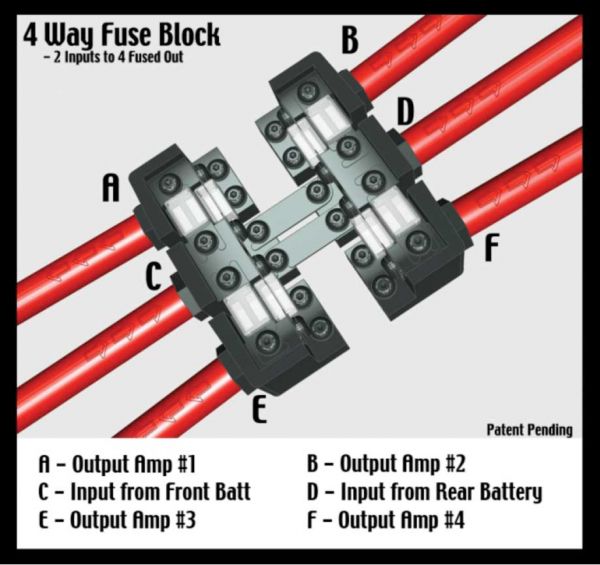 To make sure connections are secure and have low electrical resistance, the KNF60 uses high performance compression fittings rather than set screws. The compression fittings that come installed in the block include four zero-gauge and two 4-gauge connections and with the heavy-duty black chrome terminals, the block can handle up to 300 amps of current per circuit.
To give an idea of the flexibility of this system, we provided the following examples of some ways the KNF60 can be configured.
So if you've been looking for a distribution block that can be customized to suit any installation and future changes or additional gear, the KNF60 (or other configurable KnuKonceptz distribution blocks) could make you a very happy camper. And for just $39.95, your wallet will be happy too. Check them out online, at knukonceptz.com.