Page 1 of 4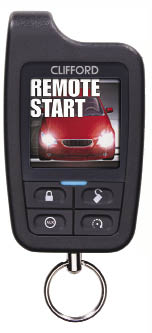 Clifford 5902X (70.7X) Two-way OLED Responder HD SST

The Clifford 5902X (70.7X) is a two-way 24-channel remote start/security system with keyless entry. This system features Clone-Safe and Code-Hopping, SuperCode SST One Mile Range, 2-Way Confirmation on OLED Transmitter,  Programmable Parking Light Flash Output (+ / -), Failsafe Starter Kill/Anti Grind/ Defrost Output, Virtual Tach, Built-in XCR (Extreme Capacity Relay Satellite), D2D and XpressPort Ready. The Clifford 5902X (70.7X) also offers a built-in turbo timer, transmitter USB charging,  4 auxiliary outputs, built-in dual stage shock sensor, user adjustments and programming done through the transmitter, horn honk output (comes with 1 - 5 button 2-way OLED transmitter and 1 -5 button companion transmitter).
---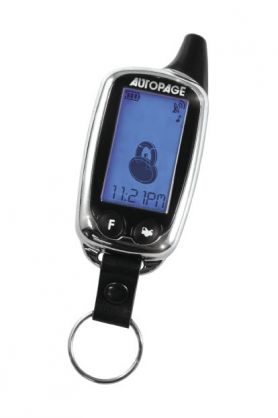 Auto Page C3-RS730LCD
Auto Page, winner of Best of Innovations Award in 2008 for C3, introduces the all new C3-RS730LCD 4-Channel Alarm with Remote Starter and 2-Way AM/AM Chrome Metal LCD Transmitter with Seven (7) Selectable LCD screen colors. The C3-RS730LCD features a host of new innovations like the all new High-Tech chrome-metal finish with a smart-looking leather strap for key ring application. A new LCD screen with 50% more viewing space and new 7-color selectable backlighting. Two-way paging transceiver with 7-color LCD screen uses AM frequency bands for transmitting and receiving at 433.9 megahertz.
USA - www.autopageusa.com // www.c3autopageusa.com
CAN - www.ps-canada.ca
---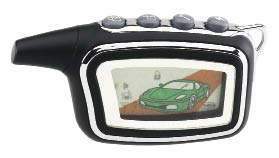 Gryphon GS-750RA
The GS-750RA is an LCD 2-way remote starter and alarm from Gryphon Mobile Electronics. It includes two LCD 2-way remotes which display the vehicle's status as well as confirm commands transmitted to the vehicle. Remote starting function is compatible with gas and diesel engines. The GS-750RA's range is extended by a glass mounted antenna. Alarm system uses a dual-stage shock sensor, virtually eliminating any false alarms caused by loud traffic.
---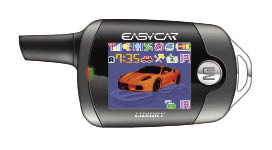 EasyCar 702
EasyCar Remote Car Starters and Security Systems offer the most advanced technologies available. The number one Starter in Asia for performance and reliability is now available in North America through quality dealers and distribution channels. The flagship 702 Remote Car Start / Alarm is the first of it's kind. TFT transmitter full color display is bright and brilliant, plus, features easy to use scroll down menus for quick access to option and function changes. The 702 model is jam packed with features and functions that create a high level of creature comforts and convenience. Featuring the latest telecommunications available, the 702 offers exceptional range and the best response time ever in terms of two way communication.
Read on for More Products