XS Power introduces the new D3400R right terminal, group 34R style battery. Offering real power and unreal performance, the D3400R is another in the long line of OE fit batteries from XS Power. There's a limited supply, so be sure to get your orders in early.
Weighing in at less than 48lbs, XS Power's D3400R produces 3,300 Max Amps of current, and an incredible 1,000 cranking amps. The D3400R is 10"L x 6.88"W x 7.63"H and a direct fit for any vehicle using a group 34R style battery. BCI rated at 65 amp hours, the D3400R will keep the music playing, long after the party has faded.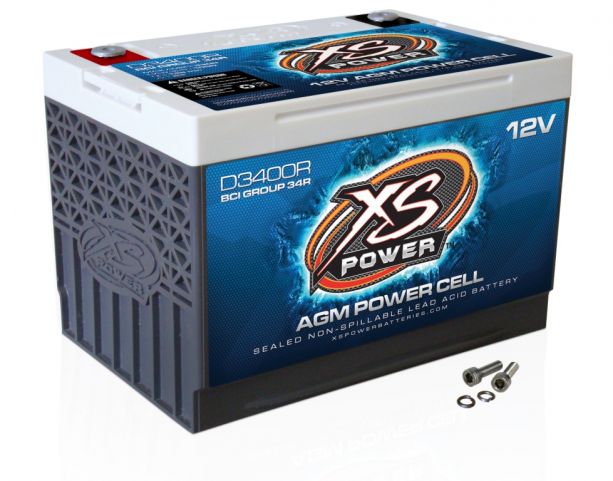 DESCRIPTION
12V BCI Group 34 AGM Battery, Max Amps 3,300A, CA: 1000 Ah: 65, 2500W / 4000W
Weight Lbs. – 46
Weight Kgs. – 20.85
Length – 10.24 in
Height – 7.2 in
Width – 6.75 in
MAX Amps – 3300
CA – 1000A
RC – 135min.
Ah – 65
Click to view the entire product description, including warranty information and purchase options.
XS Power is a manufacturer and distributor in Knoxville, TN USA of high performance batteries. They offer AGM lead acid batteries featuring lead-tin technology, as well as a complimentary line of accessories. Please visit their website at www.4xspower.com or call 1-888-4XSPOWER for more information.