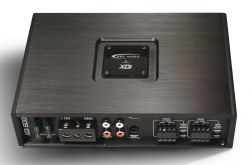 ARC Audio
XDi600.4 Amplifier
$529 | arcaudio.com

When it comes to dynamics and overall sound quality, nothing beats raw power except clean power. With the XDi600.4 amplifier, that is exactly what you get. Delivering 150 watts into 4 channels at 2 or 4 ohms, giving your mids and highs more than enough dynamic power to satisfy even the most demanding or critical of listeners.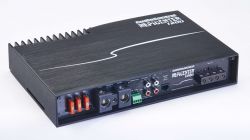 AudioControl
The Epicenter Amplifiers
$499 to 699 | audiocontrol.com

AudioControl EPICENTER 600 and 1200 power amplifiers are ideal solutions for high levels of power and feature a wide range of adjustability. Each model delivers high current, stable power down to 1 ohm, and each has a removable top cover that allows access to controls for THE EPICENTER effect, crossover frequency, gain, polarity, subsonic filter, signal sense, and expansion bus mode.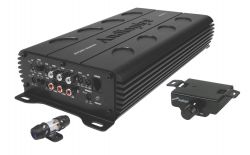 Audiopipe
APMI-55100 Amplifier
Contact for pricing | audiopipe.com

The new APMI mini amplifier series are available in three Class-D models and four multi-channel models. This new 11-inch, 5-channel amp offers four 98-watt standard mid/high channels along with one 338-watt sub channel allowing you to use one small, simple and powerful amplifier to run your entire system.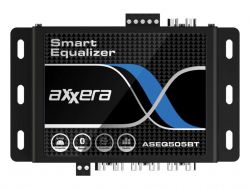 Axxera
ASEQ505BT Bluetooth Smart EQ Processor
$199 | axxera.dualav.com

This Smart EQ Processor controls balance, fader, and features a 7-band graphic EQ with 20 presets. The processor works with a Bluetooth-connected Android or Apple smartphone or tablet via a free app. The processor connects to up to 3 amplifiers and a receiver via RCA inputs/outputs, and features signal sensing technology for auto amp remote turn-on.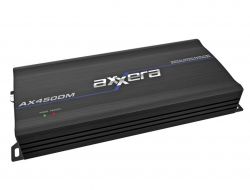 Axxera
AX450DM Digital Mono Amplifier
$219 | axxera.dualav.com

This 2,000-watt amp features advanced SMD (surface mount device) circuitry for better current flow and reduced RF and EMI interference, high-level inputs with auto turn-on, low-level inputs, variable low - pass crossover, variable bass boost and subsonic filter, and includes a remote bass control.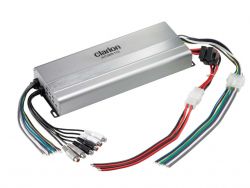 Clarion
XC2510 Amplifier
$349.99 | clarion.com

The power packed Class-D XC2510 5-channel amplifier features 700 watts of power all in a form factor smaller than a magazine cover. Its marine-grade components feature a conformally coated PCBand corrosion resistant connectors. The impeccable build quality compliments the array of options including high and low level inputs, channel bridging, and adjustable high- and low-pass crossovers.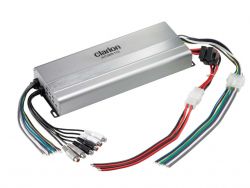 Clarion
XC2110 Amplifier
$249.99 | clarion.com

At less than 8-inches wide and 4-inches tall, the Class-D XC2110 mono amplifier is rated at a massive 400 watts max while providing 2-ohm stability. The pulse width modulated MOS-FET power supply coupled with variable controls (bass boost, low-pass and gain) ensures that any music you run through the XC2110 will have clean, solid, low end.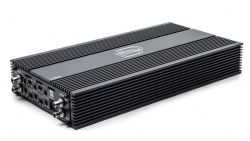 DD Audio
C-Series Amplifiers
$359 to $399 | ddaudio.com

DD Audio's C-Series amps are available in two models: the 2-channel C3d and 4-channel C5d. Both amps feature Class-A/B output stages, compact chassis, quality internal components, set screw terminals, and panel mount RCA inputs. The C3d delivers 250w x 2 @ 2 Ohm, and the C5d delivers 130 x 4 @ 2 Ohm.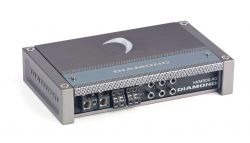 Diamond Audio
Motorsport Series Amplifiers
$849.99 to $1,249.99 | diamondaudio.com

Motorsport series amplifiers from Diamond Audio include two Class-D mono-blocks, a 2-channel and 4-channel, and its smallest footprint ever 6-channel amplifier. Engineered with the latest IR chipset design, housed in full aluminum construction and utilizing all stainless steel hardware. The PC board is conformal-coated. The mono-block amplifiers deliver exceptional power and the multi-channel amplifiers are compatible with Diamond Audio's latest offerings of Bluetooth receivers.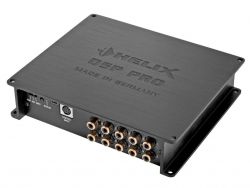 HELIX
DSP PRO Digital Signal Processor
$999.95 | audiotec-fischer.de

The HELIX DSP PRO features 64-bit resolution and HELIX Extension Card Slot (HEC). By using optional HEC modules, it allows for Bluetooth audio streaming module, additional optical digital input, or optical digital output. The completely revised DSP PC-Tool software 3.0 adds many new functions and more precise adjustments of all parameters. The real-time analyzer comprises the revolutionary "AutoSet" function that makes for easy equalizer adjustment.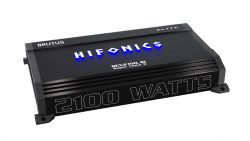 Hifonics
Brutus Elite BEX Amplifiers
$269.99 to $699.99 | hifonics.com

Hifonics is expanding the successful Elite Program with new amplifiers that are intended for non-Internet distribution. The Brutus Elite line features 7 new designs with 4-channel models, mono blocks, plus an all-new five-channel. The mono block models are "Next Generation D-Class", while the stereo amplifiers share the "Super A/B class" design.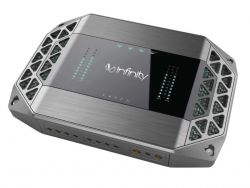 Infinity
Kappa Amplifiers
$399.95 to $549.95 | infinityspeakers.com

The all-new Kappa amps deliver the sonic signature that Infinity is known for. A discrete dash remote easily controls hands-free calling operation, Clari-fi and exclusive BT Party Mode. Party Mode allows up to 3 passengers to share their playlist mix by putting them in control of the system wirelessly. Dynamic Bass Optimization circuitry allows for discrete bass tuning while protecting the woofers from overexcursion.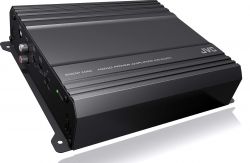 JVC
KS-AX201 Mono-Channel Amplifier
$129.95 | jvc.com

The KS-AX201 adds a mono-channel unit to the current two-channel and four-channel models. Its compact size allows it to be placed under seats or in trunk space. The amp is rated at 500 watts peak power and 150 watts RMS at 4 ohms (250 watts RMS at 2 ohms). A variable low-pass frequency adjustment and switchable bass boost help to tune the amplifier for optimum subwoofer performance.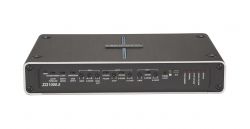 KICKER
IQ1000.5 Amplifier
$1199.95 | kicker.com

Very complex, but remarkably easy to use, the IQ1000.5 is a 4-channel full-range Class-D amp with a 500-watt sub section to run an entire system with this one unit. TWEEQ GUI-based DSP software is highly configurable, so the listener can play with it or use the setup wizard one time.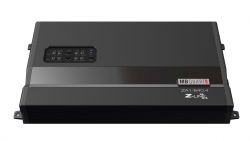 MB Quart
Z-Line Amplifiers
$269.99 to 499.99 | mbquart.com

One of the many lines that MB Quart unleashed upon CES, the Z-Line amplifiers carry an entry-level price tag with striking design and performance. An elaborate preamplifier, Q-Stasis preamp stage and top mounted controls allow for extended control and easy adjustment. Mono blocks use an SQ A/B topology, while the 4-channel models feature Q1 proprietary class D.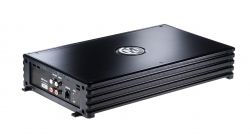 Memphis
PRX1.1500 Amplifier
$499.95 | memphiscaraudio.com

Memphis' new PRX1.1500 delivers over 1,500 watts of Class-D power into 1 ohm at a size that will fit any vehicle with a price you can live with. The removable top cover makes these amps look as smooth as they sound.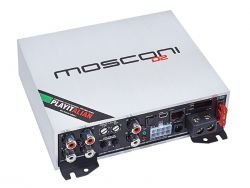 Mosconi
D2 100.4DSP Amplifier
$1,299 | mosconi-america.com

This Class-D, 100-watt x 4 amplifier in a tiny 6x5-inch platform is Mosconi's latest offering, designed and built in Italy. Featuring 6-channel on-board DSP and 2 digitally processed line outputs with SP-DIF digital input. There are AUX inputs suitable for hands-free set, mobile navigation and external stereo sources. High quality Bluetooth streaming is an option for this model.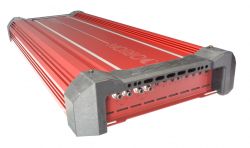 Orion
HCCA3000.2H Amplifier
$902 | orioncaraudio.com

The HCCA series 2-channel 12,000-watt max (6,000 watt nominal) amplifier by Orion offers the most power and quality out of any amplifier line Orion carries.
The HCCA3000.2H handles 900 watts x 2 channels at 4 ohms, 1,500 watts x 2 channels at 2 ohms, and 3,320 watts bridged at 4 ohms.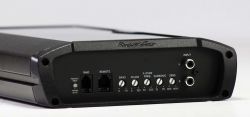 Phoenix Gold
Ti22000.1 Amplifier
$1,199.99 | phoenixgold.com

Ti amplifiers are the definition of power and compactness and can be mounted just about anywhere with power levels never seen previously in this class of products. The post filter feedback circuit, audiophile OP-AMPS and balanced differential inputs allow these new amplifiers to have excellent musical reproduction. The Low EMI Circuit, ADAPT power management systems and the Thermal Rollback circuit provide maximum efficiency and lower operating temperatures.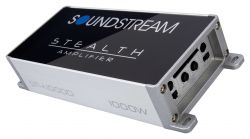 Soundstream
Stealth ST4.1000DB Amplifier
Contact for pricing | soundstream.com

The ST4.1000DB amplifier from Soundstream features Class-D high efficiency, a hybrid aluminum alloy heatsink, built-in Bluetooth 3.0 for device playback, 200 mV to 12-volt high- or low-level RCA input, Quick Disconnect harnesses, and dash-mount gain control. This Stealth amp handles 90 watts x 4 at 4 ohms, 125 watts x 4 At 2 ohms, and 250 watts bridged at 4 ohms.