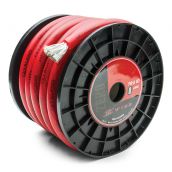 DD Audio
Z-Wire Power Cable
$359 to $459 | ddaudio.com

DD Audio's Z-Wire is simply power cable. It's offered in a red and black, Tru ID AWG-spec 50-foot 0-gauge spools and 100-foot 4-gauge spools. It uses high strand count 100% oxygen free copper. Each strand is tinned to resist oxidation, making it great for car and marine applications. It's all encased in a durable, yet highly flexible PVC jacket.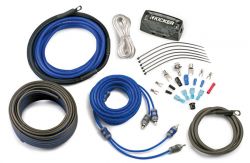 KICKER
CK4 Complete Power Kit
$149.95 | kicker.com

Everything you need to hook it up. KICKER's best Hyper-Flex power, ground and turn-on, and high-performance K-Series interconnects and speaker wire, along with fuses and fuse holders, terminals, spade and ground lugs and zip ties.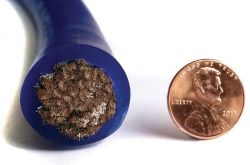 KnuKonceptz
4 Gauge Power Cable
$7.19/foot | knukonceptz.com

KnuKonceptz has just released 4/0 (0000) gauge power cable featuring over 10,000 tinned Oxygen Free Copper Strands. With an outside diameter just under one inch, weighing nearly 1 pound PER FOOT, KnuKonceptz 4/0 exceeds American Gauge Wire standards and every other cable in the 12 volt market today!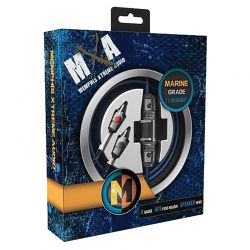 Memphis
Xtreme Audio MXA8GKIT/10GKIT
$39.95 to $64.95 | memphiscaraudio.com

MXA amp kits are specifically designed for powersports vehicles. MXA all-weather kits feature 6-feet of tinned copper power and ground wire with waterproof fuse holders. MXA kits include everything you need for great sound in any extreme environment, speaker wire included.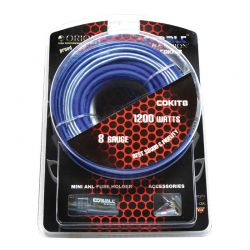 Orion
Cobalt Amplifier Wiring Kits
$12 to $22 | orioncaraudio.com

2015 sees the return of Orion Wired, offering wiring and distribution solutions for all of your needs. The Cobalt amplifier wiring kits are available in 0-, 2-, 4-, and 8-gauge kits and designed specifically for systems up to 1,000 watts. Made from copper-clad aluminum for uninterrupted transfer of power, gold-plated for excellent signal transfer, and wrapped in a soft rubber.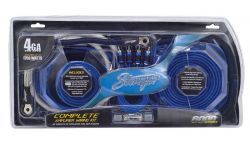 Stinger
SK6641 Wiring Kit
$149.99 | stingerelectronics.com

The Stinger 6000 Series wiring kits are designed specifically for car audio systems up to 1,750 watts or 175 amps. Made from 100% oxygen-free copper for an uninterrupted transfer of power, the 6000 series Tru-Spec cables and wires meet or exceed the industry standard of copper required for the gauge size.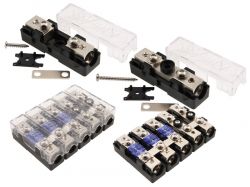 Wirez
Modular Distribution Blocks
Contact for pricing | gotwirez.com

Designed with flexibility in mind, Wirez Modular Fused and Ground Distribution Blocks make building your power distribution system quick and easy. Choose the right number of fuse blocks and ground blocks to feed your amplifiers, then link them together electrically and/or mechanically for a compact and efficient distribution solution.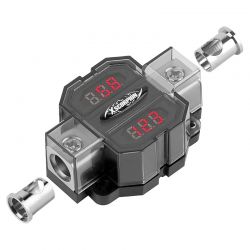 Xscorpion
DAV02P Digital Amperage & Voltage Meter
Contact for pricing | xscorpion.com

Xscorpion's Digital Amperage & Voltage Meter features 0/2-gauge input and output, integrated mounting holes for easy installation, set screw connections and gauge adapters. Everything is packed up in a protective case and the red digital readout shows your amperage and voltage levels.