Written by David MacKinnon | 18 March 2016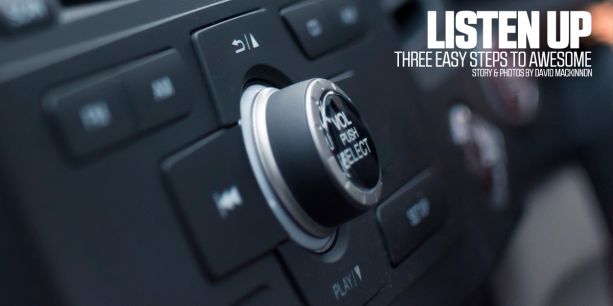 I used to have a simple and effective upgrade path for people wanting to improve the performance of their factory car audio systems. With the complexity and integration level of the radios that come in new cars today, my plan has had to evolve dramatically. In this installment of Listen Up, we will look at a modern approach to upgrading your factory audio system.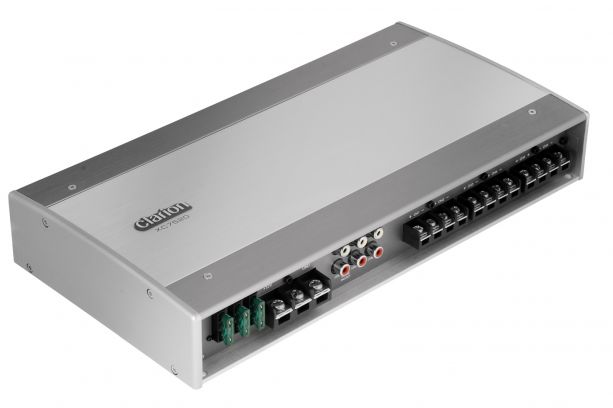 THE CLARION XC7520 IS A FIVE-CHANNEL AMPLIFIER WITH INTEGRATED SIX-CHANNEL DSP.
A GREAT SINGLE-AMP SOLUTION FOR ALMOST ANY SYSTEM.
STEP ONE
If you ask any music enthusiast what is lacking from most factory-installed audio systems, their answer would be bass. Now, don't start imagining a wall of woofers and banks of batteries; that's not what I'm talking about. It takes a dedicated speaker in an appropriate enclosure with an adequately powerful amplifier to reproduce the bottom octave of the music we listen to with any semblance of realism. Even the eight- and 10-inch "subwoofers" many automakers include in their vehicles can't hold a candle to what can be achieved in the aftermarket. So, step one is to add a good quality subwoofer system to your vehicle. Having a subwoofer in your system relieves the small factory-installed midrange speakers from the strenuous duty of trying to make bass. This allows them to play midrange frequencies louder, and sound better!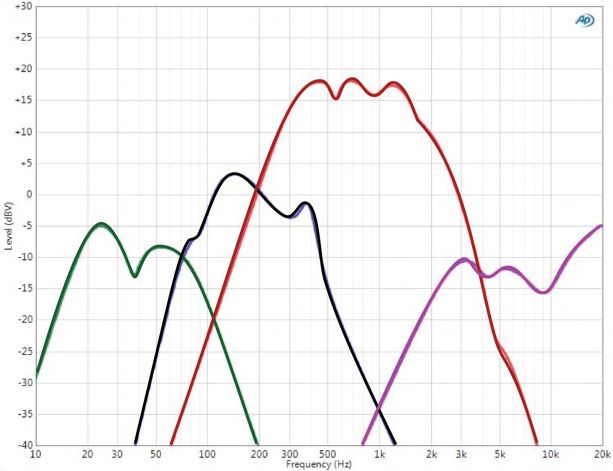 THIS IS THE OUTPUT OF AN AMPLIFIER IN A VEHICLE WITH A FOUR-WAY SPEAKER SYSTEM.
YOU CAN SEE THE DIFFERENT LEVELS USED TO COMPENSATE FOR SPEAKER EFFICIENCY AND LOCATION.
STEP TWO
Once you have a nice subwoofer added to your system, you may find that the little amplifier that is in your radio can't keep up adequately. Step two is to upgrade the amplification to the rest of the speakers in your vehicle. With more power, not only will they play louder, but the music will be more dynamic. Think of it like having an extra 100 lb-ft of torque at idle! Look for an amp rated at somewhere between 50 and 100 watts per channel, and that is compliant to the CEA-2006A rating system. If you want to combine this step with the first, there are some great five-channel amplifiers available that will run your entire audio system.
THIS IS THE OUTPUT OF A PROCESSOR THAT CAN SUM FOUR SIGNALS TOGETHER AND UNDO THE EQUALIZATION THAT WAS APPLIED TO EACH SIGNAL. BECAUSE OF TIME ALIGNMENT, THERE ARE SOME NASTY SOUNDING ISSUES AROUND 2 KHZ.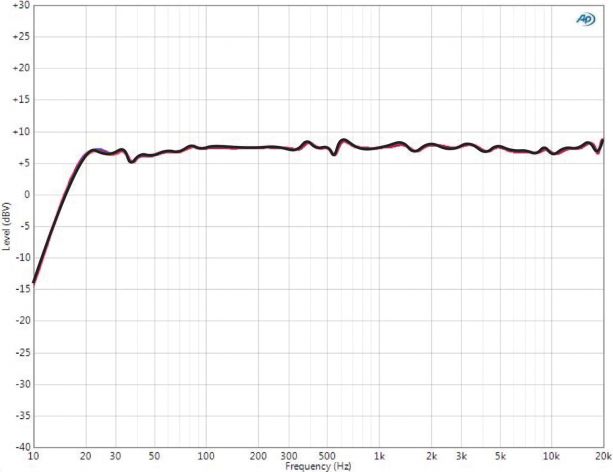 HERE'S THE OUTPUT OF THE JL AUDIO FIX82. THE INPUT SIGNALS ARE ADJUSTED FOR LEVEL AND HAVE HAD THE TIMEDELAY REMOVED.
THE RESULT IS FLAT FREQUENCY RESPONSE ACROSS THE ENTIRE AUDIO BAND. THIS IS WHAT YOU WANT.
STEP THREE
Now that we have a solid foundation for the system, it is time to upgrade the most important and critical component – your speakers. Anyone that knows me has heard me say a few hundred times: "You can have the best electronics in the world, but if you don't have good speakers, your system still won't sound good." Picking speakers is much simpler than people think. A good speaker sounds good with all music, and at all reasonable volume levels. If the sound of the speakers you are auditioning changes as you turn them up, keep looking. If the instruments and voices you hear don't sound natural and realistic, keep looking. If any portion of the spectrum seems over-emphasized or missing, keep looking. Work with your local car stereo specialist retailer to pick speakers that will fit into the factory locations in your vehicle, but be sure to discuss different mounting options. For example, you could relocate tweeters to the A-pillars to improve staging and imaging.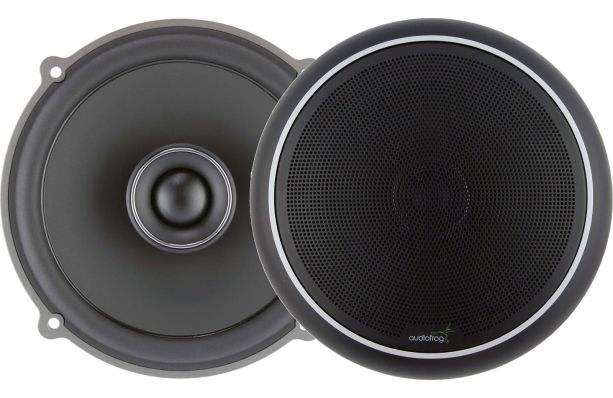 AUDIO FROG GS62 6.75-INCH COAXIALS ARE A GREAT UPGRADE SOLUTION FOR ANY SYSTEM.
THEY OFFER SMOOTH FREQUENCY RESPONSE AND EXCELLENT DYNAMICS.
BONUS BASICS
Building an amazing audio system is really just that simple – good amplification and good speakers. There are enough interfaces available today that you can leave your factory radio in your dash alone. JL Audio recently introduced an interface processor called the FiX-82 that can sum signals together from your factory woofers, midrange and tweeters and undo time-alignment. The result is a full-bandwidth, flat response signal that can be fed to aftermarket amplifiers and processors.
In terms of acoustics, your car or truck is a pretty harsh environment. There are many different reflective materials like plastic, vinyl and glass in your vehicle that can wreak havoc with the frequency response of your system.
The small size of a vehicle interior also has a dramatic effect on how your music sounds. Implementing a good signal processor that allows your installer to compensate for the environment can have a stunning effect on the performance of your audio system. These processors include crossovers to ensure each driver is operating in the frequency range for which it is designed, equalization to compensate for acoustic issues and time alignment to correct for speaker placement. If you haven't heard a car audio system with a properly configured DSP processor, then you owe it to yourself to check one out. Call that your homework.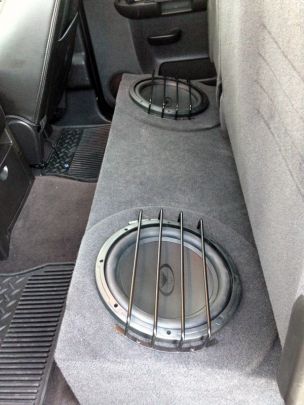 A PAIR OF AUDIOMOBILE SUBWOOFERS IN A CUSTOM UNDERSEAT ENCLOSURE IN THE BACK OF A QUADCAB TRUCK.
A GREAT WAY TO ADD BASS WITHOUT LOSING ANY STORAGE SPACE.
Contributor: David MacKinnon (Of Sound Mind Labs)
WEB: osmlabs.com
FACEBOOK: Osmlabs