Written by Gary Springgay // Photos by Manufacturer
If you've been to any sort of SPL contest over the last few years, you'll recognize the name Incriminator Audio. The company began in 2002 with the mission of breaking the mold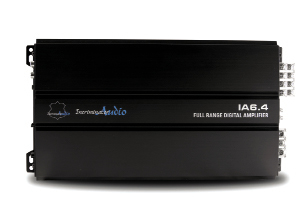 1that most car audio companies follow. When I asked company president, Nick Wright, what makes Incriminator Audio different, he said, "Our idea of a successful business is not the bottom line. While it's important, it does not dictate what we define as success. A successful car audio manufacturer must create exceptional product on all levels – from quality to durability to customer satisfaction."
The brand has built a strong reputation for rugged performance in extreme applications, and for innovation at a fair price without resorting to cookie cutter ways. They like to stand out from the crowd too. In today's hype-filled, latest trend marketplace, Incriminator Audio's motto is: "No chrome, no carbon fiber, no B.S. period!"
And to prove that they aren't just into subwoofers and huge amplifiers, Nick sent us one of their new IA6.4 high performance full range, four channel amps. Let's have a closer look.
Features
The new IA6.4 four-channel, full range Class D amplifier is quite compact when you consider it's rather prodigious power rating. Rated at 100 x 4 at 4 ohms, and 150 x 4 at 2 ohms, the amp measures only 12" x 7" x 2.25". The connections for power, ground and speakers are all made on one end of the chassis, with the signal input and control functions on the opposite end. The power and ground terminals accept 4 gauge wire, and all the other terminals will accept 8 gauge cables. The set screws use a Phillips style head, rather than the ubiquitous metric hex keys.
A pair of 25A ATC fuses provide protection from short circuits, although I found it interesting that the owner's manual specifies a pair of 30A fuses. However, throughout my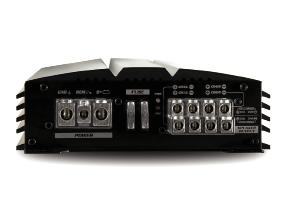 testing, the 25's did not blow even once, so they are probably adequate. Also on the power panel end of the chassis is a blue power LED and a red protection LED.The opposite end of the amp is home to the RCA input connections, and all of the gain, signal steering and control adjustments.
A 2ch/4ch mode switch allows you to drive all the channels with a single pair of RCA's, or have full balance and fader functionality by using the 4 channel mode. No need for Y splitters here. The crossover section of the amp uses separate controls for high pass and low pass function, and each section is also equipped with an x10 frequency multiplier button, which takes the 50-500Hz range to 500Hz-5kHz, for a truly flexible design. Filter slopes are fixed at -24dB/Oct. A subsonic filter featuring very wide range of adjustment (10-500Hz) is provided, and could help build a bandpass filter when used in conjunction with the high pass networks.
Of course, I had to have a look inside the IA6.4, and found an elaborate display of technology. As mentioned previously, the IA6.4 is a full range Class D design, and in these designs, parts tolerances and PCB layout are critical for a good sounding result. To control parts tolerance issues, the Incriminator Audio team chose to use 0% tolerance laser trimmed surface mount devices. These parts are much smaller in physical size than standard "through hole" parts. The smaller size allows for better layout solutions, and the choice of a double-sided PCB furnishes more room for high current carrying traces.
It was evident too, that Incriminator Audio intends these amps to last, as all of the high mass parts like transformers and output inductors are further secured with non-conductive silicone adhesive, which will reduce vibration induced failures.
The power supply draws energy from three 1000µF high-temp capacitors, and provides high voltage energy to a pair of 50V 4700µF electrolytics. All in all, pretty impressive inside!
Read on for Full Results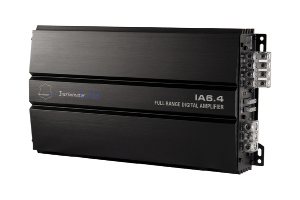 LISTENING
As usual, I connected the amp to my reference system, in this case driving my reference speakers with the front channels in stereo mode, and my 4 ohm, 12" subwoofer with the rear channels in bridged mode. After the usual gain and crossover adjustments, I was ready to do some listening. The first note I wrote on my notepad was, "Sonically, there is no real indication this is a Class D amp."
The IA6 sounded good, with no weird high frequency noise or apparent "hardness" that I have noticed in some other Class D amplifiers. The power was excellent, providing plenty of juice to run my system to really high volume levels without any sign of stress. I did, however, think that a remote level control for the rear channels would have been a nice added feature, as the IA6.4 had no remote method to change the level of the subwoofer.
Bass was smooth and tight, and had good low extension as I found out on Avril Lavigne's "Sk8er Boi". The IA6.4 sounded clean and natural in the midrange, and maybe had just a hint of sizzle on the top end. Musical details were easily discernable and overall clarity was excellent. I listened to the amp for more than 3 full hours, and while it did get good and warm, I had no thermal issues with it, thanks to the inherent efficiency of the Class D topology.
PERFORMANCE/BENCH MEASUREMENTS
On the bench, the IA6.4 lived up to the "No BS" statement, and exceeded all of the published specs. I went through the amp with a fine tooth comb, and pretty much everything worked as it was intended to, and throughout testing didn't so much as blow a fuse. The only deviation I noted was a slight rise in frequency response on 2 of the 4 channels. But because it only amounted to +2dB at 20kHz, most listeners will never hear it. Even a dead short applied to the outputs simply activated the protection circuit, and when the short was removed, the amp worked perfectly.
Signal to Noise was decent for a switching amp, and it easily exceeded the power ratings. Distortion was low, and stereo separation measured very good. Overall maximum efficiency occurs at full power into 4 ohms, and it was almost 85%. More importantly, efficiency was roughly double what a conventional amplifier provides at power levels where most of us listen to music. That means less strain on the cars charging system, and less energy lost to heating a heatsink.
CONCLUSION
Recalling Nick Wright's quote about creating products with exceptional quality and performance, I have to say I think the IA6.4 is a great example of mission accomplished. If you were wondering how well a company that seems really focused on SPL would do building an amp that was meant to run for hours at a time instead of in 3 second burps, you can stop wondering and start listening.
For more information visit www.incriminatoraudio.com