Written by Garry Springgay // Photos By: Manufacturer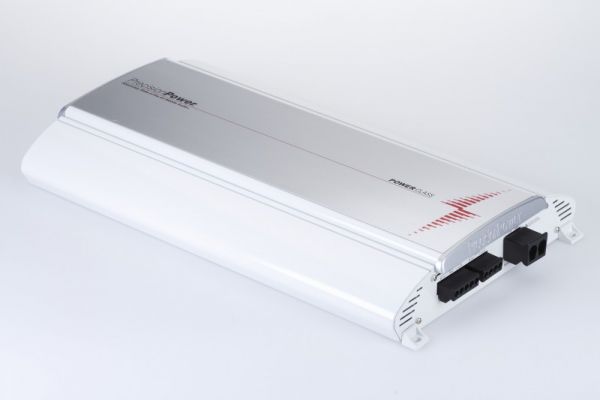 Serious sound quality enthusiasts have long been singing the praises of Precision Power amplification. Back in the early days of autosound contesting, Precision Power was one of winningest brands in the sound quality wars. Well, that history and performance has not been forgotten, and although the brand is under new ownership these days, the song remains the same. One of the most popular models is the PC640.4 four channel amp, and Grizz Archer, the Product and Marketing Manager for Precision Power, sent me one to check out. The PC640.4 is rated at 115 watts into 4 ohms and 160 watts into 2 ohms per channel. Here in the U.S., it has a suggested retail price of about $450 bucks.
FEATURES
The PC640.4 is designed primarily for exceptional sound quality. To that end, the engineers have done things a bit differently in the circuitry of the PC640.4. Beginning with the ability to accept true balanced input signals from Precision Power's optional Balanced Line Transmitter, to the low current and differential drive stages, to the use of expensive but high performance poly-type capacitors in the input section, it's obvious someone really cares about how this thing sounds.
The amps physical size falls into what I would consider the moderately large category, measuring 16.75" long, 10" wide, and 2" tall. Fastened to its mounting surface by four ingenious feet with protruding tabs that fit into special openings on the ends of the amp, once mounted, the amp can be removed by only loosening 2 screws. Continuing the quick release concept, the speaker, and power connections are accomplished via removable spring loaded terminals. I've used these before, and I have to say, although convenient, I'm not a big fan of them simply because they don't accept large cables readily, and the wires can be difficult to secure. But they do have some cool factor, and once connected they work fine, but give me a traditional terminal anytime.
The fit and finish of the PC640.4 is very good, with the smooth, oval shaped heatsink finished in a refreshingly different pearl white with a nice brushed aluminum center strip. The amp looks classy and more expensive than it actually is. All of the connections and controls are well marked and easy to read.
Speaking of controls, the PC640.4 has a ton of flexibility and adjustability. One pair of channels can be run in an all pass or high pass configuration, while the other pair of channels can be configured as all pass, high pass, low pass or even bandpass. High pass crossovers are adjustable from 15Hz to 4kHz, using a range multiplier switch. Low pass frequency selections are from 50Hz to 4kHz, and if you engage them both, you can create an adjustable width bandpass filter. This flexibility allows great control if you prefer an all active crossover system, whether you're connecting mid-bass drivers, or tweeters. All crossover slopes are fixed at -12dB/Oct. Other features include a 2/4 channel input summing switch, and Bass EQ for channels 3+4, with variable frequency, from 30-90Hz, and up to 12dB of boost. A single dual-color LED informs of power on or protection events.
Taking the bottom off the amp, inside I found a nicely laid out PCB, with a pair of transformers, a good amount of capacitance onboard, and large case high quality devices throughout. As I mentioned earlier, the front end uses very good quality capacitors, and an abundance of surface mount parts insure very close tolerances. The board was clean, with no kluges or afterthoughts.
Read on For Full Results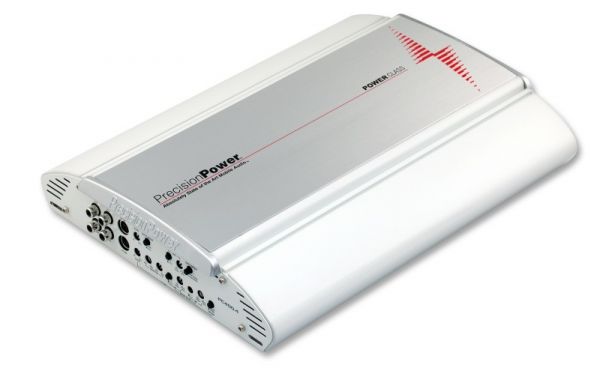 LISTENING
After re-assembling the amp, I moved into my listening room, and connected it into my reference system. I chose a configuration that had one pair of channels driving a Precision Power PC.15 woofer that I reviewed some months back, and it remains a favorite of mine. The other pair of channels were run full range to my component speakers. In a quiet listening room like mine, I'm able to hear subtleties in products that may be missed in a typical car environment. After snooping around inside it, I expected the amp to sound good, and I wasn't disappointed! The PC640.4 is one of the more musical car stereo amps I've heard in a while. The amplifiers sonics were very similar to my studio reference amplifier, and that's saying something.The amp reproduces music with excellent transparency and leaves virtually no sonic signature of its own. Bass response was exceedingly well controlled, and the highest registers came through silky smooth and full of detail. Tracks with a lot of horns and acoustic strings were remarkably uncolored, and sounded very natural. This is one of those amplifiers that enables you discern an Ovation guitar from a Takamine or an Avalon, and I could have listened to it all day. Sweet! I did note that the amp was good and warm at the end of my listening session, and the idle current was about 6 amperes, but that was likely due to over-biasing of the outputs for maximum sound quality.

PERFORMANCE/BENCH MEASUREMENTS
At some point however, I had to get back to the task at hand, and that's all about informing you, dear reader, about how the PC640.4 performed on the deadly accurate and unforgiving Cogent Audio Labs test bench. In terms of power delivery, the Precision Power amp easily exceeded its published figures. Same with signal to noise and frequency response. In all cases, the amps performance was significantly better than the specs would have had me believe. Power efficiency was just average however, and the amp does tend to run on the warm side. But for the sonic performance it delivers, I think it's a small price to pay. If you like to run 2 ohm loads and play things at 11 most of the time, you may want to fan cool it, or at least make sure it's got plenty of cool air circulation.
CONCLUSION
The Precision Power PC640.4 is a modern testament to the legendary sound quality contest winning amps of the 1990's. After hearing this baby, there is no question in my mind that the new guard of this proud brand can build a good sounding amplifier. Yeah, I may not like the connections, and it may run a bit on the warm side, but when you sit down with your favorite music and close your eyes and the band appears in your mind's eye, it's easy to just get lost in the music, and forget those minor quibbles. And that's exactly what a good amp is supposed to do.