Written by Garry Springgay // Photos By: Manufacturer
Page 2 of 2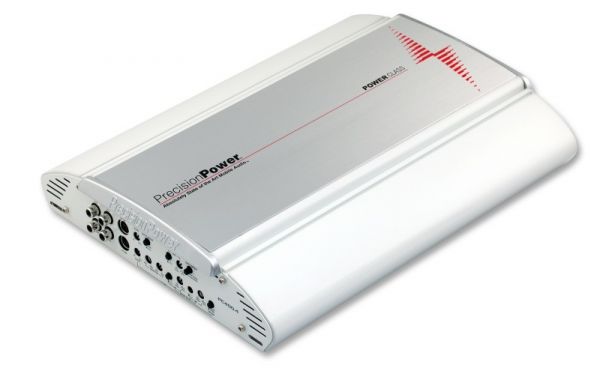 LISTENING
After re-assembling the amp, I moved into my listening room, and connected it into my reference system. I chose a configuration that had one pair of channels driving a Precision Power PC.15 woofer that I reviewed some months back, and it remains a favorite of mine. The other pair of channels were run full range to my component speakers. In a quiet listening room like mine, I'm able to hear subtleties in products that may be missed in a typical car environment. After snooping around inside it, I expected the amp to sound good, and I wasn't disappointed! The PC640.4 is one of the more musical car stereo amps I've heard in a while. The amplifiers sonics were very similar to my studio reference amplifier, and that's saying something.The amp reproduces music with excellent transparency and leaves virtually no sonic signature of its own. Bass response was exceedingly well controlled, and the highest registers came through silky smooth and full of detail. Tracks with a lot of horns and acoustic strings were remarkably uncolored, and sounded very natural. This is one of those amplifiers that enables you discern an Ovation guitar from a Takamine or an Avalon, and I could have listened to it all day. Sweet! I did note that the amp was good and warm at the end of my listening session, and the idle current was about 6 amperes, but that was likely due to over-biasing of the outputs for maximum sound quality.

PERFORMANCE/BENCH MEASUREMENTS
At some point however, I had to get back to the task at hand, and that's all about informing you, dear reader, about how the PC640.4 performed on the deadly accurate and unforgiving Cogent Audio Labs test bench. In terms of power delivery, the Precision Power amp easily exceeded its published figures. Same with signal to noise and frequency response. In all cases, the amps performance was significantly better than the specs would have had me believe. Power efficiency was just average however, and the amp does tend to run on the warm side. But for the sonic performance it delivers, I think it's a small price to pay. If you like to run 2 ohm loads and play things at 11 most of the time, you may want to fan cool it, or at least make sure it's got plenty of cool air circulation.
CONCLUSION
The Precision Power PC640.4 is a modern testament to the legendary sound quality contest winning amps of the 1990's. After hearing this baby, there is no question in my mind that the new guard of this proud brand can build a good sounding amplifier. Yeah, I may not like the connections, and it may run a bit on the warm side, but when you sit down with your favorite music and close your eyes and the band appears in your mind's eye, it's easy to just get lost in the music, and forget those minor quibbles. And that's exactly what a good amp is supposed to do.