Written by Garry Springgary // Photos By: Manufacturer
Page 2 of 2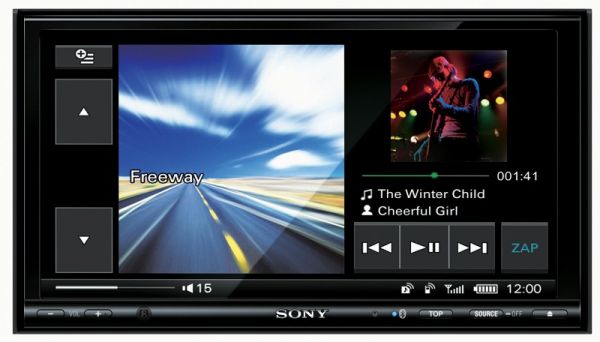 LISTENING
Everything I found to grumble about in the control section suddenly became easier to deal with when I started listening to the XAV-70BT. This is a very good sounding head unit. I connected it directly to the inputs of my studio amplifier and reference system, and it sounded excellent in all respects. Listening to the Cowboy Junkies "Trinity Sessions" I was absolutely transported to the church in Toronto where the recording was made. A tremendous sense of ambience and space, combined with very natural and detailed sonics are hallmarks of this amazing recoding, and the XAV-70BT is one of the few car stereo players that can do it true justice. Whether the music was rap, rock, jazz or classical, the Sony played it all with excellence and ease. I came away from my listening session with a renewed appreciation for the XAV-70BT.
ON THE BENCH
After the excellent sonic performance in my listening room, it was no surprise that in terms of audio specs the Sony is a home run. The internal amplifier exhibited very low distortion at rated power, and exceeded the 17 watt per channel power rating. The preamp outputs actually delivered 4.4V of useable output and equally as impressive, with an all-bits-high track and the volume wide open, the pre-outs did not clip. Excellent!
Output impedance was good at 150 ohms, and signal to noise from the CD also measured better than most competitive units. Frequency response was very flat, actually within 1.0dB from 20Hz to 20kHz. All the signal control and shaping circuits worked exactly as advertised, and the auxiliary inputs also provided similar high performance characteristics. From an audio performance perspective, it just doesn't get a lot better than this Sony.
CONCLUSION
If you are one of those people who would gladly trade flash for function, or slick looks for sound quality, I have good news. With the Sony XAV-70BT you don't have to. While the controls may take a bit more getting used to than some other units, the audio and video performance of this head unit make those gripes a lot easier to take. Add in the convenience and safety of Bluetooth connectivity, full iPod control, amazing picture quality, and the ability to play music to suit your every mood. Really, what more could you need? I have no idea, but I'd bet Sony is already working on it.
MEASURED SPECIFICATIONS
AMPLIFIER
CEA-2006A Power per channel (all channels driven,@ 4 ohms)…..20.6 watts/ch x 4
A Wtd S/N Ratio (ref to 2V/1W @ 4 ohms) Amplified output………...-78.4dBA (CD)
THD+N @ 2V/1W @ 4 ohms 1kHz …………………………………….0.05%
Frequency Response (-3.0dB) …………………………………………20Hz – 20kHz
PREAMP SECTION
Max Usable Output Voltage ………………………………………………4.4Vrms
A Wtd S/N Ratio ref to full output voltage………………………………-88.8dBA
Output Impedance …………………………………………………..........150 ohms
Frequency Response (-3.0dB) …………………………………………..20Hz – 20kHz