Written by and Measurements by Garry Springgay // Photos by Mark Pereira and Manufacturer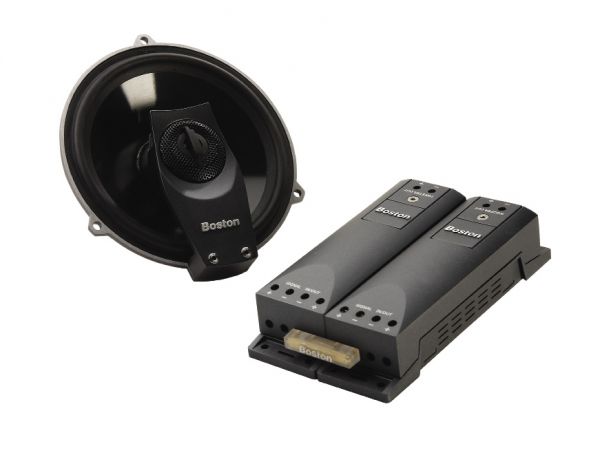 Ever since they built their first set of full range component speakers for use in a car back in 1986, the good folks at Boston Acoustics have been busy building products recognized time and again for innovative designs, performance and great sound!
This time we're going to have a look and listen to one of their most popular selling systems, the 6th generation Boston Acoustics Pro60SE system. This system continues a nearly 20 year legacy of thoughtful and innovative design, and like it's ancestors, promises very good sound. With a retail price in the USA of about $600 bucks a pair, the Pro series speakers have always been aimed at the middle to upper-end of the car audio spectrum, and have traditionally had the performance to justify the price.
Hardware
The system has been designed to be used as either a coaxial system, or with the tweeter mounted independently of the midrange. A rather clever design Boston calls CATB (Contoured Asymmetrical Tweeter Baffle, for those of you who had to know) is the technology that makes the axis-mount invisible to the woofer. The tweeter is mounted with an "axis-mount," this is the physical piece that secures the tweeter and provides electrical connection.
Installation in almost any type of vehicle is facilitated by the Boston VariMount system. VariMount allows the driver to be fitted to a variety of OEM speaker configurations without needing to build custom adaptors.
Packed in a rather impressive sized box that's over 2 feet long, the Pro60Se system arrived at the lab in perfect condition. Included in the package were of course the midrange and tweeter assemblies, the unique dockable crossover modules, various tweeter housings for flush and surface type mounting applications, as well as a set of spacer rings for mounting the midrange drivers in shallow openings. Included as part of Boston's VariMount system were a set of oval shaped, metal adapters that allow the system to be a bolt in replacement in a vehicle that has 5x7/6x8 openings, and two sets of adapter rings for 6-inch and 6.5-inch applications. The mounting rings are metal, and the 1/2-inch spacers are plastic. Mounting rings and grilles are also supplied, in case you have a situation where the factory grilles can't be used, or maybe don't exist. Mounting hardware, gasket material, terminals, wiring, even a handy little hex key wrench is all provided.
FREE Trial Issue
In the Details
The Pro60SE midranges use cast aluminum baskets, and require a mounting depth of about 2.5 inches. Although sold as a 6.5-inch speaker, the Pro60SE's are actually a bit smaller, with a mounting flange diameter of about 5.75 inches. The mounting hole diameter is 5.25 inches and the cast basket has 3 mounting tabs. Driving the moving mass is a neodymium motor assembly, which surrounds a 1.5-inch, 3 ohm, copper voice coil. The voice coil former connects to a poly-cotton spider and a polypropylene injection molded cone. To attach the outer diameter of the cone to the basket, Boston uses a nitrile butadiene rubber (NBR) surround material which will withstand wide temperature extremes. This makes the material an excellent choice for an automotive speaker.
With a power rating of 125 watts, to make sure the system can handle all the abuse it will get on a daily basis, Boston Acoustics invented a technology called RadialVent cooling (United States Patent Number: 6,430,300) which relies on integrated vents in the chassis of the woofer and the woofer's own pistonic action to re-circulate cool air around the voice coil and over the chassis. To further keep things cool, The Pro60SE's have a TwinStage heat sink. Effectively pulling heat away from the voice coil, two separate aluminum heat sinks work together as one, further improving power handling and enhancing reliability. The first heat sink is located inside the voice coil; the second surrounds the woofer magnet assembly.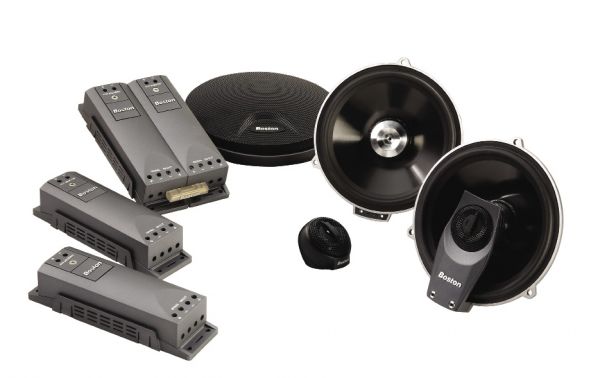 The 1-inch tweeter features a hard anodized black aluminum dome, and Ferrofluid cooling. It, like the midrange, also makes use of high power density neodymium as a magnet material. The tweeter has other cool features as well, such as Boston's patented AMD tuning device (United States Patent Number: D351,838) uses precisely sized hollow tubes positioned in front of the tweeter to refocus short wavelength energy and create an extremely smooth, exceptionally flat response.
Inside the tweeters crossover I found high performance air core inductors and poly caps, as well as a tweeter overdrive protection bulb, and a 3 position tweeter level adjustment, which allows 0, -2, or -4dB settings. With 2 caps and an inductor, it appears the tweeter uses a -18dB/oct slope. Measurements show the tweeters crossover point to be about 3kHz. The crossover module for the midrange has a beefy laminated iron core inductor and an electrolytic cap, as well as a two position jumper to select on or off axis operation. The crossover housings are designed to be able to be "snapped" together and mounted as a unit, or they can be parted, and mounted separately. This sort of attention to detail is why Boston speakers have been an installer's favorite for years!
To audition the system for myself, I mounted the speakers in my baffles using the coaxial configuration. I set the tweeter levels for 0dB, and made sure the jumpers were set properly for the coaxial configuration. For my listening, I sat directly on axis and began my listening session with a few audiophile recordings of very good vocals. When listening to a set of speakers for the first time, I often begin with well recorded vocals of amazing artists like Manhattan Transfer, Rebecca Pidgeon, Jennifer Warnes, Marc Cohn, and Bruce Hornsby. If a system does well with vocals, chances are it'll be pretty decent overall. The Boston Pro60SE's did not disappoint. I found the sound to be warm and the timbre pleasant and fairly accurate. Saxophone and other brass instruments sounded full and natural, and acoustic guitar and piano tracks also provided a definite sense of realism.
Read on for Full Results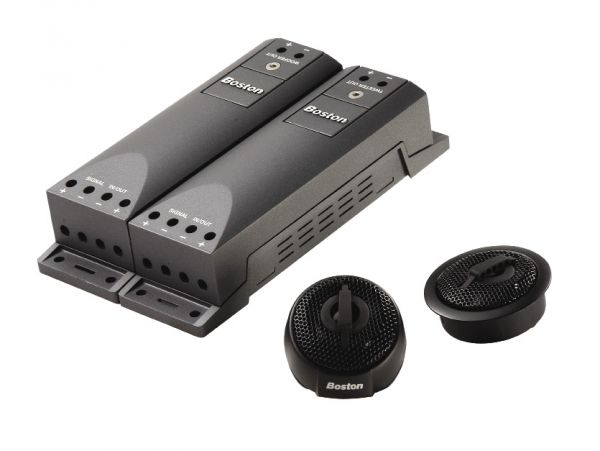 Occasionally I noted a bit of "thickness" to the lower midrange, but the Boston's have great low frequency response so that's a very fair tradeoff. The definition and clarity was excellent, and the warmth in the bottom end did not detract from the systems definition of instruments like string bass and pipe organ. Even with me sitting directly on axis, I found the tweeters to be very polite, without any undue sibilance or glare. If you mount a Pro60SE system in your car, I'll advise you to make sure the tweeters are on axis, or you may find them a bit too polite, and it could be a struggle to overcome road noise, etc.


I noticed that the overall output of the system is a bit higher than some comparable products, which bodes well for those of you wanting to make these speakers your first system upgrade. You'll have no problem driving the Pro60Se's with a headunit, but for real performance you'll eventually want to get an amplifier around 100-150 watts per channel.
Switching things up a little, and with the critical listening concluded, I turned up the power, and cranked up a bunch of classic rock music from the likes of Deep Purple, Vanilla Fudge, Rush, Bachman Turner-Overdrive, The Doobie Brothers and Supertramp. I pushed the Pro60SE's hard and I know they handled well over their 125 watts of rated power for a few brief periods, but through the entire session there was no complaint or sign of stress from the system. They handled everything I threw at it, and were ready for much more!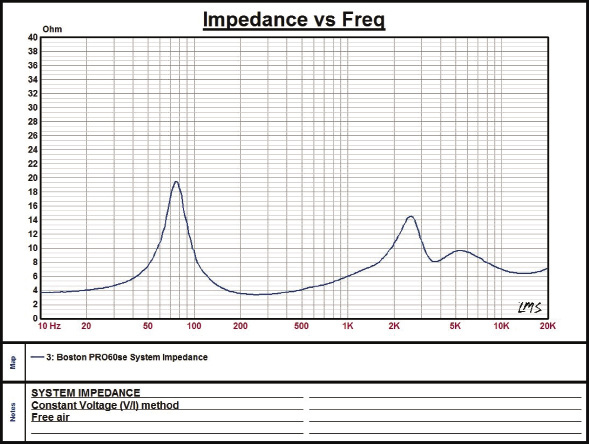 On the Bench

After all the listening was done, and the system was allowed to cool and normalize overnight, I moved to the acoustics lab and made some measurements. First off, I noted that the Pro60SE has one of the flattest response curves I've seen in quite a while. The tweeter level controls worked precisely as they should, and measured distortion was also very low. All in all, the lab measurements backed up the favorable impression my listening tests had made, and underlined the fact that this is indeed a very good quality, high performance speaker system. The Boston Pro60SE component speaker system delivers excellent performance, and is obviously built to go the distance.

Conclusion
The Boston Pro60SE component speaker system delivers excellent performance, and is obviously built to go the distance. Whether you are looking for a great speaker system as an upgrade to your OEM system, or you simply want to move up to a component system that's comfortable with any kind of music and sounds great at high or low volume, you should go and visit your local Boston Acoustics dealer for an audition. While the Boston Acoustics Pro60SE is certainly not the least expensive system available, this is one of those times that you really do get what you pay for, and then some!
Want to Read More?
Click Below for Full Digital Issue!