Written by Garry Springgay // Photos by Manufacturer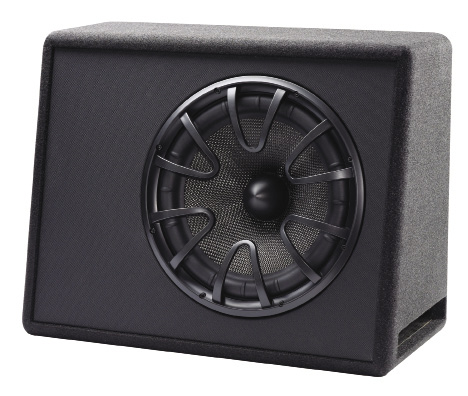 Long recognized for their excellent quality and high value home audio products, the Energy brand has carried on in the same tradition entering into the world of car audio back in 2007. Based in the province of Ontario, Canada, Energy car audio has released a complete lineup of mobile audio loudspeakers and systems. From traditional 6x9's and coaxials, to component speakers and subwoofers, the Energy brand has got it covered. This time we're going to take a look at the ENC10B and ENC12B subwoofer systems. The ENC systems are complete, ready to install subwoofer systems with your choice of a 10-inch or a 12-inch 4 ohm woofer, and a well-made vented type enclosure. These systems sell in Canada for about $200 and $220 dollars respectively.
FEATURES
The heart of the ENC subwoofer systems are the ENC102 and ENC122 subwoofers. These neat woofers are rather unusual looking and incorporate several unconventional features. The subwoofer cones are made from a woven Kevlar and glass fiber material for light weight and high strength. The bullet style Kevlar reinforced dustcap is also different, Energy calls it a "Turbine Tip", and claims it significantly reduces cone flex. I'm not sure it's any more effective at that than a conventional dome, but it does look good! The top edge of the cone is attached to a patented "Ribbed Elliptical Rubber Surround" with the ribs providing better high excursion stability without reducing sensitivity. Both subwoofers are built on a sturdy stamped steel basket that incorporates venting for voice coil cooling, and is designed to be as resonance-free as possible. The basket provides a mounting surface for a flat spider with sewn on tinsel leads. Both woofers use a 2-inch copper voice coil, and 40 ounce motors.
The vented enclosures are constructed of high density MDF and have rounded edges and corners to prevent any damage to the interior of your vehicle. The sides and back of the cabinets are very nicely wrapped in short pile "trunk liner" type carpet, while the front face of the enclosure is finished with a textured vinyl type material which will make cleaning a snap. The subwoofer mounts flush into the front of the enclosure, and the slot type vent is located on the bottom side. The woofers are protected from groceries and hockey sticks by black ABS grilles. Terminals are of the ubiquitous spring loaded nickel plated type, and will accept up to 10 gauge wire, or double banana plugs.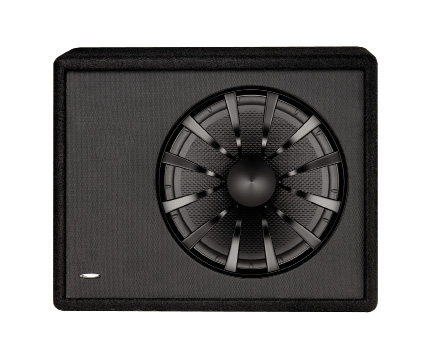 Listening
As soon as I began listening to these systems it was evident that they are designed to maximize your bass output with a minimum of power. Both systems are very efficient, and both play quite loud with only a 100 watt amplifier, so if you are on a budget, these systems are an excellent choice. When pushed to their rated power levels, (200 watts for the 10-inch and 250 watts on the 12-inch) neither subwoofer complained at all, and there was no sign of stress or power handling problems. From a sound quality perspective, the systems both sounded fine, the output was strong and delivered tight, well-controlled bass with authority. I didn't notice any noise from the slot type ports, nor did I hear any cabinet rattles or resonances. As with any vented system, you give up some very low frequency output for greater overall SPL, and that was also the case here. But because the Energy systems use lower than normal box tuning frequencies (between 30 and 35Hz) there was still a lot of low frequency output available. This low tuning frequency also helps protect the woofer from over excursion damage below the system's resonant frequency.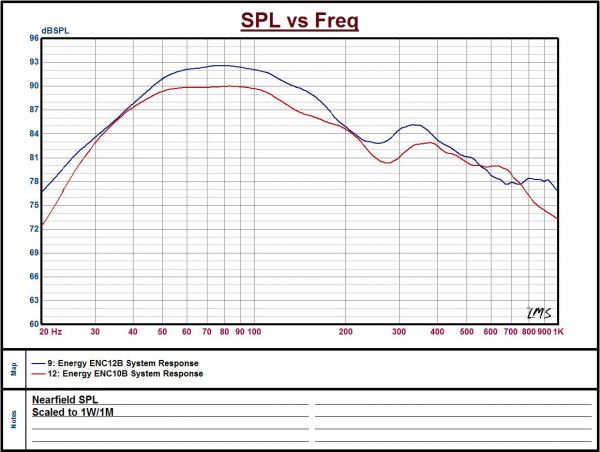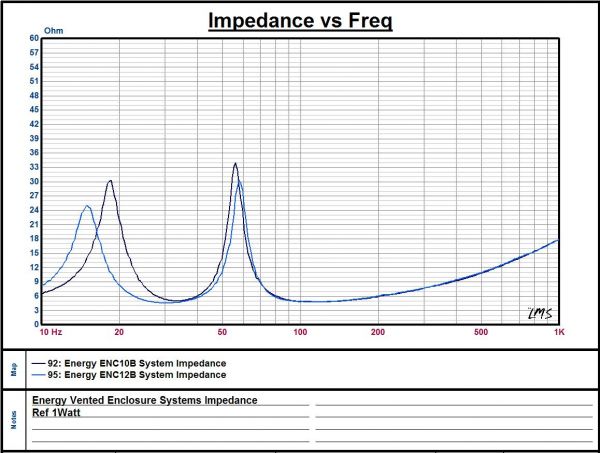 Conclusion
When it comes right down to it, I have to say I liked both of the Energy systems. These low cost systems are well made, and provide plenty of output with good overall sound quality and reliability. The enclosures are reasonably sized and the build quality is as good as anything else in this price range. And because you don't need a huge amp to drive them, these are excellent choices if you are on a tight budget or simply want good sound with a minimum of fuss and bother.
Energy ENC102 Measured Thiele-Small Parameters
Method= Double Curve - Delta Mass
Revc= 3.600 Ohm
Fo= 27.533 Hz
Sd= 52.080 In²
Vas= 1.745 Ft³
Cms= 308.268u M/N
Mmd= 104.851g
Mms= 108.393m Kg
BL= 14.141 T·M
Qms= 7.152
Qes= 0.338
Qts= 0.322
Levc= 929.187uH
No= 0.295 %
SPLo= 86.723dB
EBP= 85.50
Energy ENC122 Measured Thiele-Small Parameters
Method= Double Curve - Delta Mass
Revc= 3.600 Ohm
Fo= 25.700Hz
Sd= 76.105 In²
Vas= 4.162 Ft³
Cms= 344.228u M/N
Mmd= 105.157g
Mms= 111.413m Kg
BL= 12.694 T·M
Qms= 5.209
Qes= 0.402
Qts= 0.373
Levc= 1.071m H
No= 0.481 %
SPLo= 88.842dB
EBP= 68.9

ENC10B Quick Tech Specs
Power Handling: 50-200 Watts Continuous
Frequency Range: 35-500Hz
Driver Sensitivity: 86.7dB/SPL @ 1.0W
Nominal Impedance: 4 ohm single coil
Enclosure Size (external): 21.5" x 15.5" x 9.5"
ENC12B Quick Tech Specs
Power Handling: 50-250 Watts Continuous
Frequency Range: 30-500Hz
Driver Sensitivity: 88.8dB/SPL @ 1.0W
Nominal Impedance: 4 ohm single coil
Enclosure Size (external): 21.5" x 16.5" x 10.25"
For more Energy products visit www.gentec-intl.com