Written by Text and Measurements By: Garry Springgay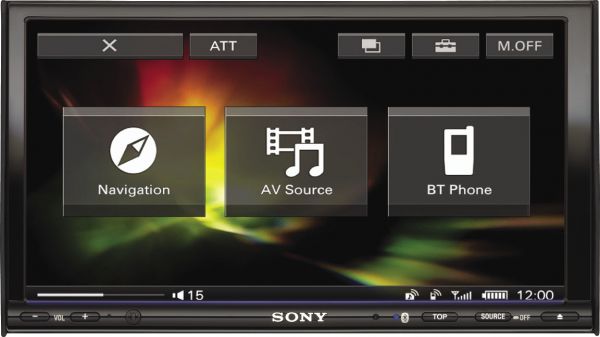 When a company like Sony decides to introduce a new product to their lineup, you know they've done their homework. The new XNV-770BT double DIN A/V Navigation Receiver is a merging of Sony's leading edge audio/video expertise with TomTom's navigation know-how. The result in this case is a high performance audio/video player with state-of-the-art GPS guidance and an excellent, easy to view and use 7-inch LCD touchscreen.

Features

Although the 7-inch TFT (800x400 WVGA) screen is very clear, sharp and has one of the best pictures out there, the new Sony A/V Navigation receiver isn't just another pretty face. Featuring a high power (CEA-2006B compliant) built in amplifier, 5 channels of 4 Volt pre-amp outputs, and Sony's "Advanced Sound Engine" technology, as well as built in Bluetooth connectivity, iPod® and iPhone® or Walkman® with video connectivity, connectivity for USB drives, Sirius satellite radio, and HD radio tuners, this Sony has all the bases covered. You can play DVDs, CDs, (on various recordable media types) MP3, WMA, and AAC tracks, and the unit will support up to 256 folders or up to 2000 combined folders/files.

In addition, there is also a 3.5mm mini jack for another auxiliary connection, and 2 A/V inputs for other sources such as a video game or rear view camera.

Carried over from previous Sony products is an innovative and interesting feature called SensMe™, which believe it or not, is designed
to automatically play music to suit your mood. It works using a special piece of Sony software that you install on your home computer to perform something called a "12 Tone Analysis" on all your songs. From this analysis, the software groups your songs into various "channels" that correspond with the tempo and mood the track consists of. These channels are then copied to your portable device, and when not in the car, you have the choice of selecting Energetic, Relax, Upbeat, Mellow, Lounge, Emotional, Dance, or Extreme. In the car, the choices expand to seven different channels to choose from, Freeway, Chillout Drive, Weekend Trip, Midnight Cruise, Party Ride, Morning Commute and Goin' Home, each channel with music specifically suited to that type of driving.

You can even use a 2-dimensional "mood map" with an onscreen display to alter the characteristics of the music selected. The horizontal axis is based on mood from happy to sad, and the vertical axis is tempo based, fast to slow. The SensMe feature is cool, and actually pretty good at choosing stuff you're in the mood for but I still prefer to do that myself.

The TomTom navigation partnership provides the XNV-770BT with very accurate maps that have the benefit of being constantly updated by actual TomTom users. Since these real time updates can change rapidly, it's
a thoughtful touch that included in the box are four free Tele Atlas mapping updates good for the first year of use. Updates are easy, the navigation module simply unplugs and you can connect it to your home PC for software and map can be updated using the provided TomTom PC software. The navigation provides spoken street names to alert you of an upcoming turn, as well as lane guidance to help you get in the correct lane when driving on busy multi-lane freeways. One of my favorite TomTom features is the IQ Routes™. The data for this innovative system is collected from over 6 million drivers rather than simply relying on the posted speed limits. This exclusive technology evaluates various routes based on actual traffic speeds, and can recommend the best route for any particular day. Another valuable feature of the TomTom navigation is the "Help Me!" emergency resources menu. This menu allows quick address information to the nearest hospital, police station etc., and even displays a first aid guide for information on what to do if an accident should occur.

Controls and Ergonomics

After getting the XNV-770BT unpacked and connected, I immediately was impressed with the excellent display. The graphics, colors and the picture quality of DVD playback was brilliant. Text was easy to read, which is particularly important on a navigation receiver. I also liked the way I could put the unit into a dual screen mode while navigating, which allows a smaller window of the main A/V source in either top corner of the navigation screen. The screen is adjustable for tilt, as well as brightness, color and color tone. I found it almost perfect right out of the box.

Of course the ability to select various themes and visualizers is included, and you can also view your own photos via the USB input. When connected to your portable media player, all the metadata and album art are automatically displayed.

The control buttons were responsive and easy to use, for both the touchscreen and the "hard" buttons built into the face below the screen. For those with security concerns, the XNV-770BT incorporates a 4 digit security code function. Once the security function is activated, any disconnection to the battery power will require the code to be entered before the unit will turn on.

On the navigation side, your intended route is easy to follow with 2D or 3D displays, and the current time, current speed, arrival time and total miles are displayed as well. The text-to-speech function works pretty well, and sounds a bit less robot-like than some of the competing products.

Bluetooth connectivity to my Blackberry was simple and fast. The XNV-770BT supports all the usual formats. In addition to synching with your cell phone, the system will also stream music from a Bluetooth enabled music player. I found the system to consistently connect between 25 and 30 feet away. The supplied microphone provides built in noise and echo cancellation, and the calls were clear and easy to hear.

The audio section is truly high performance and very tunable for specific situations. With Sony's Advanced Sound Engine, you have Intelligent Time Alignment and Center Speaker Optimizer which create a virtual 5.1 listening experience. In addition to those controls, there's a 7 band EQ, as well as preset EQ curves for eight different music types. To ensure you're sending the right mix of signals to your external amplifiers, there are built-in high and low pass filters with six possible frequency settings (off, 50Hz, 60Hz, 80Hz, 100Hz, and 120Hz).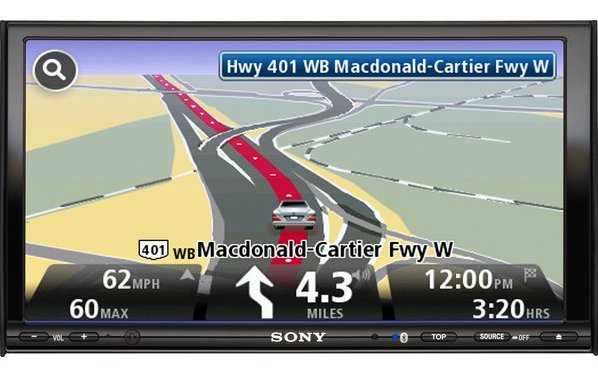 Listening

As a source in my listening room's reference system, the new Sony A/V Navigation receiver did a great job of playing DVD, CD and MP3 tracks. The music sounded open and natural, with a smooth and detailed top end. Bass was strong and well defined and there was very little difference between the output of this unit and my reference DVD player. I did notice that my sub amp needed a bit more gain than the main amp during setup, however. I connected the XNV-770BT's video output to an HD screen, and the video quality was superb. Background noise and system hiss between DVD or musical tracks was inaudible, and I noted no weird zipper noise or popping when the controls were manipulated.

Finding tracks and navigating my iPod with over 5,000 tracks on it was quick and easy, thanks to several different methods of navigating through the folders. The AM/FM tuner pulled in stations quickly and cleanly as you'd expect from a Sony product. From a sound quality standpoint, regardless of your choice of source material, the Sony should serve any high-end system well as a very good audio source. I did not have a compatible Sirius tuner available at test time, so I cannot comment on that particular interface.

On The Bench

On the bench, there were no real surprises. After listening to the unit for several hours the day before, I expected it to measure well and it did. As I expected, signal to noise was very good, and the frequency response also measured very flat with only a very slight roll-off in the uppermost octave. Stereo separation, interchannel gain matching, and the built-in amplifier power all either met or exceeded the published performance specs. All in all a very good effort, but I did find two areas that could be improved in a future model. First, while the front and rear RCA's provide 4.4V of output, the subwoofer RCA was strangely limited to about 2 volts. My second nit to pick concerns the units output impedance. The lower the output impedance is, the less chance there is of noise entering the signal path via ground loops. I generally look for a number around 100 ohms or lower, and the published spec was 220 ohms, but this particular sample measured 351 ohms. Not the worst I've ever seen by a long shot, but it could be a bit better. Careful cable routing and good installation practices will minimize the chances of noise, so I would recommend professional installation for this piece.

Conclusion

With great audio and video performance, ease of use, plus all the convenience of the high performance GPS system and the safety and simplicity of Bluetooth cell phone integration, the Sony XNV-770BT will enhance any drive, whether it's your daily commute or a cross country trip.