Written by Garry Springgay // Photos by Mark Pereira and Manufacturer
In this very issue, you'll find an article featuring three different Sony systems that could be had within a very modest price range to suit any budget. As I recall, the most expensive of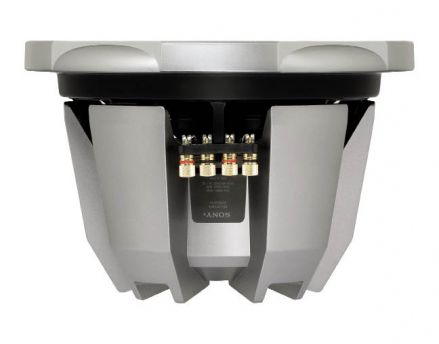 them was only about a grand. Let's take a closer look at the woofer I recommended for the intermediate system, the $129.95 Sony XS-LD126P5. I'm not sure how they came up with that model number, but they were certainly successful in developing a good sounding, yet reasonably priced woofer! The XS-LD126P5 is rated at 400 watts, and it's a bit different, in that it has a 5-sided shape rather than the usual round format, but it's a true 12-inch woofer by any measure.
Cosmetics
Sony has given this series of woofers a high-tech modern appearance with the use of a woven glass-fiber composite cone, and a beefy looking demeanor. The woofer actually uses a traditional stamped steel basket, and the cosmetic appeal comes from nicely applied ABS plastic covers with a high gloss silver finish for both the basket mounting rim and the magnet structure. The result is a woofer that looks like a big cast aluminum behemoth, but without the added cost. Generally speaking, the overall appearance and fit and finish of the Sony woofer is very good, as one expects from a trusted brand like Sony. While the silver trim looks cool, none of it is removable, and consequently, the woofer is relatively deep with a mounting depth of about 6.5 inches, so a shallow box behind the seat of a pickup truck isn't gonna work here. While I'm griping, I should mention that you'll need to use the included, but longer than normal 1.5-inch mounting screws, because the trim ring adds about a half inch of distance between the bottom of the screw head and the enclosure. The mounting bolt pattern is also a bit different, using 10 screws, placed in pairs. This is necessitated by the five sided configuration, and it's no problem unless you are trying to mount the woofer in a prefab enclosure with pre-drilled mounting holes.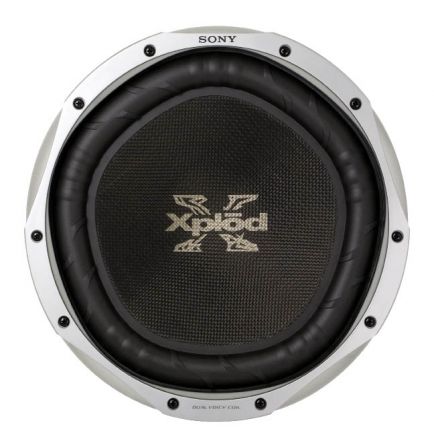 Features
Getting into the internal workings of things is one of my favorite parts of my job. I enjoy seeing different engineer's approaches to solving common problems, and I seldom look at any new product without learning something. Looking at the XS-LD126P5 from the top down, you find a nitrile rubber surround with reinforcing ribs for added stability under high excursion situations. The surround is firmly attached to the cone using adhesive, and the bond appears strong and secure, and unlike other woofers in this price range, there is no glue excess smearing up the looks.
The bottom side of the glass fiber composite cone is covered with an airtight, mica reinforced coating. This design delivers a cone assembly that is rigid, lightweight, and totally airtight. The cone is attached to the voice coil and flat spider via an injection molded retaining cup that provides stability and rigidity to the assembly. The voice coil leads for the dual 4 ohm coils are stitched to the flat surround, and the four amplifier connection terminals are all conveniently placed together. The connectors themselves are gold plated 5 way binding posts, allowing easy series or parallel configurations of the 2-inch copper voice coils. The amp connections will easily accept 10 gauge cable.

The owner's manual that comes with the woofer is at best limited in its readability and information. It comes in so many languages that by the time you find what you want in English, you might forget what you were looking for. To be fair, all the basic info is there, but you certainly have to really want to find it. But I suppose no one reads the thing anyways, so what am I complaining about? Plus, the XS-LD126P5 woofer has a solid one year parts and labor warranty too!
Read on for Results
Listening  

After the obligatory break-in process was completed, I installed the Sony XS-LD126P5 into a 0.8 cubic foot sealed enclosure. The recommended enclosure according to the supplied information is 0.77 cubic feet, so I figured after subtracting the air volume displaced by the woofer structure; the box would be about perfect. With the dual 4 ohm coils wired in parallel for a 2 ohm load, I connected the woofer to my reference system, and made a few adjustments. I eventually decided on a crossover frequency of about 100Hz, at -24dB per octave. This setting allowed the Sony woofer to provide strong bass output, but the steeper slope prevented too much high frequency information from coming through. Because I test dozens of 12-inch woofers each year I had some preconceived notions about what I expected from a Sony woofer at $130.00 or so. I have to say, I was quite surprised when the Sony XS-LD126P5 not only had more output than I was expecting, but it also easily handled the power I fed it, right up to and probably a bit over its 400W rating without complaint!
During my listening, I noted the woofer was smooth and warm sounding, but still provided decent articulation of complex bass passages. Another point I noted during listening was that the woofer was completely devoid of unwanted mechanical noise, which can't be said for all the popular woofers at this price point. The woofer had respectable low frequency output and handled transients like kick drum accent and plucked bass very well. I also noted that the woofer did not need a lot of power to provide some righteous output, so the sensitivity is obviously high. While it's probably not going to outperform a much more expensive $300 plus dollar woofer from a sonic perspective, but I thought it did very well, and would be an brilliant choice in any system with a smaller woofer amplifier.  
On The Bench  

After my listening session was over, I allowed the XS-LD126P5 to cool down and normalize again before bringing it into the acoustics lab to measure the Thiele-Small parameters and do the rest of the objective measurements. Firing up my trusty LMS program, I began by measuring the small signal parameters, and comparing what I got to the published figures. I'm happy to report that the Sony measured very close to the published data, which again isn't always the case with more economical woofers. After re-installing the woofer back into the sealed enclosure, I measured the frequency response and the actual impedance curve of the XS-LD126P5. Both looked very good, with no unpleasant surprises.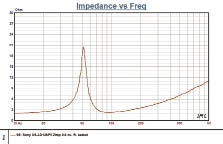 Conclusion
If you are looking for a good sounding, good looking woofer at a very reasonable price, the Sony XS-LD126P5 deserves serious consideration. Particularly well suited to systems with 200 to 400 watts of subwoofer power, this woofer will deliver plenty of bump and work well in a very reasonable size enclosure. Easily able to run with the big dogs, but leaving you some gas money left in your wallet, what's not to like?
www.sony.com