Written by Garry Springgay // Photos by Manufacturer
Seems like everyone is being a bit more careful with their money these days, and when we do buy something, the focus is on getting the best value for each and every hard earned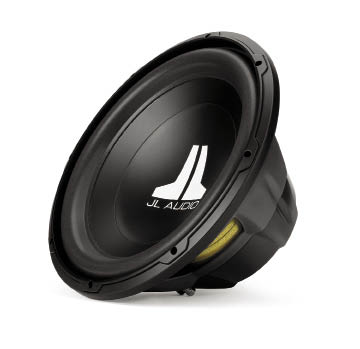 dollar. We all want well made, reliable, good performing gear for our dough, and stuff that doesn't measure up will remain on store shelves. The good news is, there are many audio companies out there who completely understand the concept of great performance at a reasonable price. And as a great example of this philosophy, the kind folks at JL Audio recently sent us one of their best value woofer systems for a much closer look.
What arrived in the big brown truck a few days later was a JL 15W0v2 woofer in a nicely made sealed enclosure. Now I know 15's aren't usually everyone's first choice, but what a lot of folks might not know, is that a high quality, modern 15-inch woofer like this JL, no longer requires an enclosure the size of a big doghouse. The sealed enclosure that the woofer came in measures 16.25 x18 x15.75 inches. That makes it fit easily into virtually any SUV or car trunk. You may even get a pair of them in there! Boom yeah!
Features
The 15W0v2 woofer incorporates some innovative technology. By elevating the frame above the top plate of the speakers motor, JL's patented Elevated Frame Cooling provides improved airflow between the bottom surface of the speakers frame and the top surface of the motors top plate. The result of this technology is cooler voice coil temps and a cooler motor assembly, thereby improving thermal power handling, and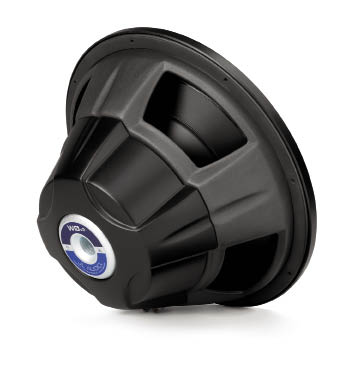 increasing reliability. And the technology continues, with the application of JL Audio's DMA (Dynamic Motor Analysis) system. This system is a derivative of complex finite element analysis, where the true behavior of the moving components of the loudspeaker are analyzed under a wide variety of typical operating conditions. As a result, the speakers can be designed to provide much more linear behavior, and improved stability under all sorts of conditions. What does that mean to you? It means that the speaker you buy will sound great, and be dependable.
Cosmetically, the woofer is well finished and looks like it was built by someone paying attention to details. Nice cosmetic touches include a top plastic mounting gasket that does double duty as a grille retainer, and on the bottom side, an injection molded plastic cover trims out the motor assembly. As an example of the attention to detail, the JL woofer comes with a closed cell foam mounting gasket that is pre-applied to the mounting surface of the woofer, ensuring an airtight, buzz free seal if mounted on a hard, flat surface.
Tipping the Cogent scales at just under 16 pounds, the 15W0v2 uses a round stamped steel basket, with the patented elevated frame. The cone material is black "mineral filled polypropylene", with a traditional JL Audio concave dustcap. The surround is polyester foam, and it is both quite wide and tall, allowing large amounts of excursion travel. The surround is attached to the frame and to the cone with adhesives. Underneath the cone, you'll find a poly-cotton progressive type single spider, which is used to locate the 2.6-inch copper voice coil and Kapton former. The voice coil is four layers thick, and is a 4-ohm nominal design. Motivation for the voice coil's movement comes from a 6.3-inch strontium ferrite ceramic magnet. The woofers bottom plate has been "bumped out", again in the interests of greater excursion capability.
Speaker connections are accomplished via nickel plated spring-loaded terminals that will accept 8 gauge wire.
Read on for Results
Listening
Since the woofer was already in an enclosure, I simply hooked it up and let it play for a couple of days to make sure it was fully exercised before I listened to it, and made my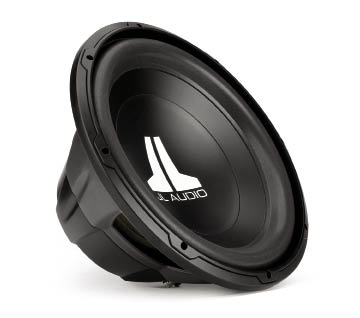 measurements. It's not necessary to go through any sort of formal break-in period with this woofer, but I do it in the interest of accurate comments and measurements for my reviews. Under normal use, the woofer will work perfectly out of the box, and automatically break itself in as you use it.
When it came time to do my listening, I deliberately chose some fairly difficult tracks and I made sure I had plenty of amplifier power for the 4 ohm driver. I did some experimenting with crossover points, and while the 15W0v2 worked fine with anything from 50 to 150 Hz, I settled on 100Hz at -24dB per octave. If I only had a -12dB crossover, I probably would have used a bit lower frequency.
I began with one of my all time favorite bass test tracks, "The Planet Krypton". In this track there is a one-minute thirty-nine second crescendo that goes down to something like 18Hz. If your woofer system has excursion issues, this track will find them for sure. I let 'er buck at pretty much the full 500 watt power rating, and while I got a phone call from my next door neighbor (they wanted me to play it again) the JL 15W0v2 handled it with nary a complaint. But man, that cone was movin'!
Changing musical gears, I switched over to another really low bass track that a lot of younger bassheads probably don't know, BTO's 1973 hit "Not Fragile". In the beginning of this track Fred Turner lays down a really low bass groove, that's continued throughout most of the song. The track is pretty telling of a woofers ability to reproduce quick low bass note changes, and once again, the JL woofer sounded superb. One of the things I noted early on in my listening, was how musical the woofer sounded. It added no mechanical noise of it's own, and simply reproduced the notes in the music. The output was smooth, and "round" sounding.
I listened to a bunch more classical, blues, and rock tunes, and then I thought it would be interesting to hear how the big 15-inch woofer handled more intricate bass information, like the slapped bass in Rickie Lee Jones' "Danny's All Star Joint", and the amazing work of Jaco Pastorius and Weather Report. In a word… brilliantly. This is an excellent woofer for only $229.95!
Another nice feature of the JL Audio 15W0v2 is the fact that you don't need a huge amp to run the thing. Just for fun, I connected an averaging meter to the terminals, and monitored the average power levels I used for normal extended listening. After about an hour I was surprised to find that the average power applied was under 25 watts. This means that the 100 to 500 watt recommended amplifier size in the owners manual is dead on, and I would not be afraid to suggest about 200 -300 watts, even for someone who likes it boomin'.
On The Bench
The next morning, I removed the woofer from the enclosure, and measured the Thiele-Small parameters. While tolerances of 20% are pretty common for car audio woofers, my real world numbers were almost dead on to their published specifications. This means that the level of quality control is good, and large tolerances between woofers are unlikely. Remember earlier when I mentioned attention to detail?
I also verified the volume of the enclosure before I re-installed the woofer to measure the frequency response and system impedances. The supplied enclosure measured 1.9 cubic feet of internal volume before subtracting the displacement of the woofer. This translates to only about 1.75 cubic feet of air for the woofer to achieve the type of performance I experienced, which is very good for a high excursion 15-inch subwoofer.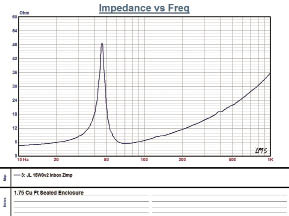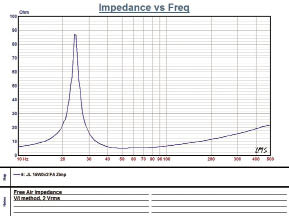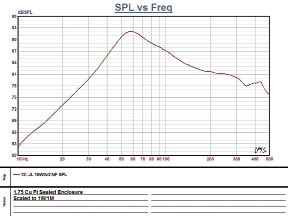 Conclusion
For 230 bucks, you have to look pretty hard to find a better all round performer than the JL Audio 15W0v2. This JL Audio subwoofer has an excellent blend of musicality, power handling and output. And while you may find another woofer that's a little bit better in one of those categories, there aren't too many that'll do all three this well. If you were looking for a good reason to step up to a 15-inch woofer (or two) you may have just found it.
www.jlaudio.com