Written by Garry Springgay // Photos by Manufacturer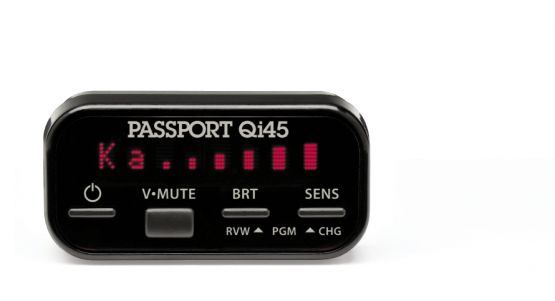 I've used radar detectors in my cars and motorcycles for the last 15 years or so now, and I consider myself an experienced detector user. Over the years I've tried a lot of different brands, some worked very well, and others were more gimmicky and disappointing. One of the few brands of radar/laser protection that have never failed to impress me has been Escort. I have been using their excellent, but expensive Passport SRX remote mounted model in two of my vehicles, one of them equipped with the laser shifters as well. I drive through several radar sources every day on my way to and from the office, so I have a really good idea of what's what. Here in the Phoenix area, we have a lot of Ka-band photo radar, and regular freeway traffic usually flows around 15 to 20mph over the posted limit, so just by keeping up with traffic, I can attest to the SRX saving me far more than what I paid for it over the last few years. It's been a great addition to both my truck, and one of my more "at risk" motorcycles. About the only thing I didn't like about the SRX's was the amount of work involved in doing the installation.
When I heard that the folks at Escort wanted to send their newest, easy-to-install unit for me to check out, I was really stoked! Based on the award-winning windshield mounted Passport 8500 X50, the new ($499.95 US) Passport Qi45 is a high performance radar/laser detector. The package arrived a short time ago, and I immediately installed it into my vehicle, alongside my trusty Passport SRX, which was almost double the price (when I bought it 5 years ago).
INSTALLATION
In terms of installing a remote mounted detector, it really doesn't get much easier or simpler than this new Passport. There are three main components, the detection receiver, a very small but brilliantly executed dash mounted display and control module, and a central interface module that the other two components connect to using simple RJ11 telephone style connectors. You mount the receiver, and run the wire to the central module, then mount the miniature display/controller, and run its wire back to the central module. Connect a power and ground wire, and that's it, she's done! A competent installer can put the new Qi45 into a typical vehicle in 45 minutes or less. At only 2" x 1", the main display/control module is small enough to mount anywhere, like in the dashboard of a motorcycle, for example (but keep in mind the Qi45 module is not waterproof).
When you power up the unit, it runs a self diagnostic and confirms all components are operational. If you prefer a more discreet installation, you can choose to hide the controller, and replace it with a single LED indicator which is also included, and simply plugs into the control module. And in the interest of discretion, the Qi45 includes SmartShield VG2 Immunity, making the Qi45 virtually undetectable. For the ultimate in laser defense, you can add the Qi Shifter Pack, which are similar to the SRX's laser shifters I've come to love. These too are a simple install, simply plugging into the existing receiver after mounting.
FEATURES AND CONTROLS
The Passport Qi45 comes equipped with a wide range of very useful features, as well as some that are meant for expert use, and a couple that are just really cool. As with my current Escort products, one of the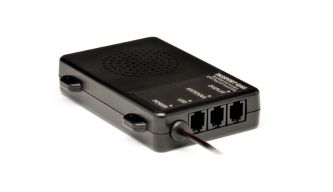 things I like about them is that they require almost zero input from me once they are initially set up. Installed correctly, the detectors power up and down with the vehicles ignition, and are equipped with the ability to automatically mute warnings and even dim the displays automatically to suit the lighting conditions. The display uses a matrix of 280 tiny individual LED's which results in a very easy to read but space efficient display. You can also choose Dark Mode, where your only alert will be the audible signals.
Initially however, you should go through the controls and options to get things dialed in to your personal preferences. The Qi45 provides the capability to auto mute alerts after a couple of seconds to avoid annoying alarms from constant radar sources such as speed displays or X-band emissions from door openers, etc. There are three sensitivity settings, Auto, Highway, and Auto Nox, which can be used if you are certain that your local LEO's no longer use the antiquated X-band radars. If you don't have X-band speed traps, the Auto Nox setting is great, you can set the unit to completely ignore all X-band signals, which can significantly reduce false alarms in urban areas.
Of course the volume of the alerts is fully adjustable, and there is a mute button to silence the audio during an alert. Each type of alert uses a different kind of tone, so with a bit of use you'll soon know the type of radar by the sound of the alert. And if that's not enough, there are announcements with a pleasant female voice at the beginning of each alert such as "Ka-Band" or X-Band, as well as when selecting functions and setting preferences. This makes it very easy to keep your eyes on the road while making adjustments. Expert users can choose to display the ExpertMeter, which is an advanced display of a miniature spectrum analyzer. In ExpertMeter mode, you can view up to 8 simultaneous radar signals, and determine the band and strength of each one. There is also a SpecDisplay mode that shows you the specific frequency of the radar, but I'm not sure why I would need to know if it was 24.150GHz or 34.7GHz. Cool, sure, but… well, it's cool.
Other cool capabilities include text message displaying of SWS (Safety Warning System) alerts that are becoming more popular in many urban areas. There are 60 messages currently allocated for the system, and are grouped into different sections such as Info/Convenience, Road Hazards, Weather Hazards, and Highway Construction. If you enable this feature and Safety Radar is used in your area, the Passport will display the safety message being broadcast on the LED display. Examples of these alerts are: "Road Closed Ahead/Follow Detour", "Severe Weather Ahead" or "Police in Pursuit."
Read on for Results
PERFORMANCE
As a subjective, but nevertheless valid test, I installed the Qi45 beside my SRX, and added a third $400.00 windshield mounted detector from another company. The SRX and the Qi45 receivers were both mounted in the lower grille area of my truck, about 26" off the ground. The windshield detector was about 48" off the ground, so theoretically it should have improved range. I drove around the Valley of the Sun on a mix of surface streets and highways, and recorded the performance of the three detectors.
What I found confirmed my faith in the Escort products. In every case, the Qi45 or the SRX was the first to sound an alert. I found the SRX a bit less sensitive to X-band signals, and just about equal in sensitivity to K and Ka-band signals. In several cases, even though it had a height advantage, the windshield mounted detector was several hundred feet slower to respond than the Escorts. Warnings from the Qi45 were very clear, and although the technology is very similar, for whatever reason the display seemed easier to read at a glance than my SRX's display. On Laser alerts, all three detectors were about identical in response time, and because Laser is always a threat, all the warnings were at maximum alert levels.
BOTTOM LINE
Here in Arizona photo radar systems are being installed at more locations every day, usually promoted as safe driving incentives, but if we're being honest, more often used to add to the city coiffeurs. This means that anyone driving in an urban environment should have some protection against these devices. As with my older SRX, and the other Escort branded detectors I have used over the years, the level of protection provided is excellent, as are the ease of use and installation. If a very high performance, yet unobtrusive and affordable, complete radar/laser protection product appeals to you, I can highly recommend the Passport Qi45, this thing rocks!
www.escortradar.com