Page 1 of 2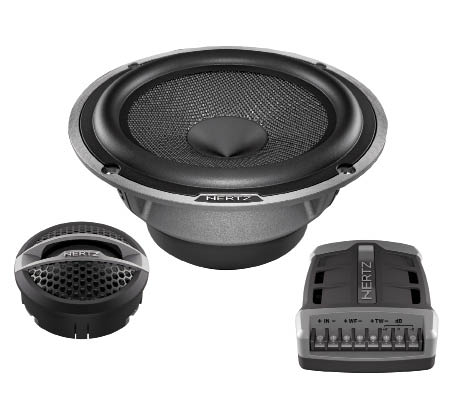 From the municipality of Potenza Picena, Italy, the music lovers at Elettromedia were kind enough to send me a pair of their Hi-Energy component speakers. If you don't recognize the Elettromedia name, they are the parent company of such highly regarded brands as Hertz and Audison. The speaker system they sent for my perusal is the top of the line product in their Hi-Energy series, and priced at $699.00, oriented towards value conscious audiophiles.
I have enjoyed some previous experience with Hertz loudspeakers, and I've always come away generally impressed, so I was looking forward to playing with this "best of the series" system.
Hardware and Components
The speakers arrived in good condition thanks to a well-designed carton that holds everything securely in place, and in the interest of the planet, is 100% recyclable to boot! Included in the carton is pretty much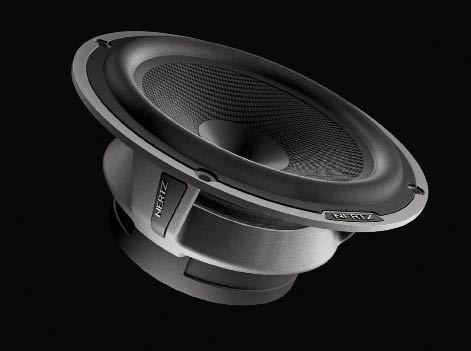 everything you'll need to install the system in a variety of applications, including four different types of tweeter mounting configurations. Whether you need to flush mount or surface mount the tweeters, the included hardware will have you covered. The grilles for the 6.5-inch mids are a 3 piece design, there is a black ABS plate that mounts behind the driver, and is used to retain a black perforated metal cover. Or you can just use the silver colored "kick protector" grille for a different cosmetic look that mimics the tweeter, or for even more options, you can use both together. Seems like a lot of options for parts that generally get relegated to a box under the installers workbench. Does anyone use grilles anymore? The drivers used in this system are very well constructed pieces that would be at home in a good home system.
Woofer/Midranges
Rated at 150 watts continuous, the 6.5-inch midrange/woofer driver uses a cast aluminum basket that mounts in a 5.75-inch hole. The driver is 3 inches deep, and has 4 mounting screws 90 degrees apart. Each component of the midrange is designed with high performance in mind. For example, in an effort to minimize rear wave interference, the basket uses three sturdy "spokes" instead of the usual four or more and has an aerodynamic shape to the spider landing. The basket also incorporates a vented bottom plate, and a radial venting system to improve heat dissipation. Other thoughtful performance enhancements include an oversize magnet structure and a 1.2-inch copper clad aluminum voice coil, wound on a low mass Kapton former.
The cone is also unusual in its design Hertz calls a V-cone. Constructed of pressed damped mesh fibers, it has a special shape said to improve off-axis dispersion and high frequency detail. The cone is attached to the basket via a 3.5-inch linear Nomex spider below, and on top by a butyl rubber surround. A deep V-shaped dustcap completes the V-cone design. The wire terminals are the usual push on spades and because they are very solidly mounted, won't cause concerns of terminal breakage when connecting them. Interestingly, the speakers require female spade connectors, but neither wire, nor any connectors came in my system. This can be a pain for the do-it-yourselfer, who may not have these connectors in the home toolbox (but for 700 bucks, I at least expect connectors!).
Tweeters
The tweeter used in the Hertz HSK 165XL system is also specialized for the application. Utilizing a 1.1-inch Tetolon fiber dome, neodymium magnets, and a back damping chamber, the Hertz tweeter has an over surround waveguide type grille aperture, said to result in a "diffused off-axis dispersion." The tweeter comes with about 8 inches of wire already soldered to the terminals.
Crossovers
Crossover networks for the system are housed in nicely finished enclosures that have an easy to remove, but secure top cover. Mounting screw locations are inside, for a more finished appearance when installed, and the crossover housings use a really nice tactile "rubber" sort of finish with a silver contrasting plastic. Inside, there are -12dB low pass and high pass filters for the mid and tweeter. The tweeters use a crossover point of about 2.5kHz, which is good to know if you intend to use the system in an all active crossover application. Iron core inductors are oriented to prevent magnetic crosstalk, and polyester capacitors are used in the tweeters filter. The resistors for tweeter attenuation and mid alignment are mounted high off the PCB for maximum cooling and reliability. Speaker and amp connection terminals are Phillips head screws with a captured square washer underneath. Tweeter level control is accomplished by selecting one of three terminals, +2dB, 0dB or -2dB.

Read on for Results