Page 1 of 2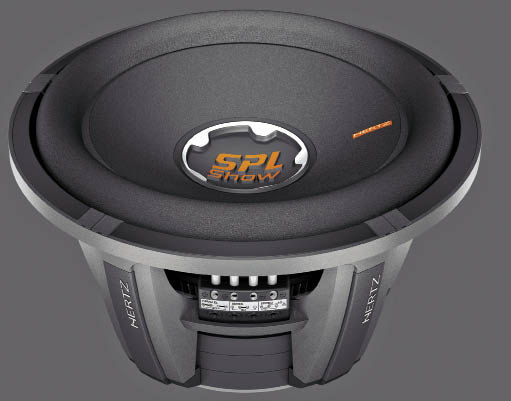 Walking through the Hertz-Audison suite during this year's Consumer Electronics Show in Las Vegas, I happened to catch one of the product engineers giving an excellent explanation of just what (and who) the Hertz SPL Show subwoofers were designed for. Although Hertz has called them simply "Acoustic Pressure Generators", I found out the SX subs are much more than woofers designed to simply play loud. While it is true they were originally designed for the SPL competitor, the SPL Show products have had a lot of effort put into making them also sound good while you're cruising down the street. The series has been around for about a year, and while I know the SX subwoofers have been successful and well received in the SPL ranks, I wasn't aware that a lot of people who do not compete in SPL contests have also chosen them for their rugged performance and good sound. The idea is to have a woofer in your daily driver that will play the SPL game with anyone else in the parking lot, but be totally enjoyable to listen to while getting to and from the parking lot wars. I figured we ought to test one, so we could let all of you readers in on the secret too. Well, thanks to the generous folks at Hertz, ask and ye shall receive- a few weeks later, the Hertz SX 300D 12-inch SPL Show subwoofer showed up at our test lab.
Features and Construction
The Hertz SPL Show line of subwoofers is comprised of three models, the SX 250D, SX 300D, and SX 380D. These woofers are 10, 12, and 15 inches in size, and have continuous power handling specs of 600, 800, and 1000
watts respectively. All three models are dual 2-ohm voice coil designs, allowing for maximum flexibility when designing the woofer systems final impedance. The Hertz SX woofers use a very smart looking cast aluminum basket, which is finished in two shades of gray powdercoat. The back plate of the woofer is show chrome plated, and vented to allow airflow to cool the voice coil. On the topside, a tall foam surround provides the control and excursion needed for high SPL's at very low frequencies. The center dustcap is concave, with the Series logo in orange and a small Hertz logo set flush into the cone surface. Mounting screws are covered by a smooth looking trim ring which is secured to the basket with small screws and plastic caps for a good looking installation. Also included are two rubber mounting gaskets, one for conventional "drop in" mounting, and the other for "front mounting". The thoughtful folks at Hertz even include extra set screws, a long hex wrench, and all the mounting screws. Attention to detail like this is fantastic and so important... especially when it's 1AM and you're trying to finish the install, or the wire connection set screw rolls across the floor to some dark corner, or when your buddy is long gone and locked his toolbox with your 2.5mm hex wrench inside! The Hertz SX series woofers are designed to have extremely linear movement, even at high excursion. This is made possible via a triple-stacked magnet assembly and a longer than usual aluminum voice coil former, and four-layer 2.5-inch diameter voice coils. The dual spiders are mounted on a special "Back Vented Spider Support" which allows improved air flow to keep the voice coil cool and increase power handling.
Additional high performance features include sewn in tinsel leads, and heavy duty terminals that use hex screws to secure the wires. Worth noting are the cleverly designed terminals, incorporating easy to configure spring loaded "jumper clips" which make it incredibly easy to configure the woofers voice coils in series, parallel, or independent coils for stereo operation or for two amplifiers per woofer. You can even change the jumper clip configuration without removing the wires. Nice! All the SX woofers use a pressed paper cone, which many believe has a more natural sound than more commonly used poly cones. I am also a fan of the sound of paper cone woofers, so I was looking forward to listening to this one.
Read on for Results