Written by and Measurements by Garry Springgay // Photos by Manufacturer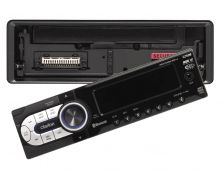 I was a Clarion retailer during the 1980's and have always considered the brand to be very well engineered and constructed, but lacking a little more cosmetic pizzazz. Sort of like the girl at the dance who is only a wallflower until she takes off her glasses and lets down her hair... then everyone wants to dance with her.
Clarion products have always been solidly engineered and very well made with subtle styling and appeal. Well, if the offerings shown this year are any indication, it looks like the Clarion wallflower just had a professional makeover. The 2009 Clarion gear looks better than ever, and I was anxious to get my hands on some of it to review. A request was made, and shortly thereafter I received a new Clarion CZ509 single DIN headunit.
Clarion calls the CZ509 a Bluetooth/CD/USB/MP3/WMA/AAC/iPod compatible/AM/FM receiver. Me, I just call it cool. It features a removable faceplate, 3 sets of preamp outputs, built in amplification and a wide array of useful control functions. It even comes with a wireless remote control. With a retail price of under 300 bucks, the CZ509 also offers exceptionally good value!
Controls and Features
As you may have surmised from the description, the Clarion CZ509 will play pretty much any popular format your heart desires. Fully capable as a normal CD player, the Clarion unit also will playback MP3/WMA or ACC files recorded to CD, or stored on a USB thumb drive, or via the ever popular iPod. Other sources include the built in AM/FM tuner, and auxiliary input, a Bluetooth compatible streaming audio device, and your choice of either Sirius or XM satellite radio via the optional interface. With all these choices for source material, you need good control and adjustability of the playback, and the Clarion CZ509 has you covered there as well. No adapters needed, there is built in iPod control via the USB cable, and you can even select a simple mode if you prefer to use the controls on the iPod itself. Music stored on a USB drive is accessed quickly, and accessed intuitively via easy to use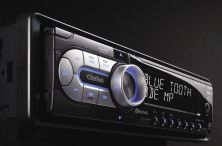 buttons on the front panel. The controls are well laid out, and fairly simple to use. I really like the protruding and detented rotary volume "ring" which allows you to quickly adjust the volume without having to take your eyes off the road. This feature alone makes the Clarion CZ509 a better choice than some other more expensive units in my opinion. While I'm on the topic of safety, I should mention what is probably one of the best features of this unit, the built in Bluetooth functionality that allows for hands-free cell phone operation. You can make and receive calls, import your phone book from your phone, see caller ID on screen and even stream audio wirelessly to the headunit, all via the included Bluetooth 2.0 functionality. And, I should point out here that the entire Clarion CZ509 costs less than some other brands optional Bluetooth adapters!
Going back to the front panel, I found the controls to be logically placed, although I did have to consult the owners manual to find the more obscure adjustments like how to set the input sensitivity for the auxiliary input, or how to adjust the contrast of the LCD display for best viewing. But, after I learned the basics of the way things worked, it was smooth sailing, which is good because the Clarion CZ509 offers a ton of adjustability.
You get a built in DSP powered EQ, with 3 selectable frequencies for each of the bass, mid and treble adjustments. Then, there are adjustable Q settings for those frequencies, and a range of 15 steps for boost/cut for each setting! This is by the way in addition to the built in Clarion "Beat EQ" sound setting, for those of you disinclined to tweak things on your own. And there's more… Clarion also includes a special circuit they call "Magna Bass Extend" (Who comes up with these names?!) which is supposed to extend the very low frequencies and make your music "more dynamic." Want more? Of course you do, so the Clarion CZ509 also comes with an adjustable BBE MP sound processor designed specifically to restore and enhance the harmonics in music that has been lost due to compression. Having some experience with BBE products in a past life doing live concert sound, I can attest to the difference in intelligibility the process can provide when applied correctly. Building it into a headunit, especially if MP3's are your media of choice, is a very good idea. Also included in the built-in software are adjustable frequency high and low pass crossovers. Meaning you can provide a bit more control to the signal sent to your amplifiers, or by using them in conjunction with the crossovers in your amplifiers, use them to make your overall crossover slopes steeper.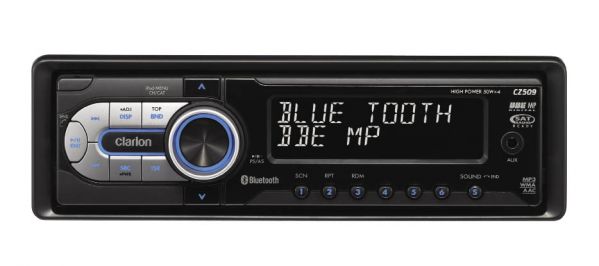 LISTENING
After connecting the Clarion CZ509 to my reference system, I also connected my iPod, and gathered a few of my favorite test discs. I included a couple of MP3 encoded discs, to see how well the unit would be able to sort and access the songs, and as it turned out, the CZ509 did it very well. Same would go for the iPod, the access speed was good and using the alphabet search feature I was quickly able to access the tracks I wanted. Of course the ability to search by category; Artist, Album, Genre, etc, is also supported.
Overall, the Clarion CZ509 sounded very good. It had very low noise, and the sound Q tracks I played sounded very natural in tone and timbre. Subtle nuances and details were reproduced very well, and the unit simply sounded good, and proper.
I experimented with the EQ and it was soon obvious there is quite a bit of tuneability built into the CZ509. The BBE processing was also a welcome addition, particularly when listening to lower bitrate MP3 tracks. I also messed around with the Magna Bass Extend function, but it wasn't my cup of tea, and tended to remind me of those dreadful "bass enhancers" that seem to be good for reducing a piece of music to nothing more than a thundering wall of bass, (which some of you may like) and sure to keep some subwoofer warranty return departments quite busy. The tuner worked very well, pulling in all the local stations with ease and good clarity. Clarion radios have a good reputation for tuner performance, and the CZ509 is no exception.
ON THE BENCH
On the test bench the Clarion CZ509 performed very competitively, although it turns out a few of the published specifications were slightly on the optimistic side. Rated at 22 watts as per CEA2006A, I measured a bit less, at 19.1 watts per channel. While the difference is virtually inaudible, many people don't realize there is only 0.6dB difference between 19 watts and 22 watts. The built in amplifiers distortion measured a low 0.07% at 1 watt.Frequency response was very flat, and the signal to noise ratio of the pre-amp outputs was also very good on both the CD and USB sources. Output impedance was competitive at 274 ohms, and the maximum useable output voltage of the pre-outs was 1.9V.
THE VERDICT
Overall, I really like the Clarion CZ509. With a wide variety of compatible sources, Bluetooth functionality and convenience, good audio performance, a ton of adjustability and chock full of useful features, I can't find a lot at fault. Sure, I'd have preferred higher output voltage, and maybe a bit more sophistication in the iPod interface. On the other hand, I have a unit in my truck that costs more than double, and isn't significantly better in any meaningful way. So maybe it's not perfect, but valued priced at 300 bucks or so, its probably one of the best "performance for the buck" buys I've seen so far this year. I highly recommend checking this one out for yourself, you might just find a great dancing partner!