Written by and Measurements by Garry Springgay // Photos by Manufacturer
Page 2 of 2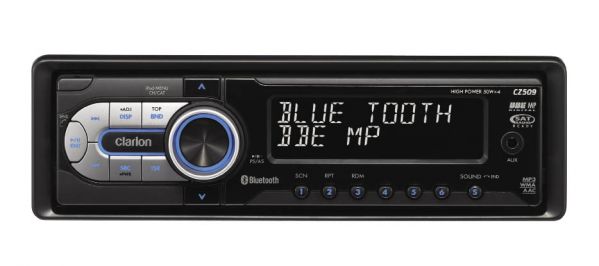 LISTENING
After connecting the Clarion CZ509 to my reference system, I also connected my iPod, and gathered a few of my favorite test discs. I included a couple of MP3 encoded discs, to see how well the unit would be able to sort and access the songs, and as it turned out, the CZ509 did it very well. Same would go for the iPod, the access speed was good and using the alphabet search feature I was quickly able to access the tracks I wanted. Of course the ability to search by category; Artist, Album, Genre, etc, is also supported.
Overall, the Clarion CZ509 sounded very good. It had very low noise, and the sound Q tracks I played sounded very natural in tone and timbre. Subtle nuances and details were reproduced very well, and the unit simply sounded good, and proper.
I experimented with the EQ and it was soon obvious there is quite a bit of tuneability built into the CZ509. The BBE processing was also a welcome addition, particularly when listening to lower bitrate MP3 tracks. I also messed around with the Magna Bass Extend function, but it wasn't my cup of tea, and tended to remind me of those dreadful "bass enhancers" that seem to be good for reducing a piece of music to nothing more than a thundering wall of bass, (which some of you may like) and sure to keep some subwoofer warranty return departments quite busy. The tuner worked very well, pulling in all the local stations with ease and good clarity. Clarion radios have a good reputation for tuner performance, and the CZ509 is no exception.
ON THE BENCH
On the test bench the Clarion CZ509 performed very competitively, although it turns out a few of the published specifications were slightly on the optimistic side. Rated at 22 watts as per CEA2006A, I measured a bit less, at 19.1 watts per channel. While the difference is virtually inaudible, many people don't realize there is only 0.6dB difference between 19 watts and 22 watts. The built in amplifiers distortion measured a low 0.07% at 1 watt.Frequency response was very flat, and the signal to noise ratio of the pre-amp outputs was also very good on both the CD and USB sources. Output impedance was competitive at 274 ohms, and the maximum useable output voltage of the pre-outs was 1.9V.
THE VERDICT
Overall, I really like the Clarion CZ509. With a wide variety of compatible sources, Bluetooth functionality and convenience, good audio performance, a ton of adjustability and chock full of useful features, I can't find a lot at fault. Sure, I'd have preferred higher output voltage, and maybe a bit more sophistication in the iPod interface. On the other hand, I have a unit in my truck that costs more than double, and isn't significantly better in any meaningful way. So maybe it's not perfect, but valued priced at 300 bucks or so, its probably one of the best "performance for the buck" buys I've seen so far this year. I highly recommend checking this one out for yourself, you might just find a great dancing partner!