Written by Gary Springgay // Photos by Manufacturer
Page 2 of 2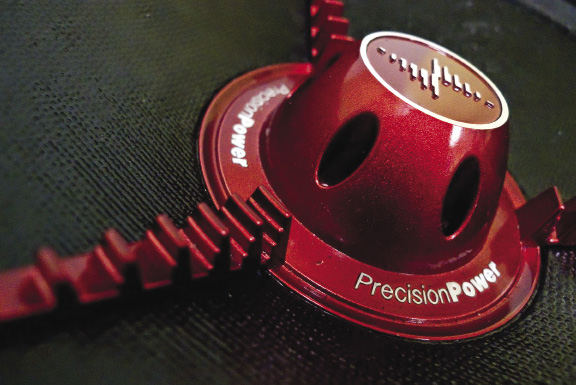 Listening
I read the owner's manual that accompanied the woofer, and it recommended a variety of enclosure designs, from 1.5 to 2.5 cubic feet sealed, or from 3.5 to 4.5 cubic feet vented. I chose to listen to it in a 2 cubic foot sealed enclosure. I believe this is a good compromise on enclosure size for a 15, and is typical of what I see on the streets. After the usual break in and normalizing period, I connected the woofer to my reference system and began what turned into a very extended listening session.
This is one of those woofers that just sounds "right" on all kinds of music, and simply handles everything you throw at it. Over the course of most of an entire afternoon, I must have played four or five dozen different tracks, including complex work from the London Symphony Orchestra, to Jennifer Warnes, Thursday Diva, Queen, Brooks & Dunn, Randy Newton, 50 Cent, Nelly, Metallica, Ozzy, Led Zeppelin, Rush, Pink Floyd, Supertramp, Thomas Dolby, and Norah Jones. Regardless of what I played, the results were the same. Clean uncolored bass, with excellent control and superb detail. Kick drums sounded full and warm, with no ringing or unwanted overtones, bass lines had great articulation and I kept surprising myself with how "tight" and crisp this big woofer sounded. If you are one of those people who think you can't get tight, clean bass from a 15-inch woofer, you need to listen to this one in a two cubic foot sealed box. It was really, really good. As I cranked up the power, I never felt like I was pushing the PC15 too hard, even when power levels would briefly exceed the 900 watt rating. The woofer did not complain, or show any sign of strain, it just played loud, and sounded good.
On The Bench
The next day I moved the woofer into the lab and measured the parameters, and inspected it closely after the previous days fairly intense session. The inspection revealed no trace of any sort of damage or stress, even though I know that I had exceeded the suggested power rating a few times… but that happens when I'm having fun! My Thiele-Small parameter measurements closely matched the published numbers, certainly within the usual tolerances we see with this type of product. I also noted that my choice of
a sealed enclosure was a good one, as the specs indicated. I'm sure that the performance would be quite impressive with a vented design, as the woofer certainly has enough motor strength to warrant it, but the trade off in space seems sort of unnecessary when the sealed box performance is this good.
Conclusion
Every once in a while, a product crosses my bench that I'm genuinely impressed with, and is a pleasure to evaluate. The Precision Power PC15 is such a product. The woofer has everything anyone could expect, excellent sonics, realistic enclosure requirements, very good power handling, and cool cosmetics. If you are thinking about a new subwoofer system, you should check out the sound of the PC15 at a Precision Power dealer near you. If it's good enough to impress a critical old guy like me, I'm pretty sure it'll impress you too.