Written by Garry Springgay // Photos By: Manufacturers | 06 October 2010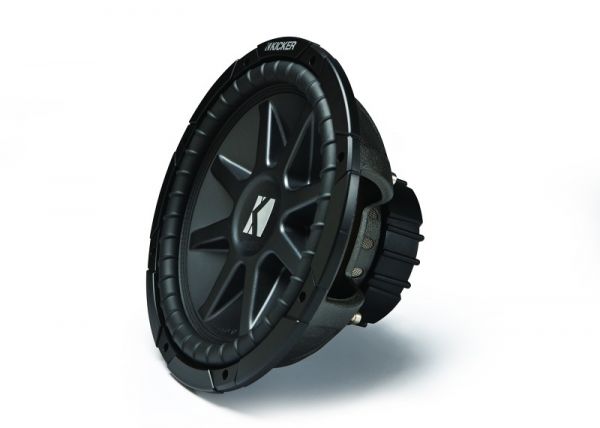 Seems like more people are looking for simple, fast, and straightforward solutions to getting a good performing, reliable subwoofer system in their vehicle. If you don't want to spend the time and energy selecting woofers, choosing an appropriate enclosure size and type, and then designing and building it, there are several companies who have taken all the work out of putting great bass in your car. One of the companies that excels at these types of solution driven products is Kicker. They currently offer many different styles, sizes and configurations of ready to go subwoofer systems, from compact single woofer enclosures to very high performance multi driver systems. A good example of the latter is the $399.95 Kicker DCVR104 subwoofer system. The DCVR104 is a dual 10" woofer design, utilizing a well made and nicely finished vented enclosure.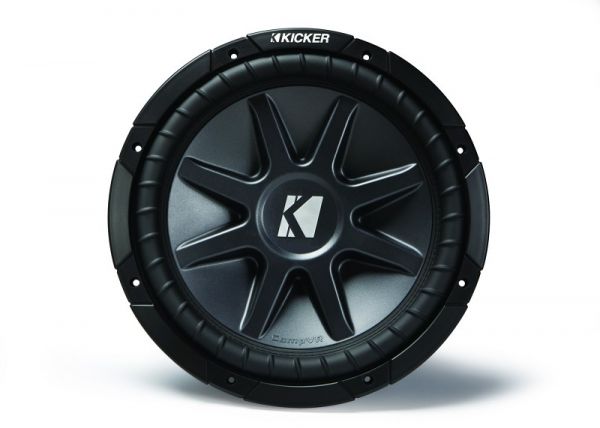 Features
The DCVR104 system's enclosure is made of ¾" MDF, and the front baffle is double thickness for added strength and permits flush mounting the pair of CompVR 10" woofers. The enclosure has a very large diameter (6.875") port which provides maximum flow and eliminates port noise problems. Factory tuned to about 38Hz, the 2 cubic foot enclosure measures about 28.75"W x 14.125"H x 16.6"D and is covered in heavy duty gray carpeting, with the front baffle trimmed out in a carbon-fiber look vinyl with the Kicker logo embroidered in it. Connections are accomplished with a pair of spring loaded, nickel plated terminals mounted near the vent on the end of the cabinet.
The CompVR woofers used in the system are dual voice coil designs, wired in series/parallel for a final nominal impedance of 4 ohms. The woofers use stamped steel vented baskets, Kickers famous SoloKon injection-molded rigid cones, and Santoprene ribbed surrounds. The SoloKon cones are reinforced a full 360° on the back side for maximum strength and rigidity. The surrounds are secured to the edge of the cones with both adhesive and stitching, for maximum reliability under extreme conditions. Underneath the cone, the voice coil is centered and suspended by a poly-cotton linear type spider, with integrated spiral tinsel leads woven into it at 90° intervals. Kicker says this method provides better balance of the moving mass of the driver, and the claim makes sense. The pure copper voice coils are 2" in diameter and wound on Nomex wrapped Kapton formers. Providing the motor strength for each woofer is a 2.7 pound ferrite magnet, measuring 5.25" in diameter. Another interesting feature of the CompVR woofer is a T-cut top magnet plate which improves magnetic field focus for improved linearity and performance at all power levels.
Read on For Full Results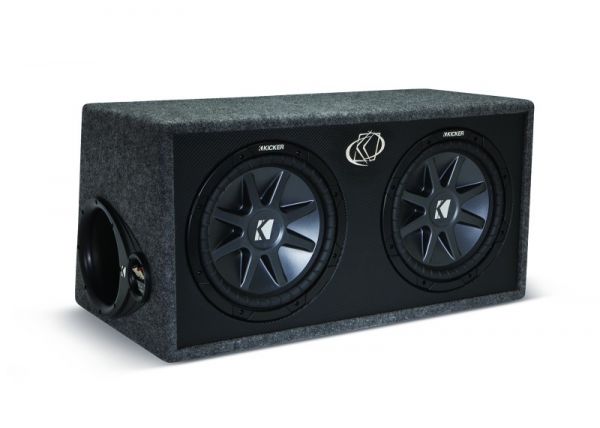 Listening
When it came time to listen to the Kicker system, I simply carried it into my listening room and connected two wires. Done. Couldn't be much simpler or easier, and it will be the same thing in your car. With the signal crossed over at 100Hz and -24dB per octave and the subsonic filter at 28Hz, I sat down with a couple dozen of my favorite bass tracks and put the DCVR104 system through the paces.
I began with a Ricky lee Jones "Danny's All Star Joint". This track has the amazing Willie Weeks on bass, laying down very well defined electric bass lines, with some awesome plucking thrown in for good measure. The Kicker system sounded great, and actually surprised me a little with how much output it had. Willie's bass sounded real, with good definition and a sense of warmth and fullness.
I went through several more songs from Rush, Nine Inch Nails, Robert Plant, The Eagles and others, and then I switched to country. The very well recorded kick drum at the beginning of Brooks & Dunn's version of "My Maria" sounded exactly like it should with the rapid attack and a warm resonant decay in the kick drum notes. You could easily hear the batter on the drum head, but with just the right amount of resonance to provide warmth and realism. A few more country tunes, and I switched to some 50 Cent, Nelly and Eminem. Same thing… good, deep very rich sounding bass with lots of output even at low power levels. The huge port ensured no air rushing or whistling noises, and the system handled all the power I threw at it without complaint. A half dozen classical music cuts with everything from string basses to kettle drums and cannon fire proved that this woofer system is truly well designed, and regardless of your musical preferences, the Kicker DCVR104 woofer system is ready for whatever you like.
On The Bench
With the listening completed, I brought the system back into the lab and removed the woofers. As advertised, the enclosure is made of good quality MDF, and is very ruggedly built. The carpeting was nicely applied, and the seams were very well concealed and straight. After measuring the Thiele-Small parameters of the woofers, I re-installed them and measured the overall system impedance and frequency response. During this process, it was easy to verify the tuned frequency of the system at 38.4Hz, less than 1Hz off of the spec'd 39Hz.


Conclusion
With its warm, rich sound and good overall efficiency, the Kicker DCVR104 subwoofer system is one of those systems that can handle pretty much anything you throw at it, and sound good doing it. It looks good, is relatively small for the output it provides, and it's very well made. So if you would much rather avoid all the technical issues and construction hassles and simply choose a pre-made subwoofer system for your ride, the Kicker system isn't likely to disappoint. Regardless of your musical tastes, this is a good sounding, well made system that will fit in most average to large size vehicles, and provide you with instant sonic gratification.
For more information  visit www.kicker.com