06 June 2011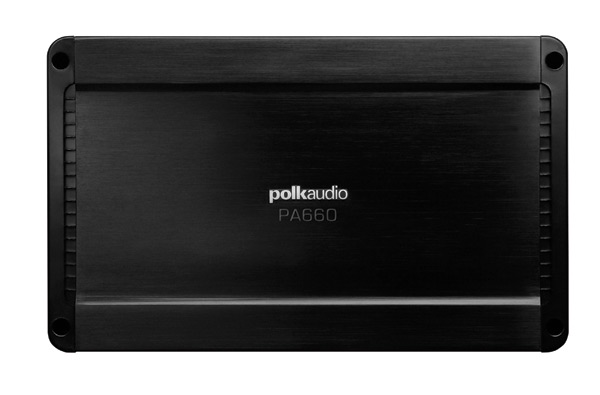 Long known as "The Speaker People", the folks at Polk Audio are also becoming well known for their car audio amplifiers. Recently, they sent us an example of a new compact size four channel model, the PA660. Rated at 75 watts per channel into 4 ohms, and with a selling price of right around $200 (U.S.), the PA660 is destined to be a popular product for the brand.
Features
The PA660 is a fairly conventional amplifier, featuring a relatively small chassis measuring just 13.25" x 8.125" x 1.875" which makes it easily mounted in spaces that may be too cramped for a more conventionally sized four channel amplifier. The PA660 is nicely finished in a black anodized brushed aluminum heatsink that has a lot of mass for its size. A tasteful brushed aluminum badge trims out the top cover cosmetic, and integrated molded end caps help to keep the wiring and connections out of sight and tidy. The amp locates the power and speaker connections on one end, along with a pair of 25A ATC type fuses. On the opposite end you'll find the inputs and all the controls and adjustments. Built in -12dB/Oct crossovers provide all-pass and high pass filters for the front channels, with the rears getting filters for high or low pass, as well as an all pass setting. The crossover frequency range is 50Hz to 500Hz for all the configurations. Independently adjustable bass boost is provided for both front and rear channels, and a 2/4 channel switch allows you to drive all four channels with a single pair of RCAs if need be.
The amplifier is a conventional Class AB design, using high current MOSFET devices in the PWM power supply, and a pair of complementary bi-polar transistors for each channel. Inside the amplifier, the components are good quality 5% tolerance through-hole type parts, which allow a quality high performance product while retaining a good balance of performance and price. The power supply uses a single toroid and four 2200µF high speed, high temperature capacitors provide the energy storage. After converting the DC energy from the cars electrical system to the AC power needed to drive loudspeakers, the PA660 stores the secondary's energy in four 4700µF capacitors, assuring plenty of peak current capability for good dynamic performance.
I also noted poly capacitors on the input signal board, which ensures good frequency response and a more natural sounding pre-amp section.
Listening
With the front channels of the PA660 driving a pair of components and the rear channels bridged to a 12" subwoofer, I adjusted the crossovers to suit my loudspeakers and spent some time listening to this inexpensive Polk amplifier. Throughout my listening session, I had to keep reminding myself that this was only a $200 amp, because it sounded remarkably good. The PA660 makes plenty of power for enthusiastic volume levels, and easily could be the only amplifier in a complete system. The best word I could think of for the sound of this amplifier was "smooth". Bass notes were deep and clean, and the sound from my components came through with very good detail and a natural, warm tone. Unless you are looking for rock concert volume levels in your car, the PA660's sonics and power delivery won't disappoint.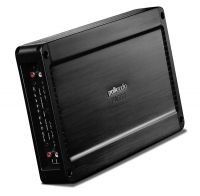 Performance/Bench Measurements

Back on the test bench, the Polk PA660 performed just about as expected, which is to say quite respectably for an amplifier at the entry level end of the market. The amp made as close as makes no difference to rated power at 4 ohms, and exceed the rated power at 2 ohms. Signal to noise and crosstalk were about average for an amplifier in this segment of the market, and the frequency response extended nicely to well over 50kHz. All of the signal control functions and the crossover filters worked as intended, and I tested the various protection circuits and try as I might, the Polk Audio amplifier simply did everything right and protected itself as needed, and automatically recovered when the fault was corrected. I did notice that the PA660 will run decidedly on the warm side, so it would be a good idea to mount it intelligently with plenty of air space and movement.
Conclusion
This was the first Polk Audio amplifier I have tested in recent memory, and if it is indicative of the performance of the rest of the PA series of amplifiers, Polk may have a very popular amplifier series. The PA series provide real world chassis sizes, and offer excellent performance value. If you need a well made amplifier and are on a tight budget, check out the Polk Audio PA series of products. Your ears will thank you, and so will your wallet.
Technical Date

The following power measurements were obtained using industry standard methods. (1kHZ @ 1.0% THD+N - Battery voltages shown +/- 0.2V)
Measured Performance Specifications

Manufacturers Rated Power

Actual Measured Power

@  1.0% THD+N                  @ 12.6V Battery

Actual Measured Power

@  1.0% THD+N               @ 14.4V Battery

75 x 4 @ 4 ?

52 x 4 @ 4 ?

70 x 4 @ 4 ?

85 x 4 @ 2 ?

70 x 4 @ 2 ?

93 x 4 @ 2 ?

150 x 2 @ 4 ?

141 x 2 @ 4 ?

187 x 2 @ 4 ?
Signal to Noise Ratio referenced to 2V output.

(CEA-2006A) (1 watt @ 4 ohms)

-66.5dBA

Signal to Noise Ratio referenced to full output.

-84.9dBA

THD+N at rated 4 ohm power

3.4%

CEA-2006A rated 4 ohm Power (minimum power per channel developed over the entire intended audio bandwidth)

65 Watts

Maximum Efficiency at full 4 ohm power per ch.

60.8%

Maximum Efficiency at full 2 ohm power per ch.

50.2%

Efficiency at  10 watts per channel, 4 ohms

21.7%

Idle Current

0.9A

Input Sensitivity

272mV- 6.7V

Maximum Current @ full power, lowest rated impedance

51.5A

Frequency Response (-3dB)

<10Hz – 59kHz

High Pass Crossover

50Hz – 500Hz

-12dB/Oct

Low Pass Crossover

50Hz – 500Hz

-12dB/Oct

Subsonic Filter

None

Bass EQ boost

0 – 8.5dB @45Hz