Written by and Measurements by Garry Springgay // Photos by Manufacturer | 03 December 2009
Page 1 of 2
The new Kenwood KDC-HD942U ($299.00 USD) is a single DIN chassis CD/MP3 Receiver that provides connectivity for your iPod, and includes a built-in HD Radio tuner. With the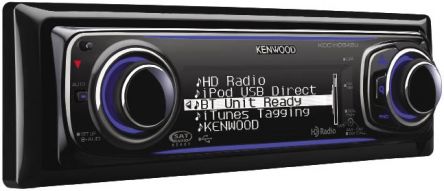 optional KCA-BT200 Bluetooth adapter, the unit will also allow you to make and receive hands free calls from your radio. With the HD Radio tuner you can enjoy almost CD quality sound from your tuner, and the best part is there are no subscription fees! AM radio sounds better as well, and because HD Radio offers multicasting, (which means there are multiple channels on each frequency) you have even more listening choices. If you have not yet experienced HD Radio, you should. Not only is the sound quality very good, but there are other benefits as well. For example, when your iPod is connected to the Kenwood KDC-HD942U you can "tag" songs heard on the HD broadcasts. Then, when you sync your iPod to your computer, iTunes automatically looks up all the songs you tagged, so you can decide if you want to buy them. This is a very handy feature if you are bad at remembering song titles or the names of new artists.
While beauty is always in the eye of the beholder, the Kenwood KDC-HD942U is a good looking unit, with a very easy to read high resolution dot matrix display, between two traditional looking round knobs. The clean and uncluttered faceplate reminds me of an old school twin-shaft style radio, which is maybe why I liked the way it looked. Most of the controls and functions are accessed via one of these round knobs. The left knob is a 3-way control which accesses and controls the audio related functions and adjustments. The 7-way right hand "wobble knob" provides control over other menu driven items like system setup, track changing and searching. I liked the available choices for the display set. You can select between a 4 or 5 line display, change the LCD from positive to negative, or simply just display a big clock if you prefer. The look of the display is simple to customize and easy to read once your selections are made. There are 10 different illumination colors, which are also very user-friendly, you can even have different areas of the faceplate be different colors, or have the brightness change with the music!
The ergonomics are thoughtfully laid out, but there are so many adjustment capabilities in so many different menus and levels, you'll absolutely need the owner's manual the first time or two. Thankfully, Kenwood has seen fit to include a printed manual with the unit, and not stick everything on a CD and make you print it yourself.



The faceplate is a fold down detachable design, and operates smoothly and easily, which is good, because it needs to be folded down to insert or eject a CD. Behind the faceplate is a flashing red LED that can be turned on to warn away potential thieves, or, if you prefer not to have the LED flashing, the function is defeatable. Additional security comes in the form of a 4-digit security code which is needed to re-activate the product once constant power has been removed from the unit.
Eighteen FM station presets are available as well as six more for AM stations, but there are no preset buttons on the faceplate. You can either select them using the right hand knob, or you can access them directly via the nicely designed IR remote controh which is included.
A powerful DSP processor (which can be bypassed for the purists out there) provides a plethora of control and adjustment functions. A look through the various menus allows easy setup of basic crossover points, preset equalization curves, listener position control, and other functions. There is also a "Highway Sound" setting that can compensate for sound lost in typical road noise, and you can select from 3 different levels of compensation. As is common on most modern radios, there is also a control to compensate for differences in various sources volumes.
If you're like me and prefer to make your own adjustments, you can select from 9 crossover frequencies for the front and rear channels, and 13 frequencies for the subwoofer outputs, at -12dB/oct. The equalizer section provides adjustment of up to 13 bands, with selectable "Q", as well as amplitude adjustment of -9 to +9dB for each frequency.
If you still want to tweak your sound even more, there is also digitally controlled "time alignment" adjustability so you can delay the sounds from speakers nearest you to alter the arrival times to coincide for better stereo imaging. But neophytes take noten when you have this much adjustability available, it's a good idea to really know what you're doing or your sound can get out of hand in a hurry. As always, if you're not sure, it's a good idea to find a qualified pro to give you a hand getting your setup dialed in.
The KDC-HD942U provides an advertised 4 volts for each of the 3 pairs of RCA outputs, and the subwoofer channel has a separate level control to dial in the amount of bass you want. If you are still working on building up your system, tht built-in four channel amplifier is good for about 17 watts to each channel, which will easily get you down the road until the budget allows for external amps. If you need even more choices for listening material, the Kenwood is compatible with the optional Sirius satellite radio tuners, and PAC steering wheel control interfaces, and comes with a 3.5mm mini jack on the rear of the chassis for Aux input signals.
If you need to entertain rear seat passengers, the KDC-HD942U also provides the ability to output the main source to the front channels, while the auxiliary source is sent to the rear channels.
Read on for the Results