26 September 2012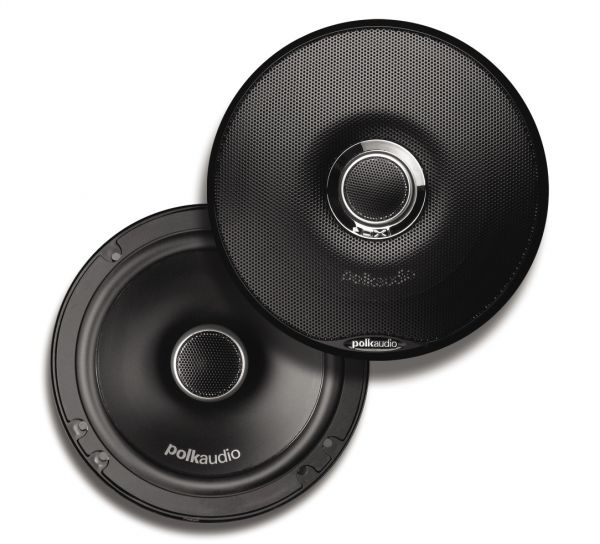 When someone is considering upgrading their factory sound system, the first piece most people think to change is the source unit. Maybe it's because it's the component we interface with or see the most, but in actuality, it's probably the component that makes the least difference in sound quality. Nine times out of 10, the most significant improvements come from upgrading your speakers.
The OEM junk that comes in most cars these days simply can't hold a candle to a good set of aftermarket loudspeakers when it comes to sound quality and reliability. This fact is not lost on the folks at Polk Audio, who make several different sizes and types of speakers specifically engineered to replace those lame OEM stockers – or even a set of tired aftermarket speakers.
One of Polk's most popular models is the DXi650 coaxial, which they were kind enough to send us a pair of for evaluation. Here is what we found.
FEATURES
The Polk Audio DXi650 system is as the model number suggests a 6.5-inch coaxial speaker system that is also rated for marine use. Designed as drop-in replacements for your stock 6.5-inch speakers, this system also includes a cleverly designed 6.75-inch adapter ring to also make them drop-ins for European cars such as Audi, BMW and Volkswagen. Other nice details include generously-proportioned foam rubber mounting gaskets, which ensure a good seal to the mounting surface, and a very nicely done removable grill for mounting the speakers in a location other than behind the stock panels. The DXi650's are built around a powder-coated stamped steel basket and with a mounting depth of only two inches. They will fit in virtually any car door.

Using Polk's proprietary Dynamic Balance® technology, which involves the use of laser-equipped electron microscopes to find problem areas and eliminate them, the Polk engineers have equipped the DXi650's with a polymer/Mica composite cone and 0.75-inch silk polymer tweeters with neodymium magnets.
Crossover duties are handled by first order networks for both the tweeter and, a bit surprisingly, also for the midrange. I say surprising simply because most speakers at this price point let the midrange simply roll off via its own mass and inductance, but Polk has gone the extra mile in the interest of performance.
The system uses butyl rubber surrounds and temperature-resistant Nomex spiders for optimized reliability and sound quality. To increase the output of the system, the voice coils are actually three ohms, which increases power delivery without stressing the amplifier. The coils are wound on one-inch diameter, low mass Kapton formers. The wire connections are standard spade terminals and clearly marked for correct polarity.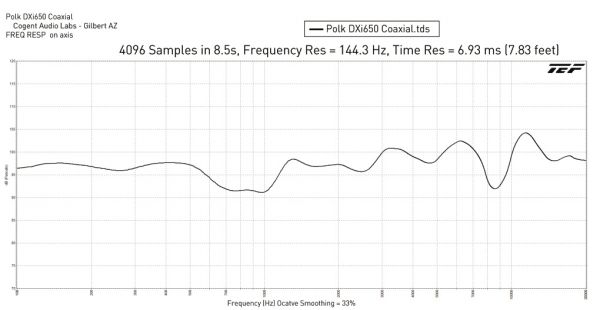 LISTENING
Regular readers will know I prefer to evaluate the sound of all the car audio gear in my specially-constructed acoustics lab/listening room. After mounting the DXi650's in my baffle and letting them play at a low level overnight to condition them, I begin my listening session with some of my favorite music, as well as some difficult-to-reproduce tracks that I like to use to put good speakers to the test.
With Polk's reputation for excellent sonic performance, I'm not surprised to be greeted with a pleasant and smooth "round" sound. I note the silk tweeter is very polite and does not exhibit any sibilance or brittleness. The lower registers sound very warm and smooth with a very pleasing timbre*. The bottom end is strong and full with good definition and detail; plucked bass strings in Glen Millers "Little Brown Jug" sound full and vibrant. Drums and snare are very articulate, nice and tight and remain well-controlled even at fairly high volume levels. On a few tracks, such as the amazing acoustic guitar in Stanley Myers "Cavatina," I find myself wishing for a little bit more high frequency detail, but overall it's quite good. This track was recorded in a mission at San Juan Capistrano and, if you have not heard it play on a good system you owe it to yourself to track one down and give it a listen.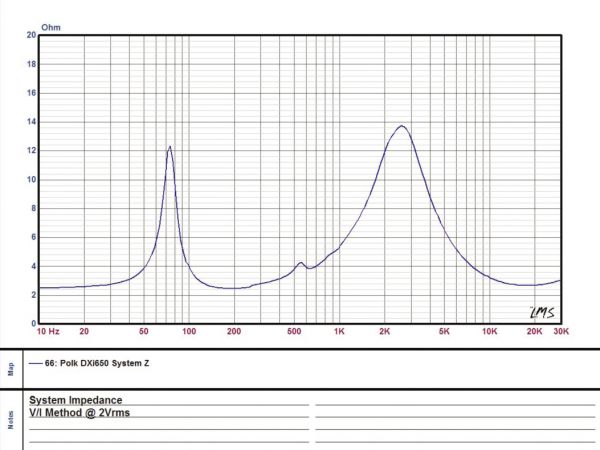 Overall, the system sounds reasonably accurate and quite impressive considering the modest $199.95 retail price. Don't get me wrong, when I say reasonably accurate, I mean you can very easily tell a Les Paul from a Stratocaster with this system, but a Bosendorfer grand piano from a Yamaha might be more difficult. Or ,as my buddy Allen likes to say, "Sure, you can tell it's a Gibson Precision Bass, but what kind of strings are on it?" In any case, this system will make the OEM stuff sound like tins cans connected by string.
*A note on "timbre" (pronounced TAM-ber) For a few of our readers this word is something you already know well, but for the rest of you, it means our ability to distinguish different sounds, voices or instruments, even when they are playing the same note and at the same amplitude. It's what makes a saxophone sound different than a clarinet or two voices singing in harmony sounding distinct and different.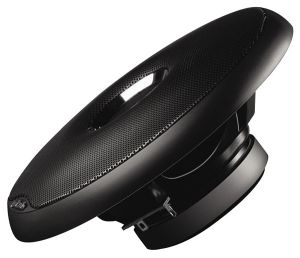 PERFORMANCE / BENCH MEASUREMENTS
As I always do, I wait until I have completed all of my listening before actually making any technical measurements on the system. The system measures well and the data obtained concurs with what my ears have observed.
TECH SPECS
Power Handling 100 watts RMS
Frequency Range 75 – 20,000 Hz
Sensitivity 89 dB / SPL @ 1.0 W (1.73 V)
Nominal Impedance 3 ?
CONCLUSION
The Polk Dxi650 system will most definitely improve the performance of your OEM system at a very reasonable price. If you are incredibly fussy, a touch of carefully-applied equalization on the top end will provide you with a system that should make you very happy with in your daily driver. It bears repeating that, for a very modest outlay of cash, you can make pretty incredible improvements in your system's clarity and accuracy, not to mention reliability. I encourage you to roll in to your local Polk Audio dealer and give these a listen for yourself. Maybe you'll also be surprised at the performance available at this price.