Written by Garry Springgay | 07 March 2014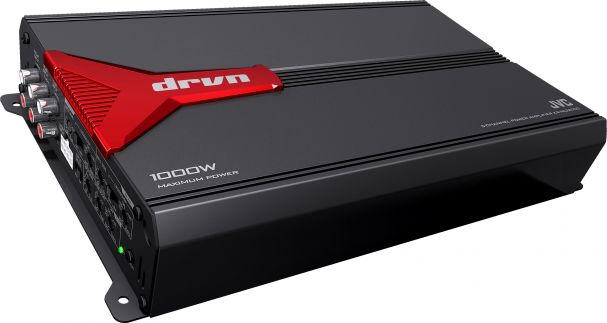 With bold new styling and a chassis that's 10% smaller than last year's amp, the new DRVN series of amps from JVC are all about performance and great value. One of the best values they offer comes in the form of the five-channel KS-AX3205D. With a five-channel amplifier, you maximize power delivery while taking up a minimum amount of space. Rated at 50 x4 +200 x1 at four ohms, or 65x4+300x1 at two ohms, the compact amp packs a serious punch. And thanks to the high efficiency of the Class D topology, the amp runs cool and draws a minimal amount of current.
The KS-AX3205D has a suggested retail price of just $299.95, making it one of the better values out there in terms of watts per dollar.
Features
The KS-AX3205D is designed to work great as an OEM upgrade amplifier, or as the cornerstone in a full-on aftermarket system. For example, the amplifier can be driven with high or low level inputs, and there is a switch to provide five channels of output with just front and rear input signals. The front and rear channels can be configured for full-range operation, or you can use the built-in high pass crossovers which are variable from 50 Hz to 200 Hz to properly drive your full-range speakers.
The subwoofer channel also has a variable crossover frequency of the same range, as well as a Bass EQ function that can provide up to 18 dB of boost at 50 Hz. Perhaps best of all, these features all housed in one chassis measuring just over thirteen inches long, seven inches wide and two inches tall.
From a layout perspective, the JVC engineers properly located all the low-level signal circuitry on one end of the amp, far away as possible from the noise-generating power supply and output sections. This means that all of the input connections and signal controls are found on one end, and all the power and speaker connections are located on the opposite end of the amp. Power and speaker terminals are of the nickel-plated barrier strip type, but the power terminals are large and sturdy enough to accept full-size crimp on spade terminals for eight gauge wire. The amp is fused with a pair of 30A ATC fuses.
Inside, a clean PCB layout and good attention to detail in the manufacturing process are evident. Parts are straight and well soldered, and high-mass parts like capacitors and the toroid are also secured with high-temperature adhesives. The PCB itself is a quality double-sided affair, and surface mount parts are used extensively throughout the amp.
Listening
My favorite part of any evaluation is the listening session. For this session, I connected the front channels of the KS-AX3205D to a pair of very high quality component speakers, and the subwoofer channel was connected to my reference 12" woofer in a sealed enclosure. To fully tax the power supply but not skew my listening with additional speakers, I connected the rear full range channels to my load bank, set for 4 ohms.
Adjusting the front channels to 40Hz high pass, and the subwoofer channel to about 80Hz low pass, I sat down to play some tunes. The first thing I noticed was unlike so many others these days, this amp turns on and off absolutely silently, like a well-designed amp should. Within a few minutes, I knew I was going to like this amp. The full-range channels provided noise-free, articulate signal to my component speakers, and the amplifier produced an exceptional stereo image. The subwoofer channel easily drove the single 12" woofer to its limits with no unwanted noise or unwelcome muddiness I sometimes hear with Class D amps. I could turn the amp up to very loud levels, and the amp showed no signs of stress or lack of power. That is, as long as I left the bass EQ basically flat. With so much available boost, it would be fairly easy to overdrive the subwoofer channel if you got carried away. This is a good example of a case where more isn't necessarily better. Used in moderation, the bass EQ is great and does the job as intended. Just don't crank it up to max.
I sat and listened for the better part of three hours, playing everything from Abba to ZZ Top. I won't bore you by palavering on the details of each song, but instead I'll sum it up like this: from a sonic perspective, the JVC is a really good sounding little amplifier. It has low noise for a multi-channel design, combined with all of the power one might need for a serious system, all conveniently wrapped up in a high efficiency, compact single chassis.
Performance/ Bench Measurements
On the test bench, the JVC measured well, as expected from its sonic performance. The amp delivered power levels in excess of the advertised power, which I have found is usually the case with amplifiers that use the CEA-2006 rating and logo. Signal-to-noise performance was very competitive with amps of a similar design and, of course, overall power efficiency was also high.
Technical Data
| | | |
| --- | --- | --- |
| Manufacturers Rated Power | Actual Measured Power @ 1.0% THD+N @ 12.6 V Battery | Actual Measured Power @ 1.0% THD+N @ 14.4 V Battery |
| 50x4+200x1@4 ohm | 43x4+172x1@4 ohm | 58x4+216x1@4 ohm |
| 65x4+300x1@2 ohm | 65x4+268x1@2 ohm | 87x4+344x1@2 ohm |
Conclusion

After listening to the amp, and then measuring it on the test bench, I'd give the JVC KS-AX3205D two thumbs up. It appears to be well made and should be reliable. It sounds good, has a decent selection of features, good installation flexibility and can serve as the only amplifier you'll ever need. Couple that goodness with a modest price, and you have an amp that screams value.