Written by Garry Springgay | 22 September 2015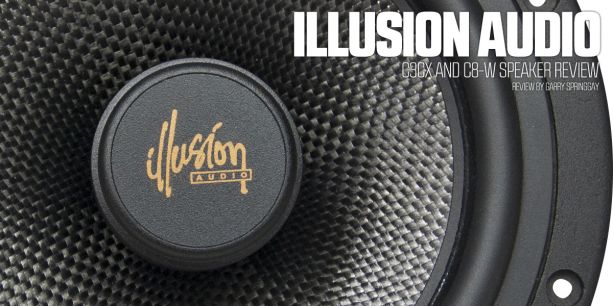 If you have been searching for a point-source-style mid-tweet that combines top of the line quality, exotic materials and non-traditional design queues, you are going to want to keep reading. Especially when you learn that this review covers the above midrange/tweeter, as well as a high performance 8-inch mid-bass driver.
If all of the above makes you salivate, drool on over to your local Illusion Audio dealer and check out the all new Carbon Series C3CX and C8-W speakers. These are the premier products in the Illusion Audio lineup, and for good reason, as will be made clear.
Carbon C3CX Midrange and Tweeter
The C3CX is a 3-inch coaxial-style driver with a coincident mounted tweeter. This means the tweeter is not sticking up on top of a long post or mounted on a cross plate. Instead, the Peter Larson designed 14-mm magnesium/aluminum alloy tweeter is mounted down low where you would normally expect a dustcap to be.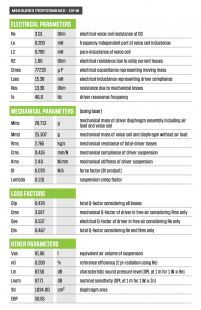 This design improves phase coherency and takes advantage of the midrange's cone geometry to act as a wave guide for the high frequencies. Thanks to a rear air chamber and a wide poly-fabric surround, the resonance of the tweeter is way down around 1200 Hz. A perforated steel grill protects the diaphragm from damage. Further distinguishing this system form the rest of the pack is the ability to bi-amp the mid and tweet, yet still retain the included passive crossover networks.
Built on a die-cast aluminum basket requiring only 1.5 inches of mounting depth, the C3CX is powered by a neodymium motor. In an effort to improve linearity and reduce distortion, the C3CX is built using the patented XBL dual magnetic gap technique and also incorporates three Faraday rings. This design provides symmetric magnetic flux and inductance over the entire range of motion. The mid's voice coil is made from copper-clad aluminum wire and is wound on a 1-inch former.
To dissipate heat, the driver has extensive venting and the motor assembly is pressed into the aluminum frame, allowing it to act as a heatsink. The cone material for the midrange is a woven carbon fiber material that has been coated with a special damping material and is affixed to the basket via a 0.2-inch wide rubber surround.
C3CX Crossover
The supplied crossover is a two-way bi-ampable design, incorporating top quality components and seven-level adjustment for the tweeter. Air core inductors are used, as well as a metal film polypropylene capacitor. Via a clever design, three jumpers can be arranged to provide seven different levels of tweeter attenuation in 1-dB increments. The tweeter crossover alignment is a Linkwitz-Riley second order filter, while a first order low-pass is used for the midrange. Tweeter over-current protection comes in the form of a self-resetting polyswitch.
Mid-Bass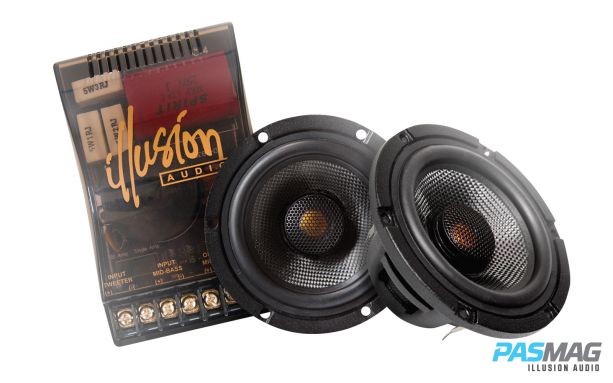 The C8-W mid-bass driver is also built on a cast aluminum basket, but features an innovative front-mounted neodymium motor assembly. Thanks to the front-mounted motor, the C8-W can be mounted in very shallow depth locations, requiring only 2.2 inches. The basket uses narrow spokes to minimize acoustic reflections from the back side of the coated carbon fiber cone.
Providing the electromotive force is a N35H neodymium motor driving a 1.5-inch CCAW voice coil, wound on an aluminum former. Also on the coil assembly are a pair of Faraday rings to reduce inductance and distortion, while allow the driver to be used well into the midrange frequencies. This driver also uses the XBL dual gap technology mentioned in the C3CX. A linear type Conex spider provides compliance and coil centering. Heavy-duty spring-loaded terminals connect woven in-place tinsel leads.
Listening
After a sufficient period of break in, I gather up a few of my favorite discs and sit down for some serious face time with the Illusion system. For my listening session, I mount the speakers in my baffles, and use separate amplifiers for the C3CXs and C8-W. I also set the crossover for the C3CXs at 300 Hz, -12 dB/Oct. The C8-W is fed a bandwidth limited signal adjusted for 50 Hz to 300 Hz. All of the drivers are in an infinite baffle arrangement, as you would get from a car door.
Since this is not an inexpensive system, my expectations are admittedly pretty high. As it turns out, I'm not disappointed. Over the next couple of hours, I run through my usual favorite evaluation tracks and find these speakers sound pretty damn good. Bass reproduction is strong, with a warmth and richness that you don't often hear from a shallow speaker of this size. The Illusion system exhibits very good clarity as well, and the 14-mm well-sorted tweeters blend smoothly with the upper range of the mid. The tweeter is polite and smooth and does not exhibit any sibilance or brittleness. I listen to everything from Bach to ZZ Top and the Illusion system handles it all in stride.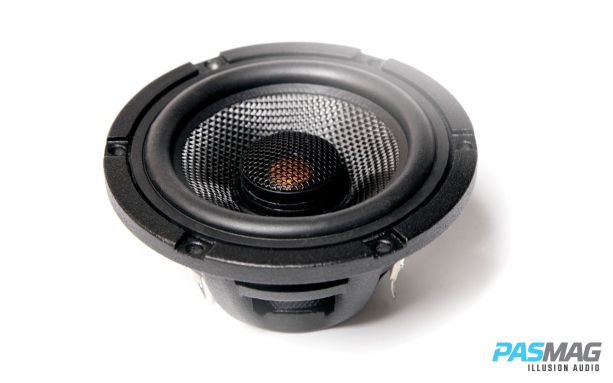 A few issues specific to this system come to mind, however, and bear mentioning. First, because the C3CX's are so small, they will typically get mounted higher in the car and more on axis to your ears than a larger midrange. For this reason, I suggest playing with the levels on your amplifiers to help match the C8-Ws to the C3CXs. The point is, you have a lot more tuning capability with this setup than you normally would, so don't be afraid to take advantage of it.
The Illusion system, when adjusted properly, provides a warm, yet accurate sound. The timbre of the system is very natural, and has excellent definition and detail. I find myself increasing the level for the midrange a bit and using the available tweeter attenuation to balance things out. The bottom end is strong and full with good definition and detail. The plucked bass strings in Glen Miller's Little Brown Jug sound full and vibrant. Drums and snare are very articulate, nice and tight and well controlled, even at fairly high volume levels.
When my session is over, I come away impressed. I could easily live with sound this good for a long time.
Conclusion
Combining the Illusion Carbon Series C3CX and C8-W speakers can be a brilliant solution to 1034.00 cm 50.65 getting premium quality sound in your car. Even if you aren't lucky enough to make the 8-inch fit, there's also a 6.5-inch option, the C6-W, designed for most standard locations. With excellent tuning options and lots of flexibility in mounting locations, serious audiophiles will want to audition these speakers for themselves. Yes, premium quality components such as these come at premium prices (the full system would set you back about $1,498), but if you truly appreciate your music, they are worth every penny.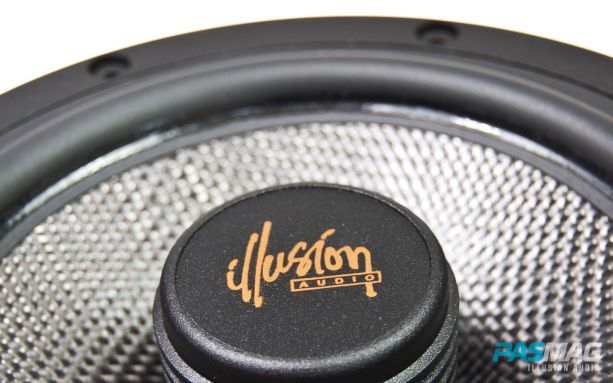 For more information, visit www.illusionaudio-america.com and Facebook.
For more test reports, download the PASMAG+ tablet app for free from iTunes.